Apart from regularly checking with each other on weather fronts from their farms just outside Geelong, they have compared notes on forward craft, opponents and approaches to training and goalkicking.
"We bounce things off each other all the time in the club, away from the club. It's been special. Hopefully, we can have a good outing together on Saturday," Cameron said.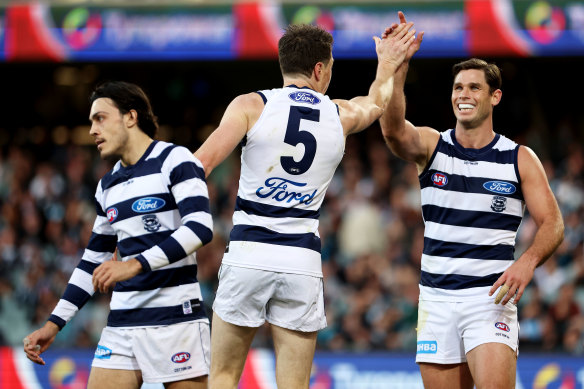 The presence of the 'Tomahawk' was a significant reason why Geelong was attractive to Cameron when he decided to exercise his free agency rights and depart Greater Western Sydney, having led the Giants' goalkicking in each of his nine seasons at the club.
Having started his career at a fledgling club with young players everywhere, Cameron wanted to learn more about football, and he knew Hawkins could teach him.
Loading
"It's something I did think deeply about, playing with 'Hawk'," Cameron said.
"I know he is such a selfless person and never questioned how two key forwards would get on in the forward line. I knew that would work. I look at him as sort of a mentor.
"I know I have been fortunate enough to play a fair bit of footy myself at the Giants first but then to come down and have someone above me that has played more footy has been awesome."
The pair both love their farms too, although teammates would question how much advice Hawkins could give Cameron on that topic.
The 29-year-old from Dartmoor bought 20 hectares about 20 minutes out of Geelong on the way to Anglesea, where Cameron lives with his girlfriend Indi.
The pair share the property with their beloved six-year-old German short-haired pointer Billy, as well as a few cows and the house cat.
"Everyone gets on, which is a positive, and I'm definitely looking to get some more cattle and some sheep out there in the future," Cameron said.
His love of the outdoors takes him down all sorts of tracks, with his latest endeavour a plan to buy a tractor.
Loading
"We are going to get something done. It's good to get to know more people in that industry," Cameron said.
It's all part of the range of things that keep the star forward occupied between games. Last Saturday, while Sydney battled their hearts out to win the right to play Geelong in the grand final, Cameron was in the shed with the radio on, banging out a benchtop before, as he said, "calling it a day".
"The farm is not too big, not too small," he said. "Plenty to do, which takes my mind away from footy, and I can just turn up on game day and do my best."
Keep up to date with the best AFL coverage in the country. Sign up for the Real Footy newsletter.