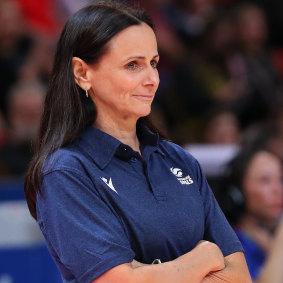 "We played Serbia in the qualifiers earlier in the year and lost that game," Magbegor said.
"So I think we're just going in wanting to be aggressive, wanting to be on the front foot really early.
"Their physicality will be the biggest challenge. They're a big team as well. We're a big team too, though, so I think we'll match up well with them in that aspect.
"We know their game, but we just need to be ready and start the game off strongly."
Canada leads Group B with a 2-0 record with France, Serbia, Australia and Japan all tied on 1-1 with three games to go and only the top four making the quarter-finals.
Opals veteran Marianna Tolo had made a difference off the bench in the first two games in Sydney, and she said the team knew they couldn't look past the Serbia game.
"It's going to come down to the wire," Tolo said.
"So we just have to take it one game at a time and that starts with Serbia.
"We've had a good battle with them in [the] qualifiers, we are just going to focus on locking them down.
Loading
"The easiest way to get to the finals is to win all four games, but we can't do that without taking it one game at a time."
Tolo and Lauren Jackson have rekindled their connection on court this World Cup playing together off the bench, and Tolo said she wanted to make an impact with every minute.
"One of my strengths is that I've played a lot of international basketball," Tolo said.
"I'm a pretty steady kind of person. I've had the experience of playing in big games before, so I just go back to what I know and know how to play.
"I'm just ready to play my role whenever I step out into the floor, that's paid off the last couple of games."
News, results and expert analysis from the weekend of sport sent every Monday. Sign up for our Sport newsletter.