Those three NBA superteams would be unbeatable and have a 98-0 record for the 2022-23 season.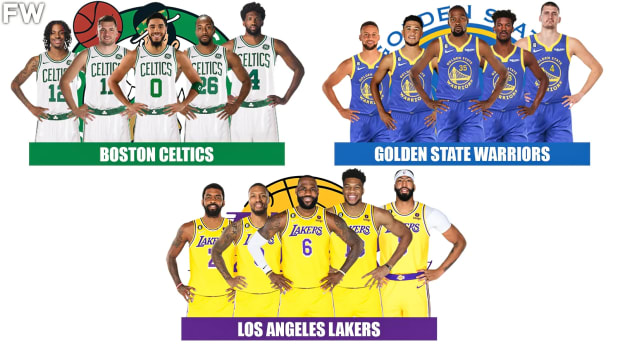 The definition of a superteam in the NBA for some can be based on the amount of success a team obtains during their time together. Others would define a superteam as the joining of numerous stars with one franchise in order to chase team success and win NBA championships regardless of the outcome. Whatever your definition of a superteam is in the NBA, it is clear that they are alive and well today, or at least the attempts at their formation are. With everyone running to play NBA2K on GM mode, what if we could create the three most unstoppable superteams using the NBA's biggest stars and throw them into today's league?
You have seen us explore the idea of a Team USA vs. Team World exhibition in order to fix the All-Star Game. You have also seen us add one NBA legend to every franchise and break down who would be the best in that scenario. Now, lets us give three NBA franchises the best players in basketball and go to battle for the title of the ultimate NBA superteam. Each of these built superteams has the ability to go 82-0 during the regular season and then 16-0 throughout the playoffs. They are all virtually unbeatable for various reasons. These three franchises will be ranked in the end based on how well we think they would perform in today's NBA if it were reality.
These are the three unbeatable superteams who would go 98-0 for the 2022-23 season.
---
Boston Celtics Superteam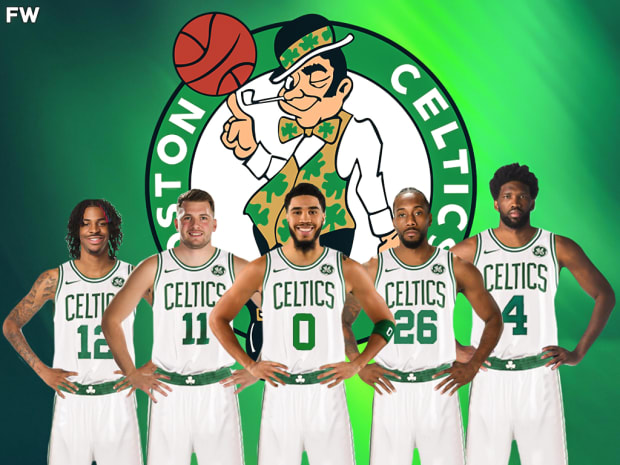 Starting Lineup: Ja Morant, Luka Doncic, Kawhi Leonard, Jayson Tatum, Joel Embiid
As far as the versions of themselves that they are in 2022-23, the Boston Celtics may be the most complete superteam that we built. The backcourt will be controlled by Luka Doncic who will keep the game at his pace and pick apart defenses with precision as a scorer and playmaker. This will free up Ja Morant to create at will and operate in the open court as he loves to do. Doncic is going to provide a spark for four players who have never had the luxury of playing with a facilitator of his caliber, leading to a smooth and free-flowing offensive attack.
At the forward positions, Kawhi Leonard and Jayson Tatum provide a perfect balance to each other. Leonard is still one of the better two-way players in the game today, and his 23.8 PPG on 51.2% shooting this season will be massive for Boston's attack. Jayson Tatum is having an MVP-worthy season as well as an over 30.0 PPG scorer who is also grabbing 9.0 RPG. Tatum and Kawhi's combination will be extremely effective on the defensive end as well, making up for the holes perhaps left by Doncic or Morant.
The player who gives the Celtics the edge and puts them over the top is Joel Embiid. With the talent of the other four players at each position for Boston, they were already going to be hard to stop. With Embiid joining the fun, it will be impossible. First, one can only imagine the way Embiid and Luka would thrash defenses in the pick-and-roll that Doncic has mastered. Embiid can also be a spark on the defensive end with the way he can alter shot attempts and kickstart the transition attack by getting the ball into Luka's hands. I see very little to no weaknesses in this Warriors team on either end of the ball.
---
Golden State Warriors Superteam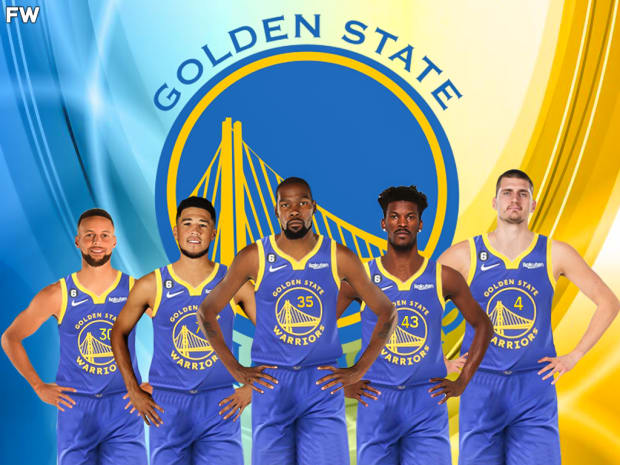 Starting Lineup: Stephen Curry, Devin Booker, Jimmy Butler, Kevin Durant, Nikola Jokic
First up in our three created superteams is the Golden State Warriors featuring a complete and explosive offensive attack. To start things off in the backcourt, the greatest three-point shooter in NBA history starts the offensive onslaught in Stephen Curry. He teams up with Devin Booker who brings a solid mid-range and playmaking aspect alongside Curry. Curry will play a huge factor in Boston's offense not only for his shooting but for the attention he will undoubtedly draw when he starts to get hot, opening up maximum opportunities for the other four players on the court.
This doesn't bode well for opponents when you consider that one of the best scorers ever is sharing the same lineup with Curry once again. Kevin Durant is a mid-range assassin, and with the space, he will have to work with, is sure to deliver some all-time great performances. Then you add in Nikola Jokic, who is already the greatest playmaking big man of all time and a two-time MVP of the league. Jokic will have a field day picking apart defenses with all of the weapons he has to use at his disposal, especially cross-court, as he so often does.
The one weakness that I can see being an issue for the Warriors is their defense. Of course, Jimmy Butler provides some perimeter relief defensively, but not enough to stop the attack from the other two teams by himself. Butler's defensive abilities will be what the Warriors ask from him the most, letting the four other players run the offense. Durant is an underrated defender but will struggle against bigger lineups, and Jokic has a tough time guarding physically dominant bigs as well. This may not be an issue considering the firepower they have on offense, but when you need a stop, who is it that you turn to out of these five?
---
Los Angeles Lakers Superteam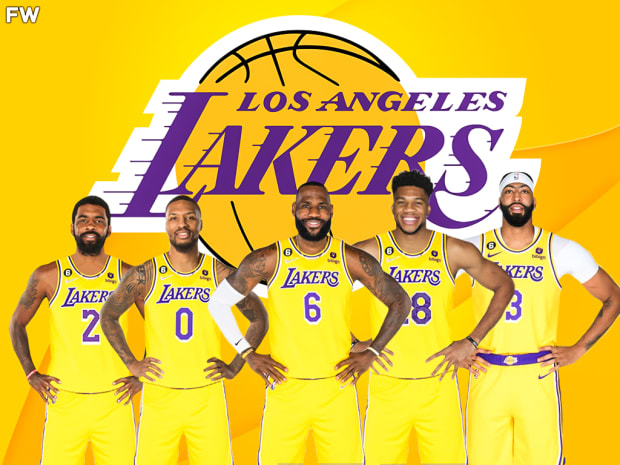 Starting Lineup: Kyrie Irving, Damian Lillard, LeBron James, Giannis Antetokounmpo, Anthony Davis
In this scenario, the Lakers field an interesting lineup capable of putting up big numbers on the offensive end and being incredibly disruptive defensively. The Lakers get started with a backcourt that consists of some incredible outside shooting and overall efficient basketball. In 2022-23, Damian Lillard is averaging 32.3 PPG on 46.5% shooting overall and 37.6% from three. His backcourt partner, Kyrie Irving, is one of the best shot-creators in the game and has been shooting around 50/40/90 splits for three seasons now.
The backcourt gets even more deadly when you realize they will both be able to work off the ball, with LeBron James most likely serving as the team's primary playmaker. Allowing Lillard and Irving to move freely away from James will be especially dangerous when LeBron gets a head of steam to the basket, but things get clogged up, and he can kick it to one of the two. The more that the paint opens up due to these three playing off one another, the more it will play into the hands of the Lakers due to their massive frontcourt.
That frontcourt consists of the consensus best player in the world, Giannis Antetokounmpo, and one of the best two-way big men in the NBA when healthy, Anthony Davis. Defensively, this is the best frontcourt that exists of the three superteams we created. Davis and Giannis are both elite defenders and will cause more than enough headaches as opponents find it nearly impossible to attack the rim. On offense, Giannis and Davis can open the floodgates for the Lakers by forcing teams to collapse on them on the interior and having Irving and Lillard reap the benefits.
---
Which Superteam Would Be The Best In The NBA?
When taking a look at all three superteam rosters that we have created, each team presents a case to be the best. If we were to rank each team from best to worst, the order would be as follows. The Boston Celtics would be first due to their overall balance of attack on offense and what they provide defensively as well. Luka Doncic and Joel Embiid are a lethal offensive duo in pick and rolls, and neither opponent has what it takes to stop it. With Leonard, Tatum, and Embiid on the front line, teams will struggle against them defensively as well.
Second, we would have to put the Golden State Warriors superteam with their perfectly balanced and elite scoring attack. The three-point shooting of Stephen Curry alone is enough to put them in contention for the top spot, but that isn't all Boston is bringing to the court. Devin Booker is a mid-range assassin, as is Kevin Durant, who is a serious threat from all three levels anyway. Jimmy Butler will be relied upon for his perimeter defense more than anything, allowing him to focus on the strongest part of his game. To top it all off, the two-time MVP and sensational playmaking big man Nikola Jokic joins a lineup that has no weaknesses in their offense.
That means coming in last is the Los Angeles Lakers. This doesn't mean the Lakers are poorly built by any means, but they are the team with the most question marks heading into any season. Of course, having the best player in the world, Giannis, automatically makes your roster elite, as does having outside shooting provided by Damian Lillard and Kyrie Irving as well as the presence of LeBron James as a playmaker. However, James himself is a question mark with age and injury, as are Anthony Davis and Kyrie Irving, for various reasons. As ridiculous of a reason as it may be, we had to find some kind of reason to put one of these elite rosters in last place.
We sincerely appreciate and respect you as a reader of our site. It would help us a lot if you follow us on Google News because of the latest update.
Thanks for following us. We really appreciate your support.
Next