The reason why Michael Jordan will not be represented in Air Jordan movie.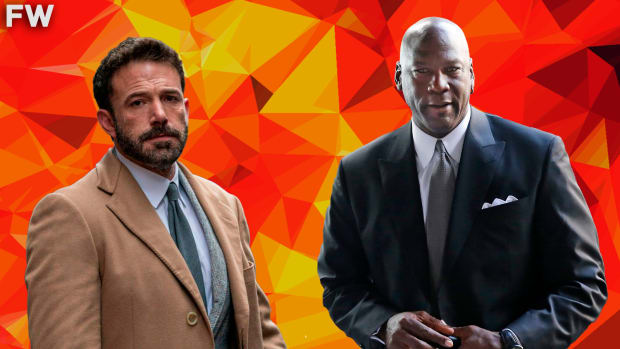 The movie 'Air' tells the story of Nike's brilliant pursuit of Michael Jordan, which not only changed the fate of their own company but also helped Jordan himself achieve unprecedented levels of fame as an athlete.
Curiously, Jordan isn't going to appear at all in the movie (not in his real form or a depiction) and it's a decision many have been criticising.
But as Ben Affleck (one of the movie's directors and featured stars) explained, Jordan's legacy is just too great to try and include him in the movie.
"Jordan is too big," Affleck said. "He exists above and around the story, but if you ever concretize him, if you ever say, 'Yes, that's Michael Jordan,' we know it's not, really. It's fake. I thought if the audience brought everything they thought and remembered about him and what he meant to them to the movie and projected it onto the movie, it worked better."
Clearly, the movie will focus on Nike's side of the story as they made the transition from ordinary to extraordinary through athletes like MJ and others.
But it's important not to forget Jordan's journey, and how he ended up finding his way to Nike in the first place.
---
MJ Almost Signed With Addidas Before Taking One Last Meeting
As the story goes, Jordan's mother pushed him to take a meeting with Nike brand after he was set on heading to Addidas. Clearly, it's a moment that could define his career.
"'Mom, I don't want to hear it, I know what I want to do, I don't wanna go to Nike'. I said, 'Michael, you have to give them an opportunity." My mother said, 'You're gonna go listen. You may not like it, but you're gonna go listen'. She made me get on that plane and go listen," MJ said. "Go into that meeting not wanting to be there, Nike made this big pitch. My father said, 'You gotta be a fool for not taking this deal, this is the best deal'."
So, MJ finally takes a meeting with Nike and they blow him away with an amazing pitch. Jordan would go on to build one of the best NBA careers ever and would launch his own sub-bran within the Nike empire.
Looking back, it's an amazing success story that only makes MJ's legacy that much stronger.
We sincerely appreciate and respect you as a reader of our site. It would help us a lot if you follow us on Google News because of the latest update.

Thanks for following us. We really appreciate your support.