Champion jockey James McDonald needs a successful appeal to avoid missing Golden Slipper day after being suspended for six meetings for careless riding in the last race at Randwick on Wednesday.
McDonald said he would appeal the incident that took place on the Kensington track. He will need a one-meeting reduction to be able to ride on Slipper day.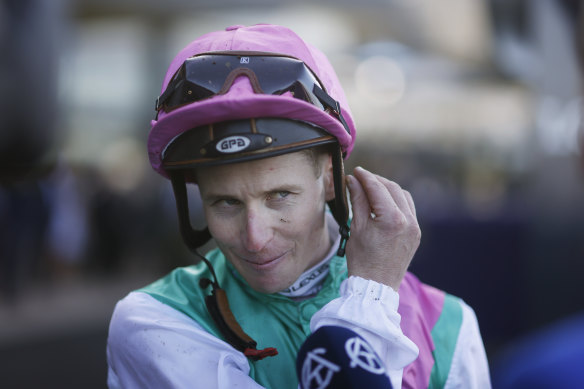 He has a book full of favourites for Australia's biggest group 1 day of the year, including Golden Slipper favourite Cylinder, superstar Anamoe in the George Ryder Stakes, and Lost And Running and Pericles, which are the top picks for the Galaxy and the Rosehill Guineas.
He pleaded guilty to a charge of careless riding after his mount Cholante moved out several horses and checked Look Only just after the post, which nearly dislodged Amy McLucas.
"It was a nasty bit of interference, she was lucky not to come down," acting chairman of stewards Chris Albrecht told McDonald.
The premier jockey had been steering Cholante, the favourite, to the line in a tight finish, where Portray prevailed from Nicci's Song and Cholante. McDonald's mount shifted across Look Only's path.
"It was just a brain fade," McDonald said.
Stewards rated McDonald's level of carelessness as high. As a runner nearly fell, the penalty started at 14 meetings. That figure was reduced by 60 per cent because of his good riding record, guilty plea and that he would miss the Golden Slipper meeting.
McDonald, who has ridden nine group 1 winners this season already, had only been suspended once in two years and apologised for the incident.