Charles Barkley blasted Kendrick Perkins for suggesting that white MVP voters only want to vote for white players.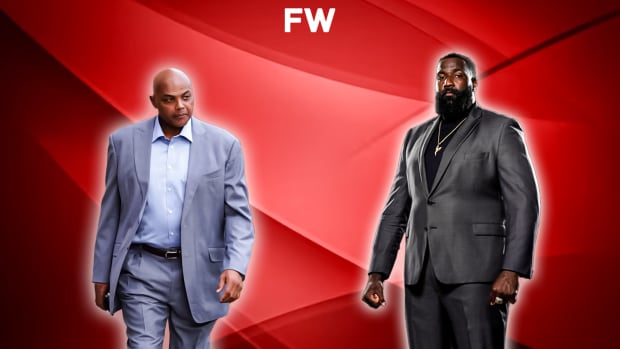 The fallout continues from Kendrick Perkins' controversial comments on ESPN's First Take.
On Tuesday, Perkins claimed that white MVP voters vote for white players and during an appearance on Altitude Sports Radio, Charles Barkley blasted him for his comments.
"Asinine, silly, and stupid, pick one of the words, whichever one you want," Barkley said. "Listen, Joker has won 2 MVPs, well deserved. Him, Giannis (Antetokounmpo), and Joel (Embiid) are battling for the 3rd one this year, gonna go down to the wire."
Barkley then went on to blast ESPN for always bringing up these silly MVP debates and having their talking heads dish out controversial comments. He also completely debunked the notion that white voters always vote for white players.
"You probably can count the white guys on one hand who have won MVP… Does he know how many voters there are who are white actually? Or he just pulled 80% out of his a**? My point is if only five white guys have won MVP in the last 30 years, his argument makes zero sense. Because if that was the case, we'd have a lot more white MVPs if white guys or ladies only gonna vote for white guys for MVP."
Barkley concluded by saying that he liked the fact that JJ Redick fired back at Perkins for his bogus remarks.
"JJ is the only person who challenged Perk last week (and) I'm glad he did because when I first heard it, I said, 'Man, this has got to be one of the stupidest things I've ever heard.
As Barkley says, you can count on one hand, the white players who have won MVP in the last 30-odd years, so to say these voters only vote for them, is stupid. Nikola Jokic won the last two MVPs because of his excellent play and if he wins it again, it will be because he has had another exceptional season.
---
Kendrick Perkins' Controversial Comments on Nikola Jokic, Dirk Nowitzki, And Steve Nash
This all started last week when Perkins implied that the reason Jokic, Dirk Nowitzki, and Steve Nash won MVPs was because they are white. He was doubling down here following the backlash he received and has made matters worse.
Perkins has made some extremely controversial remarks during his time with ESPN and you have to wonder if the company might be considering parting ways with him. He had gotten into a nasty back-and-forth with Draymond Green last year and after a certain point, he will run out of lives with the network.
We sincerely appreciate and respect you as a reader of our site. It would help us a lot if you follow us on Google News because of the latest update.
Thanks for following us. We really appreciate your support.