Charles Barkley speaks about Brittney Griner's release from Russian prison, which he called 'bittersweet.'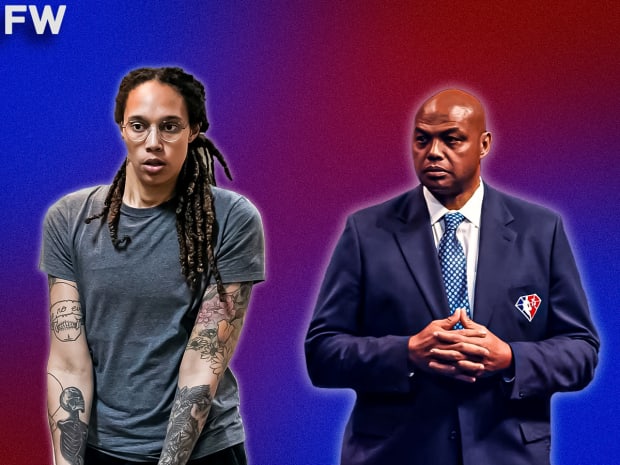 WNBA star Brittney Griner was finally released from the Russian prison she was after being sentenced to 10 years. After spending several months in jail, a prisoner swap was completed between the US and the Russian Federation.
Now, Griner is back home, safe and ready to resume her activities as one of the most dominant players in the WNBA. After the news saw the light, many people reacted to it, including LeBron James, who couldn't hide his excitement about it.
Many fans cheered for Griner too, while others saw the bigger picture and realized that perhaps this situation could have been better for America. Charles Barkley is one of those who think the federal government could have done a little bit more for more people.
---
Charles Barkley Reacts To 'Bittersweet' Brittney Griner Release From Russian Prison
During a recent appearance on CNN, the NBA legend admitted this was a nice moment for Brittney and everybody, but he also called it 'bittersweet' because other American prisoners are still locked, while the US had to give a very dangerous man in return for Brittney.
"It's a great day for the NBA, the WNBA, Brittney and her family. But it's also a bittersweet day," he said. "Mr. Whelan is still over there — and we got a scumbag arms dealer that might go out and kill other people.

"On one hand I'm really, really happy for our NBA and WNBA family. But man, you've got to feel for Mr. Whelan."
The Joe Biden administration reportedly pushed for Paul Whelan to be included in this deal, but Russian representatives refused. This became a thing after everybody started asking for the government to bring Griner home, which finally happened.
Now, other prisoners remain locked and Chuck is trying to shed light on those cases so they can return home just like Brittney just did. Of course, this isn't easy, but it's good to see that Chuck is seeing beyond the obvious and speaking on behalf of those who have been silenced.
We sincerely appreciate and respect you as a reader of our site. It would help us a lot if you follow us on Google News because of the latest update.

Thanks for following us. We really appreciate your support.