It wasn't all that long ago when news of then Essendon star Joe Daniher meeting at the home of chief executive Tom Harley was dismissed as nothing more than a coffee between two old friends. Months later, Daniher requested a trade to Sydney in a deal that ultimately fell through. Tom must make great coffee.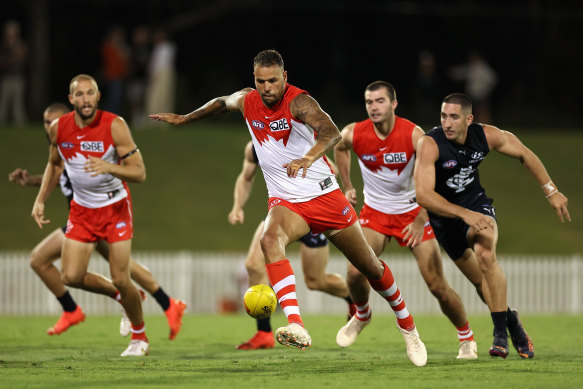 The Swans are savvy when it comes to player movement and they believe their record of sustained success is a significant drawcard for De Koning, who is looking to play in his first finals series for the Blues this year.
But there is some good news for Carlton fans. Sources close to De Koning are adamant that if he plays, he stays. But can the Blues fit Marc Pittonet, Harry McKay, Charlie Churnow and De Koning in the same 22? Time will tell.
Tradie Jack
When Gold Coast's pick seven was offered up as part of a potential trade last year, Victorian-born Jack Bowes became one of the most sought-after names in recent history. So much so that four clubs pitched to the man himself for his services. Hawthorn offered the most money, Essendon brought the promise of guaranteed games and Geelong hand-delivered Patrick Dangerfield to give Bowes and his partner a personal tour of the Cattery.
But it was new Kangaroos coach Alastair Clarkson who took the most left-field approach in his attempt to lure the midfielder to Arden Street.
Clarko rang Bowes directly and offered him a trip to the Mornington Peninsula, where the career coach has a stunning farm property that shares a fence with the salubrious National Golf Club at Cape Schanck. Bowes accepted and began the journey south. The phone rang again and Clarkson's voice came through the car's speakers via Bluetooth. "How far away are you?" quizzed Clarko. "About halfway," responded Bowes. It was then that things got interesting.
Clarkson requested Bowes stop off at a nearby Bunnings and pick up a specific type of screw. A little confused, Bowes accepted the challenge and arrived at the property 15 minutes later than expected, following the quick detour.
When Bowes arrived, he quickly worked out what the screws were for. There was Clarko, on his hands and knees, building his new deck. Bowes had a decision to make.
So he and Clarkson talked about footy, Bowes' career and his future prospects. They just did it while constructing a brand-new redwood deck.
Bowes picked Geelong.
Too hot in the Sun?
Since the AFL did away with an official pre-season competition, practice matches have become a little less formal, to the point where teams agree to play anywhere between four and eight quarters, with or without time on.
Loading
But Essendon players were surprised, to say the least, when they got on the bus home following their hitout with Gold Coast, and saw Suns players still out on the field at Carrara, playing among themselves. "I thought you said they were done?" quizzed one senior player to a football department staffer.
Despite agreeing to six quarters, the game was called off after five. Essendon told their players it was at the behest of the Suns, but turns out it was the other way around.