Former player gets real on why Ja Morant has to be extra careful.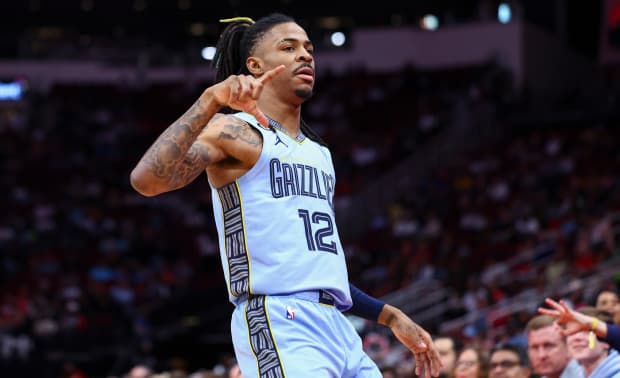 As Grizzlies star Ja Morant nears his return to action, fans and experts across the world are going to be watching his every move.
But as one former NBA player told Heavy, the basketball world has been watching his every step from the beginning thanks to smartphones and the modern media empire. It's up to Ja to realize that he's always in the spotlight and act accordingly.
"It's a different world now. Everybody has a camera in their phone. Everybody is the national news — the international news. It was different when I came in, but now there's no real privacy," said a former player. "Ja choosing to do this to himself with that video is crazy, but you have to understand that you're always in the spotlight. I think back to some of the situations we were in years ago and I cringe. We're not talking about anything major, but there were times when some drunk guy would say something in a bar. Maybe you said something back. Now, what if all that was on video and being shown around the world an hour later? Just thinking about that makes me happy I'm old."
Today's stars don't have the luxury of keeping secrets. In today's age, Ja has to be careful with where he goes and what he does, or it could jeopardize his entire career.
Somehow, he thought it was a good idea to flash a gun on Instagram Live and now he's dealing with the fallout from that. But things can still get better for Ja if he wakes up and makes smarter decisions about what he puts on his platforms.
---
Was Ja Morant Suspended For Being 'Bad For Business'?
The NBa's response to this whole crisis has drawn plenty of questions, but the league did ultimately settle on an 8-game suspension for the IG Live incident.
According to one agent, the only reason for it was to protect the NBA's brand.
"They suspended him for being bad for business," one prominent player agent told Heavy Sports. "I'm sure the people in the league office are concerned for Ja as a person, too, but they have to prioritize the business. His family, the team, and the other people around him have to be there to support the guy, but everybody has to know where the league is on this.
So, the ball is in Ja's court now. The NBA did what it had to do to send a message, and now that it's over with Morant can get back to focusing on basketball.
Hopefully, it stays that way for the foreseeable future and beyond.
We sincerely appreciate and respect you as a reader of our site. It would help us a lot if you follow us on Google News because of the latest update.

Thanks for following us. We really appreciate your support.