Former NBA Head Coach George Karl has said Joel Embiid has lazy body language and that he takes too many possessions off.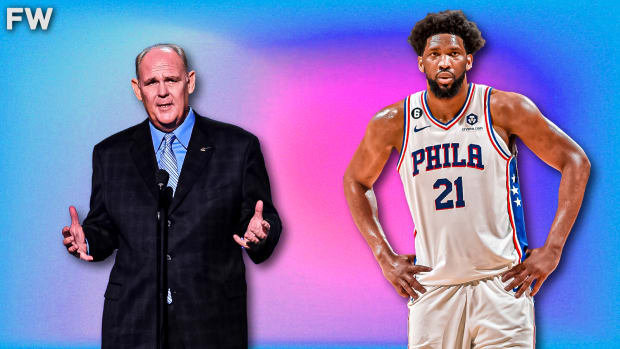 Joel Embiid has stepped up his game in recent weeks and seemingly taken the lead in the race for the MVP award this season. The Sixers man is the league's leading scorer as well as an incredible defensive presence.
Many are advocating for Joel Embiid to finally win MVP. He still has his detractors though, and former NBA Head Coach George Karl had some criticism for the big man.
"I don't want to bad mouth Embiid, because I think he's really, really good," George Karl said. "A lot of my assistant coaches were with him in Philadelphia when he was younger. And they said he's gonna be the best big guy to ever play the game.
"I see him moving in that direction, but I don't know, he takes too many possessions off. He has lazy body language. He gets angry at things that we don't understand why… I can only like one big guy and I'm taking Jokic over Embiid."
George Karl did praise Joel Embiid a bit, saying that he has played great in the games he has watched. But his conclusion still seems to be that Nikola Jokic is the better player right now. This has been a heated MVP race and many like Kendrick Perkins have pushed hard for Embiid to finally win the award. But it seems that not everyone is sold on the big man yet.
---
Gilbert Arenas Said Joel Embiid Takes Too Many Possessions Off Too
This particular criticism of Joel Embiid that George Karl shared is not uncommon. Gilbert Arenas, who had Embiid third on his MVP ladder recently, said something very similar about the Philadelphia 76ers superstar.
"I don't see the quantum leap from Embiid," Arenas said. He takes a lot of possessions off. Usually dies out in the 4th quarter when he gets tired…There's nothing that stands out for me to put him as the front runner as the MVP."
There have been other greats that have backed Embiid and explained why he is the MVP. And considering that he is averaging 33.5 points, 10.2 rebounds, and nearly 2 blocks per game, it would be hard for anyone to deny. Any player can always be criticized, but some of the criticism coming his way feels a bit uncalled for.
We sincerely appreciate and respect you as a reader of our site. It would help us a lot if you follow us on Google News because of the latest update.
Thanks for following us. We really appreciate your support.