Tuesday marks the beginning of the Big East men's basketball tournament—and the 10-year anniversary of a bold move that saved the conference from extinction.
At this time 10 years ago, the Big East Conference had a name, a history and a clear vision of what it wanted to be—and no longer wanted to be. What it didn't have was anything else.
There was no commissioner. No office. No bank account. No website. No work email. No staff benefit plan. If someone in the spring and summer of 2013 asked where the Big East headquarters were located, the generally correct answer would have been, "New York City." But there was no actual address, no shingle to hang outside, no there there.
What it lacked in physical presence, the conference made up for in direction—away from the gravitational pull of football, toward the basketball-centric ethos that made the Big East what it was to begin with. Instead of trying to keep up with the gridiron Joneses via a loose confederacy of drifter schools that had little in common, the "Catholic 7" core of the league broke away and went back to the future.
The new Big East was formally announced on March 8, 2013, with DePaul, Georgetown, Marquette, Providence, St. John's, Seton Hall and Villanova separating from FBS football-playing members Central Florida, Cincinnati, Connecticut, Houston, Louisville, Memphis, South Florida, Southern Methodist and Temple. (Those football schools were reconstituting in what would be called the American Athletic Conference.) Armed with a new Fox Sports TV contract, the Big East schools would add Butler, Creighton and Xavier—then, years later, UConn again—while keeping two things they desperately wanted: the league name, and continued rights to play their men's basketball tournament in Madison Square Garden.
On March 8, 2023—10 years after the new Big East was formed, to the day—the Garden will open its doors to the conference for the 41st consecutive season. The Big East will tip off its men's tourney that remains one of the centerpieces of the sport, a bright-lights, big-city basketball bacchanal that carries its own unique charisma. A decade into it, the counter-intuitive reinvention of the Big East has been remarkably successful.
"Ten years," says commissioner Val Ackerman, amazement in her voice as she shook her head on a Zoom call with Sports Illustrated. "It's been 10 years! I'm really happy for the Big East, and not in a self-serving way. The presidents 10 years ago had a vision, and they had circumstances they had to deal with. They were hit hard and they had to make a move. To see where it is now, it's really cool."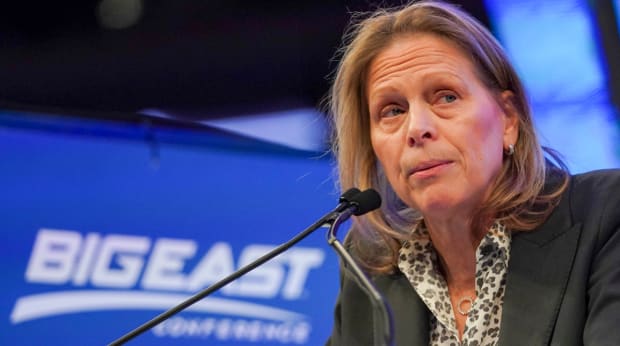 To see Ackerman where she is now, a decade into her pioneering tenure as the most prominent female commissioner in college sports history, is noteworthy in its own right. She's become one of the pillars of college athletics, which was decidedly not in her plans at this time in 2013.
The former WNBA commissioner was teaching a sports management class with former CBS Sports executive Neal Pilson at Columbia University. They were studying how sports business leaders managed crises. The ongoing travails of the Big East's attempted reinvention offered vivid, real-time subject material.
In late April, a search firm contacted Ackerman to gauge her interest in becoming the commissioner of the new Big East. She liked the idea but hated the timeline. The league wanted to be up and running by July 1, with competition set to begin in late August. There's no way, Ackerman thought.
Former Big 12 commissioner Dan Beebe, who was hired to help the transition from non-league to league, echoed those doubts. "They wanted to put the key in the ignition and go," Beebe said in the book, The Big East, which was published in 2021. "No, no, the car doesn't have an engine yet, or a steering wheel.''
But the league pressed on, lack of infrastructure be damned. Ackerman accepted the job, transitioning from a lecture podium in Lewisohn Hall at Columbia to a jack-of-all-trades for a start-up conference. "I was the paperwork," she says. "I was promising people benefits I didn't have. It was just sort of left to me to bring it to life."
As the league left behind its traditional home of Providence, R.I., Ackerman set up shop in a Manhattan office of the Proskauer Rose law firm, which had worked with the Catholic 7 on its breakaway. Eventually, she acquired more and more office space from the firm as she added employees. That served as the unofficial conference headquarters for more than a year.
"There I was, questioning whether it could get done," Ackerman says. "Guess what? It got done. But I don't think I could relive it. I joke about it, but it was really hard."
The new Big East's decision to make basketball-first decisions at a time when football had gained peak importance was a bold one. But it was rooted in both a realistic appraisal of the landscape and a desire for authenticity.
The league had been hemorrhaging football-centric members for years, starting with the unforeseen departure of Syracuse and Pittsburgh for the ACC striking a particularly heavy blow in Sept. 2011. West Virginia bailed for the Big 12 a month later. Then came the next wave, in 2012: Notre Dame left for the ACC while maintaining football independence; Rutgers bolted for the Big Ten; Louisville filled an ACC gap left by Maryland.
"I loved following our league's football," says former Villanova coach Jay Wright. "I thought we were in great shape—we were in heaven as a basketball conference, 11 out of 16 teams made the tournament in 2011. We were protected by football. Then the world came crashing down."
Flailing, the Big East offered membership to schools all over the map, from San Diego to Boise to Texas to Florida, with some accepting and then departing before ever playing in the conference. Faced with instability, the football-based solutions weren't very satisfying. "We're going to bring in SMU?" John Thompson Jr., legendary former Georgetown basketball coach, said during the tumult. "What the hell? They're nice people, but they don't belong here.''
So the Big East returned to what it knew best, and even retraced its historic steps with a Fox media-rights deal. When the Big East was founded, it entered into a leap-of-faith partnership with a start-up cable company in Connecticut called ESPN—that worked out pretty well. Now it was going to baptize Fox as a college basketball entity.
There was justifiable skepticism. The annual Big East meetings had been moved to a new Florida location—from the traditional comfort of Ponte Vedra to Hollywood—and there was no longer an ESPN presence there. Ackerman and Fox exec Larry Jones presented an optimistic picture, but the league's basketball coaches were a tough sell.
"The coaches were just miserable," Wright recalls. "I can't say I was optimistic. But I did know we had to make it work."
As it turned out, teenage recruits less habituated to ESPN than many adults will find basketball games wherever they are telecast. They watched the Big East on Fox, and many of them liked what they saw. That was a revelation to Wright when he started recruiting future national Player of the Year Jalen Brunson out of Chicago.
With the programs not taking steps back in recruiting, modernizing facilities and retaining talented coaches, the new Big East picked up quickly where the old Big East left off. Four teams made the NCAA tournament in 2014, six made it in '15 … and then came the Villanova breakthrough in '16.
After several years of underachieving in the Big Dance, the Wildcats won it all that April, capped by Kris Jenkins's epic bomb at the buzzer to beat North Carolina. Then they came back in 2018 and did it again with a juggernaut team, one of the best of the 21st century. A Big East program laid claim to being the standard bearer for college basketball in the 2010s.
"What Jay and Villanova did sort of validated the vision," Ackerman says.
Now, of course, Wright is retired and Villanova is in transition. There is a need for a new heavyweight in a conference that hasn't sent anyone other than 'Nova to the Final Four since Louisville in 2013. But there are candidates for that role, starting now.
Regular-season champion Marquette might have its best team since the Final Four run of 2003, and could be ticketed for a No. 2 NCAA tournament seed. Connecticut is back, as both a national commodity and a massive fan presence in the Garden this week. Creighton is a Final Four sleeper. Xavier is reborn with Sean Miller. Providence could have the goods for a second straight Sweet Sixteen run.
What happens in the Big Dance is what matters most, but no league can match the all-in energy of the Big East tournament. Wright said he and other coaches in the league believed that winning the Big East tourney in the Garden is bigger and better than winning an NCAA Sweet Sixteen game.
"That tournament, in the Garden, is to the Northeast what SEC football is to the Southeast," Wright says. "There's people who aren't even alumni of the schools but they go to the Big East tournament in Madison Square Garden every year—and if their team loses, they'll stay. They'll watch the whole tournament. It's part of the culture in the Northeast."
Still, nothing is permanent in college sports, and that could affect the Big East's successful rebuild. The Fox TV deal runs for two more years—and then what? The company has invested massively in college football now; does it still have money to spend on a basketball conference?
"No one needs to worry here," Ackerman says. "Our value has been proven over and over."
On the brink of losing its identity a decade ago, the Big East swam headlong into a strong current—choosing to be borne back into its past. Ten years to the day after taking that plunge, it will celebrate its continued relevance this week in The Garden.
"This conference stood for something, then it tried to stand for all these things, then it tried to stand for that same thing again—a basketball-focused, college league in a football-driven world," Ackerman says. "I just love the idea of that."