Papali'i's mother, Lorina, was watching at home in New Zealand and was impressed by Taumalolo's sportsmanship when told about the images, whcih were not captured on the live broadcast.
Lorina, who represented Samoa at two rugby World Cups and New Zealand at two rugby league World Cups will make the trek to Sydney with husband Jerry next weekend.
"That is so beautiful to hear that," she said. "It's definitely heart-warming and actually gives me goosebumps that he cared enough. It wasn't vicious, it was sportsmanship.
"I thought it was a sign of respect when Isaiah and Jason Taumalolo went at it the whole game. It was a good battle.
"When he did go off the field, I was hoping he would come back on. He looked fine to us. We also wanted to make sure he was OK and finished strongly.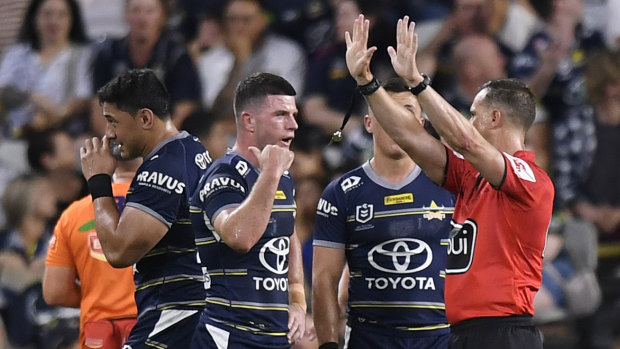 "We're just excited and grateful he has this opportunity to try and win the grand final."
Taumalolo is likely to miss a Tongan friendly against France given the league allowed Lindsay Collins and Jared Waerea-Hargreaves to serve part of their bans in warm-up games for Australia and New Zealand respectively, and will also miss Cup games against Papua New Guinea and Wales.
Papali'i will join Wests Tigers next year and knows he has the perfect chance to farewell Parramatta in style.
"This whole finals series has been crazy for me, just playing week to week and knowing it could be my last game," Papali'i said.
"We know what's happening post-2022, so we want no regrets and understand these opportunities don't come around often. We need to take this opportunity with two hands."
Loading
Papali'i was on the end of the pass from Mitchell Moses for Parramatta's first try, which Paul Vautin – among many others – said sailed forward "six metres" on the Channel Nine commentary.
The back-rower smiled when asked about it, saying: "I just played to the whistle. Mitch is a freakish player and you need to expect the ball at all times. I never looked up. I heard people booing. It was up to the ref to make that call."
Stream the NRL premiership 2022 live and free on 9Now.