Isiah Thomas and Karl Malone discussed how the Bad Boy Pistons would've been if Malone fell to them in the 1985 Draft.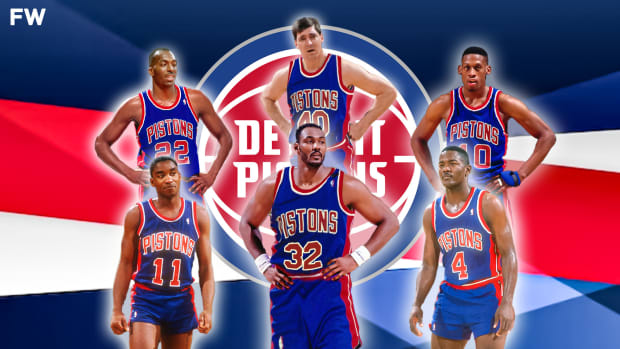 The Detroit Pistons could've gotten the perfect star in the 1985 Draft that would've brought immense toughness and one of the silkiest scoring abilities in NBA history in Karl Malone.
Isiah Thomas revealed to Malone that the Pistons hoped he would fall to the 18th pick, but the Jazz took Malone with the 13th pick before the Pistons had a chance.
Malone: "I would like to clear the air. Unless my agent was telling me a bald-faced lie and the reason I went No. 13, was because of the report. I was like 'dang, I know I been living in the backwoods of Louisiana and I'm just coming out, but what report?' Marty Blake said you were lazy and didn't work hard. That's what started me. Whether my agent planted that seed."
Thomas: "Two things were happening that draft. We see you drop and we're hoping you drop all the way down to 18 and you're gonna be a Piston. I'm like, that's a Piston. Man, if you would've made it all the way down here to Detroit, can you imagine? You, Laimbeer?"
Malone: "You'd have to have all the security following our bus."
View the original article to see embedded media.
The Detroit Pistons were easily one of the most feared teams in history, combining skill and toughness in a way teams hadn't seen before. Adding Malone would've made extended their prime and made them even more lethal.
Detroit can't feel hard done by the draft, as they picked Joe Dumars with the 18th pick instead. Dumars became an iconic backcourt partner for Thomas and even won Finals MVP in their title-winning season of 1989.
---
Karl Malone As A Piston
Karl Malone retired ringless after a nearly 20-year career as one of the greatest scorers in league history. His Utah Jazz repeatedly fell short and his attempt to ring chase with the 2004 Lakers failed miserably, losing to the Pistons in the Finals. There is a world where Malone got drafted by Detroit in 1985 and played long enough to also be a part of the 2004 title-winning squad.
Revising history for certain outcomes never leads to linear results. But given the collection of talent that the Pistons put together in the mid-to-late 80s, Malone probably would have retired with a championship if he was a part of that team. Nothing is for certain and it's unlikely that Malone would trade his Hall of Fame career on the Jazz for a 'what if?' scenario on the Pistons.
We sincerely appreciate and respect you as a reader of our site. It would help us a lot if you follow us on Google News because of the latest update.
Thanks for following us. We really appreciate your support.