Mychal Thompson urges Ja Morant to follow in the footsteps of Stephen Curry and LeBron James following his gun incident.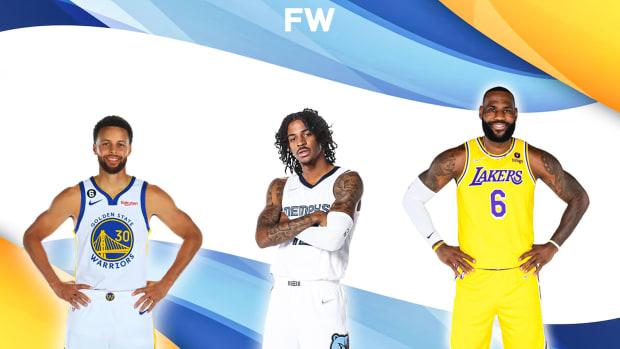 Ja Morant has been making the headlines for all the wrong reasons off late and it seems clear at this point that he needs some guidance.
His latest gun incident has caused a stir among NBA circles and Klay Thompson's father Mychal Thompson had some advice for Ja during an appearance on KNBR's "Murph and Mac" podcast.
"I would just tell him, get rid of your crew," Thompson said. "Get rid of the people around you, keep your inner circles tight, your father, your sister, your mother, your family, and watch the people around you. You got to get rid of these people around you because they obviously do not care about you if they let you put yourself in this kind of situation. They don't care about you."
Thompson said that if his crew really cared about Ja, then they wouldn't have allowed him to go down this path. He felt Morant has too many 'yes men' around him and urged him to follow in the footsteps of LeBron James and Stephen Curry.
"He needs to follow the example of LeBron James or Steph Curry," Thompson went on to say. "These young men have been blessed with riches beyond their belief, but look at the people they have around them. Look at LeBron's crew that he grew up with, look at what they've built."
Curry and James, in particular, have been in the spotlight for so long now but no negative news has come out regarding their conduct off the court. They are great examples for Morant to follow and Thompson also wanted him to see the people LeBron has surrounded himself with.
The likes of Rich Paul and Maverick Carter have been a part of James' crew from before he was in the NBA and they have carried themselves in a very professional manner. They also have LeBron's best interests at heart and have helped him a lot in his off-the-court ventures. Thompson concluded by saying that someone from Ja's family has to make it clear to him that he cannot conduct himself in public in this manner.
---
Shaquille O'Neal Spoke On Ja Morant
Everyone has had something to say on the matter and Shaquille O'Neal made it clear that Morant made a very bad decision. He stated that Ja needs to realize he is a basketball player, not a rapper, and that he should have had enough common sense to know that he should have never flashed that gun on his Instagram Live.
The NBA is investigating the incident and it remains to be seen what kind of punishment Morant, who was averaging 27.1 PPG, 8.2 APG, and 6.0 RPG this season, might receive here. He could be handed a long suspension and maybe that is what it will take for Ja to get his life back on the right track.
We sincerely appreciate and respect you as a reader of our site. It would help us a lot if you follow us on Google News because of the latest update.
Thanks for following us. We really appreciate your support.