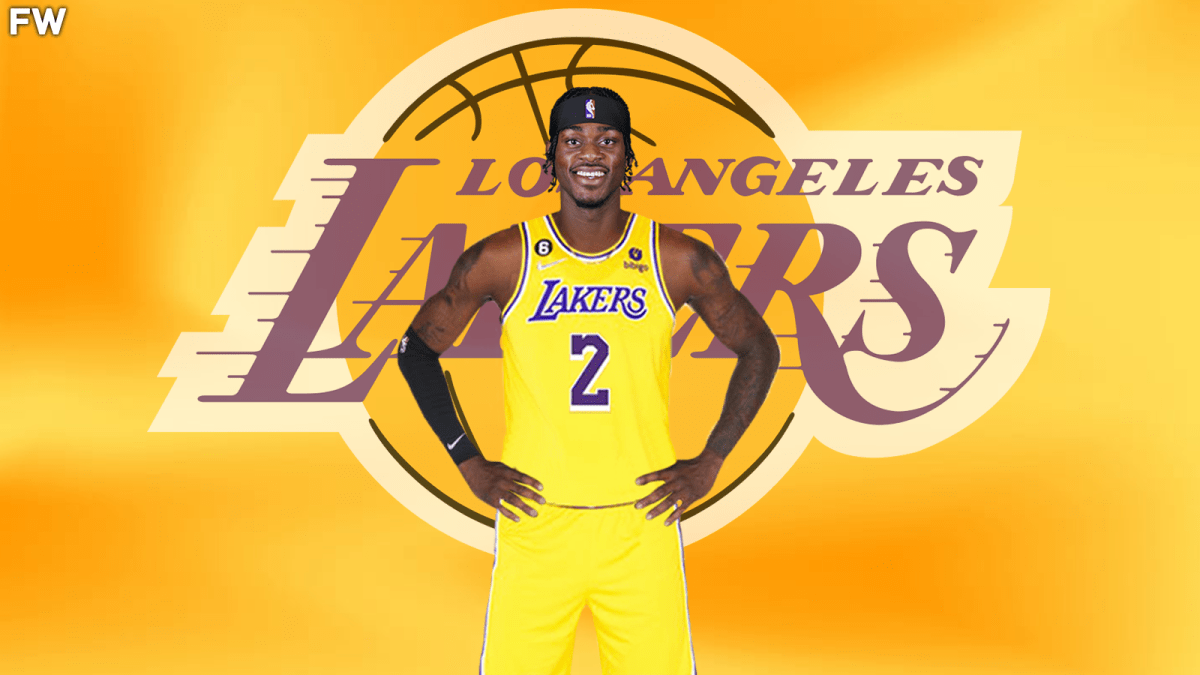 Jarred Vanderbilt has signed a new contract with the Los Angeles Lakers
The 24-year-old has signed for four years, and the contract is worth $48 million
Jarred Vanderbilt's new contract with the Lakers is fully guaranteed
The Los Angeles Lakers are only aiming for the championship in the 2023-24 season, and as such have put together a versatile roster around LeBron James and Anthony Davis.
Jarred Vanderbilt has become a critical defensive component for them since joining the team. And they have now locked the 24-year-old up for the foreseeable future.
"Los Angeles Lakers forward Jarred Vanderbilt has agreed on a four-year, $48 million contract extension with the franchise, Klutch Sports CEO Rich Paul and agent Erika Ruiz told The Athletic and Stadium. Deal is fully guaranteed with a player option in the fourth year," Shams Charania reported.
This is big news for the Los Angeles Lakers, as this means they have locked up another bright, young prospect with a high upside to a long-term deal. Jarred Vanderbilt is fast becoming one of the NBA's best defenders, which will benefit both him and the Lakers.
There wasn't much optimism around the Lakers before the 2023 trade deadline, but much has changed. Fans love the direction the team is headed, and their reactions showed as much.
---
NBA Fans React To Jarred Vanderbilt's New Contract
Rob Pelinka has received a lot of hate for the Lakers' failures and the Russell Westbrook situation. But he seems to be building a solid, young roster. And one fan hilariously gave him props for that.
Jarred Vanderbilt may not be a big offensive threat, but he is a uniquely good player to have for his defense. And at 24 years of age, improvement is more than likely in the future. That's what one fan pointed out, saying the contract is deserved.
The Lakers need players that will be committed to fostering a culture in the locker room long after LeBron James moves on too. And Jarred Vanderbilt is a good teammate, with one fan calling him a 'solid glue guy' after the news was announced.
There are still those who don't believe in Vanderbilt, his current ability, or his ability to grow too much in the future. But most fans are high on him and one comment from this fan is the perfect example of that.
Jarred Vanderbilt averaged 7.2 points, 6.7 rebounds, 1.6 assists, and 1.2 steals per game for the Los Angeles Lakers last season. That may not be worth $12 million a year, but he can likely improve and get even better moving forward.
---
Jarred Vanderbilt Has Been Touted As The Best Guard Defender As A Big Wing
Jarred Vanderbilt is listed at 6'9 and 214 pounds. That might be the ideal body-type for the modern NBA. He has the size to be effective against bigs and the speed to be a menace to guards on the defensive end.
An NBA scout called Jarred Vanderbilt the best guard defender in the NBA as a big man.
"I think you've got to mix it up a bit, you have to impact the ball," he said. "The bigs have to be up and committed and also challenging shots. Vanderbilt can guard guards on the perimeter as good as any big in the league."
Now that he has secured his bag, Jarred Vanderbilt will be focused on improving his game and becoming a truly impactful player. He should get plenty of opportunities to do that with the league's biggest franchise in the next four years.
We sincerely appreciate and respect you as a reader of our site. It would help us a lot if you follow us on Google News because of the latest update.
Thanks for following us. We really appreciate your support.