Karl Malone once swore to Isiah Thomas to his face that he wasn't included in keeping him off the 1992 Dream Team.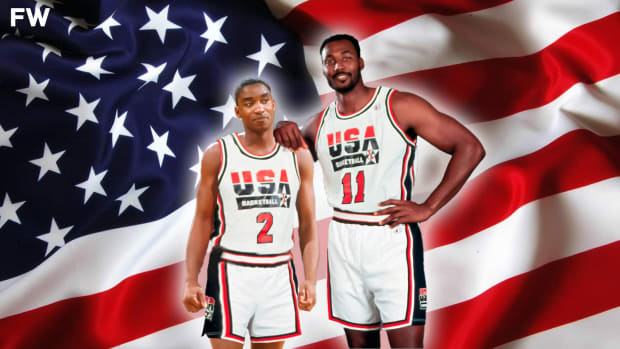 The 1992 Dream Team will go down in history as arguably the greatest basketball team ever constructed, featuring the brightest and the best player the NBA had to offer.
A notable omission from the Dream Team was Isiah Thomas, who was left out due to players allegedly lobbying against him. Karl Malone once swore to Thomas' face that he and John Stockton had no part in keeping him off the list.
"When you look back at something so monumental, I think about the brothers that didn't make the team. Let me put it out there. On my ancestors, on my mom, if there was a secret meeting, and I have heard all this sh*t out there. If there was a secret meeting to supposedly keep you off the team, it was bullsh*t. If there was one held, I wasn't in it, and I know that Stock wasn't in it. I'll dispel that myth. Unless somebody can tell me something different, whoever it is, I'll say to them, as a man, that they're lying."
View the original article to see embedded media.
The controversy surrounding the 1992 Dream Team selection will be discussed forever. Even though the team is one of the greatest to ever be assembled, the absence of Thomas puts an asterisk on the squad. Regardless, the team is embedded in history and Thomas was unlucky to miss out.
---
The 1992 Dream Team's Incredible Olympic Run
The Dream Team featured '90s legends Larry Bird, Magic Johnson, Michael Jordan, David Robinson, Patrick Ewing, Scottie Pippen, Clyde Drexler, Karl Malone, John Stockton, Chris Mullin, Charles Barkley, and Christian Laettner. The squad was coached by Detroit Pistons' head coach Chuck Daly.
The Dream Team played in 8 games during the Olympics. They beat Angola 48-114 before beating Croatia 70-103 in an iconic game. They trounced Germany 111-68, Brazil 127-83, and Spain 81-122 in their final group-stage games.
They beat Puerto Rico 115-77 in the quarter-finals before beating Lithuania 76-127 to rematch Croatia in the Finals. This was their closest game yet but they still managed to win by 32 points in an 85-117 result.
This squad is iconic and was led by Charles Barkley in scoring, Scottie Pippen in assists, and a tie between Karl Malone and Patrick Ewing for rebounds.
We sincerely appreciate and respect you as a reader of our site. It would help us a lot if you follow us on Google News because of the latest update.
Thanks for following us. We really appreciate your support.