Kevin Durant responded to a fan that wildly suggested the security during Phoenix Suns' games has gotten tighter since his arrival.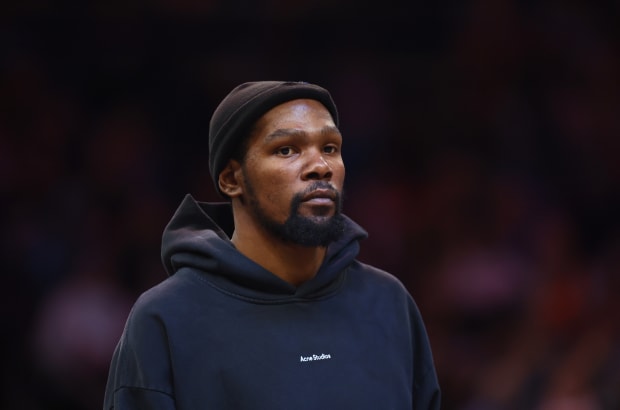 The biggest move of the trade deadline was the Phoenix Suns moving for Kevin Durant. They swung a big trade with the Brooklyn Nets and immediately put themselves back into contention for a championship run.
Kevin Durant has played a few games for his new team, but he has since gotten injured. And while most Phoenix Suns fans are thrilled to have him, one fan had an odd complaint.
"Love we have KD now. BUT ever since @KDTrey5 came to the @Suns, the fan experience has changed," read the tweet. "Been going to the suites and floor for all games and no hitch. But since KDs arrival, SECURITY BE DOING THE MOST!!!! And what's with blocking off curtains??"
It's odd to attribute changes like this to Kevin Durant's arrival but it's not the first time he has been blamed for something random. And Durant is used to it, as his reply to the tweet showed.
Kevin Durant has used the 'Blame KD' hashtag numerous times in the past, it is his way of pointing out that fans will blame him for just about anything. This one takes the cake though, there is almost no reason for changes to arena security to be attributed to Durant's arrival. He hasn't even played in the last 5 games.
---
Kevin Durant's Potential Return To The Court For The Phoenix Suns
The Phoenix Suns gave up Mikal Bridges and Cam Johnson in the deal for Kevin Durant, both of whom were significant pieces. So since he got injured, things have not been going too well for them. The Suns have lost 3 of their last 4 games and need to improve quickly considering how stacked the Western Conference is. However, Durant may not be back before the regular season ends.
"This injury is a significant injury and there's also this sense with the Suns that they are not worried about needing time to gel," said ESPN's Ramona Shelburne.
"James Jones said if the playoffs were today maybe he would try it but I think with his injury history and especially lower leg injuries, that is why you are extra careful. The sense I have is that if he comes back, it'll be toward the end of the regular season with just a couple of games left."
The Phoenix Suns have a lot to look forward to in the coming years, they have Kevin Durant on the books for a while. But if he doesn't make his return soon this season, the team could crash out of the playoffs earlier than expected.
We sincerely appreciate and respect you as a reader of our site. It would help us a lot if you follow us on Google News because of the latest update.
Thanks for following us. We really appreciate your support.