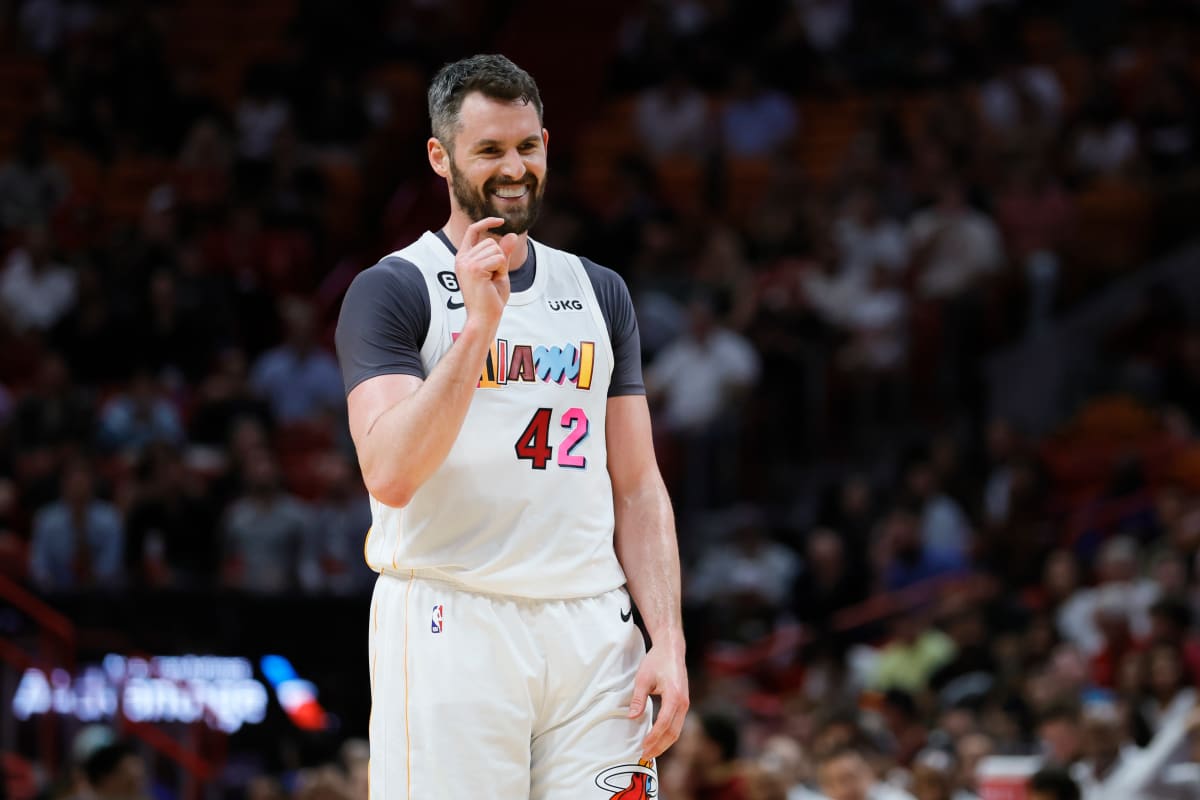 Kevin Love believes he can make a major impact for the Miami Heat
Love is a solid depth option
The big man also has plenty of Finals experience
The Miami Heat are a team that made the NBA Finals in 2023, and while the team has been linked with Damian Lillard all summer, they have had a relatively quiet off-season. One of the things that they did do though, is re-sign Kevin Love on a two-year, $7.86 million deal.
Recently, Kevin Love opened up on why he decided to stay with the Miami Heat. Love claimed that he believes he can make a "major impact" for the team, and it'll be interesting to see how he does next season.
"I think just weighing all the options and understanding my comfort with the team and the organization as time progressed. I think it just continued to get better," said Love, per Anthony Chiang of the Miami Herald. "I think naturally I wish that I would have found my rhythm and found my fluidity and feel on the court faster. But I think my impact was both on the floor and off the floor. Just being around the locker room, whether it be pregame or postgame, at practice, I felt like I could make a major impact there in helping bring us together."
If Kevin Love can play limited minutes at the PF position next season, that could really end up helping the Miami Heat. His shooting ability makes him a good fit with Bam Adebayo in the frontcourt, and maybe he'll do even better next season.
During the 2022-23 season, Kevin Love averaged 8.2 points, 6.4 rebounds, and 1.9 assists per game, while shooting 33.4% from 3PT range. He needs to improve his efficiency from range for next season, but he's an amazing role player on his contract.
---
Kevin Love Also Considered The Phoenix Suns And The Los Angeles Lakers In Free Agency
There's no question that a lot of contenders were linked to Kevin Love in free agency during 2023 free agency. After all, a number of teams needed veterans on cheap contracts to provide depth. In fact, prior to signing with the Miami Heat, Kevin Love reportedly wanted to sign with the Los Angeles Lakers or the Phoenix Suns.
Though both the Lakers and the Suns are good teams, it makes sense for Love to stay with the Heat. He has a higher likelihood of receiving solid minutes on the Heat and running it back with a squad that just made the Finals is a solid move for a veteran like Love.
---
Kevin Love Has Reached The NBA Finals During Every Season He Made The Playoffs
There is no doubt that Kevin Love's experience has been an asset for the Miami Heat thus far. Love has made it to the NBA Finals during every season that he has made the playoffs, and has made four Finals appearances in total during his time with the Cleveland Cavaliers and the Miami Heat.
Hopefully, Kevin Love can help the Miami Heat reach the NBA Finals once again. As of right now, he could need to play big minutes for the team, and we'll see what happens in the future.
We sincerely appreciate and respect you as a reader of our site. It would help us a lot if you follow us on Google News because of the latest update.

Thanks for following us. We really appreciate your support.