Klay Thompson went at Dillon Brooks after the Golden State Warriors lost against the Memphis Grizzlies.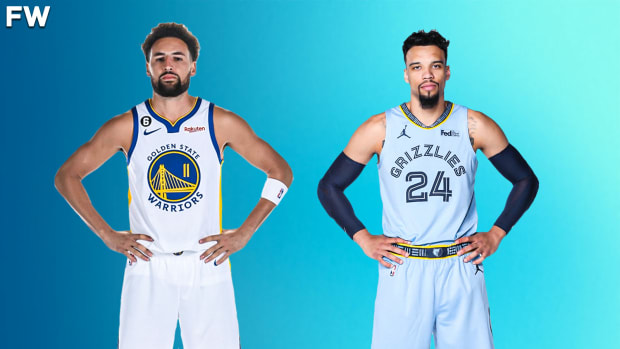 Klay Thompson has never been one to get too involved in trash talk but the arrival of Dillon Brooks and the Memphis Grizzlies on the scene has changed things.
Dillon Brooks has gotten under the skin of the Golden State Warriors, including Klay Thompson, and after their latest matchup, things got heated again. The Grizzlies beat the Warriors, and there was another exchange, with Thompson speaking about Brooks after the game.
"I don't care about Dillon Brooks," Thompson told The Commercial Appeal. "When he retires, I don't think anyone will ever talk about Dillon Brooks ever again. I promise you. It's sweet right now, but wait 10 years."
It's a bit rich for Klay Thompson to say he doesn't care about Dillon Brooks when he has spoken about him quite a bit recently. The Golden State Warriors have also lost their last 2 games against the Grizzlies, which has made Klay counting his rings on the bench and other such shenanigans seem a bit extra petty.
As far as Brooks is concerned, he seems to be thriving in the new situation. He had no problem talking trash to the Warriors during and after the game, and he doesn't seem like he'll back down anytime soon. The two teams can only meet in the playoffs now, but Thompson is right about one thing. If Brooks wants to chirp, he'll have to get the hardware the Warriors have already secured in their careers.
---
The Timeline Of Dillon Brooks' Beef With The Warriors
In the context of Dillon Brooks and the Warriors, the animosity began in last season's Western Conference Semifinals. Dillon Brooks' foul directly led to a nasty injury for Gary Payton II and the Warriors didn't hold back in their criticism.
He has since gotten into it with Draymond Green, who called him an idiot. For his part, Brooks has taken shots at Draymond for punching Jordan Poole and suggesting that he has no idea what Green even does on the court for Golden State.
Klay Thompson is the latest Warriors star to go at him, and he did so while defending Draymond Green. The animosity between the two players is palpable and it makes every game they play a must for NBA fans to watch. There is no series this season that NBA fans might enjoy watching more than if the Grizzlies and the Warriors meet during the playoffs.
We sincerely appreciate and respect you as a reader of our site. It would help us a lot if you follow us on Google News because of the latest update.
Thanks for following us. We really appreciate your support.