"He doesn't like it," La La Anthony said when she appeared on 'The Jennifer Hudson Show'.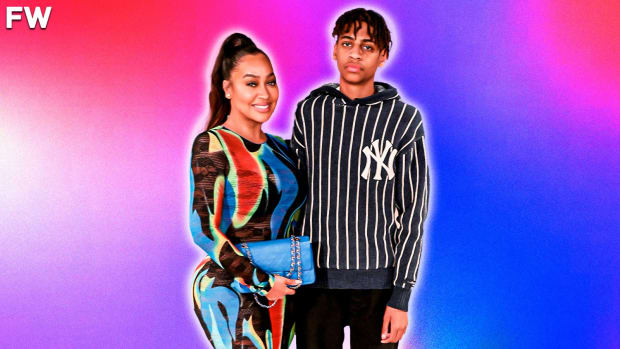 Carmelo Anthony's ex-wife La La Anthony revealed that her son Kiyan is "protective" about her dating.
The singer and actress shared Kiyan with Anthony. The former Los Angeles Lakers star and La La married in 2010, but the relationship was on a rocky road. Despite news of reconciliation in 2018, it was reported that she had filed for divorce in 2021.
Appearing on The Jennifer Hudson Show Wednesday, the 40-year-old shed light on how her 15-year-old was protective of his mother.
"How does he feel about you dating?" Hudson asked Anthony.

"He doesn't like it," she admitted. "And I'm like, 'So you just want your mom to be alone forever?' He's like, 'Yeah, kind of.'"

"But anytime his friends want to go out and do something he's like, 'Alright mom bye see you later I'm going here,' and I'm like, 'You just leave me in a heartbeat but you don't want me to have anybody!' " she quipped.
However, she also added that her relationship with Kiyan is a strong one and that she was also teaching him about being respectful to women.
---
Kiyan Is Already Making His Presence Felt On The Court
Those who follow Kiyan will know of the time he faced off against LeBron James' son, Bronny James, with both the superstar fathers in attendance to watch the game.
While Bronny will most likely make the league next year, Kiyan will have to wait his turn, but he did show glimpses of his quick and accurate shooting when he played Sierra Canyon earlier this month. He ended with 8 points, 2 rebounds, and 2 assists, while Bronny had 12 points, 6 rebounds, and 3 assists as Sierra won 62-51.
As far as Carmelo Anthony goes, his future in the league remains uncertain. He averaged 13.3 points while shooting 44.1% from the field last season for the Lakers, but no team has signed him for 2022-23 so far.
Only time will tell if the former New York Knicks' mainstay will suit up. But for now, his son is making a case for himself on the floor, while also keeping an eye on his mother's safety at this moment.
We sincerely appreciate and respect you as a reader of our site. It would help us a lot if you follow us on Google News because of the latest update.
Thanks for following us. We really appreciate your support.