Fans had a lot to say about the Lakers' recent game against the Grizzlies.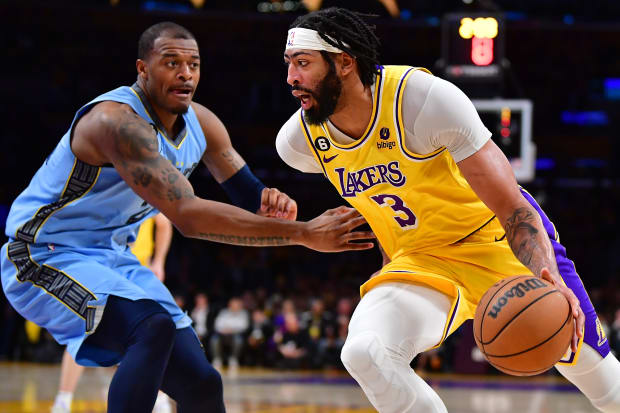 The Los Angeles Lakers recently faced off against the Memphis Grizzlies, with the final score being 112-103. This was a crucial game for the Lakers, as they need every win they can get to make the NBA playoffs.
After the contest ended, a lot of Lakers fans reacted to the team's win. Many were happy to see them bounce back and get back to a play-in tournament position, with it being noted that they have secured the 9th seed.
One account mentioned that Anthony Davis seems to be returning to the form he displayed in 2020.
Another fan stated that this team could end up being the 6th seed.
We also saw some pushing for MVP recognition for Anthony Davis.
Some accounts were simply happy about the win.
Anthony Davis notably put up 28 points and 20 rebounds this game, and the big man has clearly been flat-out dominant without LeBron James in the lineup. Hopefully, this continues for them going forward.
There is no doubt that the Los Angeles Lakers have done better after their midseason acquisitions, but they'll need to continue to step it up, especially while LeBron James is still dealing with an injury.
---
LeBron James Could Be Out For An Extended Period Of Time
One recent report about LeBron James' injury revealed that he avoided surgery, but it seems as though he could still be out for a while. Recently, NBA it was revealed that the injury could keep LeBron James out for longer than the next three weeks.
"Three weeks next evaluation for him… I don't know if the Lakers think he's gonna be back in 3 weeks. I don't think it'll be just the 3 weeks — likely beyond that," said Charania.
There is no doubt that the Los Angeles Lakers must do everything in their power to stay afloat without LeBron James for the next few weeks. A lot of the offensive burden will continue to be put on Anthony Davis' shoulders, and he is definitely one of the keys to the Lakers making the playoffs this season.
Hopefully, we see the Los Angeles Lakers figure out a way to make it to the playoffs, even if it that happens through the play-in tournament. They have the talent to get far, and we'll see how they perform over this last stretch of the season.
We sincerely appreciate and respect you as a reader of our site. It would help us a lot if you follow us on Google News because of the latest update.
Thanks for following us. We really appreciate your support.