Larry Bird couldn't deal with the pressures of being at Indiana University, so he dropped out to become a garbage man in his hometown.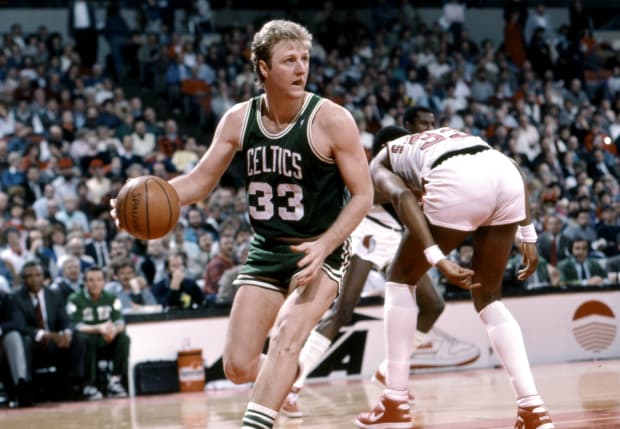 Larry Bird is truly one-of-a-kind. Despite being a gifted basketball talent, Bird took a while to adjust to the world outside of his hometown. Which is why he actually dropped out of Indiana University to be a garbage man before he resumed his basketball career.
Bird spoke to Sports Illustrated in 1988 about how much he loved working as a garbage man and helping his community in French Lick, Indiana.
"I loved that job. It was outdoors, you were around your friends. Picking up brush, cleaning up. I felt like I was really accomplishing something. How many times are you riding around your town and you say to yourself, Why don't they fix that? Why don't they clean the streets up? And here I had the chance to do that. I had the chance to make my community look better." (h/t Sports Illustrated)
Bird would return to basketball at the less-heralded Indiana State University, after struggling to adjust with the Indiana Hoosiers, coached by the legendary Bob Knight. Ultimately, he still became one of the premier NCAA talents in the country at a smaller school and went on to an NCAA Finals before losing to Magic Johnson's Michigan State Spartans.
---
Larry Bird Turned Tragedy Into Triumph
Larry Bird overcame the untimely suicide of his father at the age of 18 to become one of the greatest basketball players ever. He was a phenom in college, regularly out-skilling his peers and developing a competitive rivalry with Magic Johnson. That rivalry followed the two into the NBA, as they won a combined 8 championships between each other.
Bird left the league after a 13-year career as one of the greatest to ever touch the court. He set a benchmark for unathletic forwards that could dominate the game with their IQ, skill, and grit. We haven't seen many players like Bird since his retirement but he remains the benchmark of excellence for most in the basketball world.
We sincerely appreciate and respect you as a reader of our site. It would help us a lot if you follow us on Google News because of the latest update.
Thanks for following us. We really appreciate your support.