Mario Chalmers, who was on the Miami Heat with LeBron James, says players aren't afriad of him like they used to fear Michael Jordan.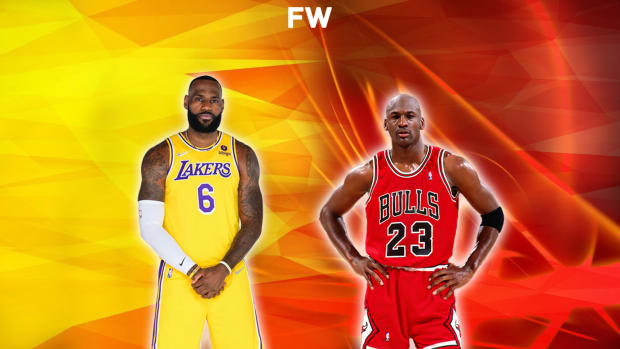 LeBron James is the all-time leading scorer in the NBA, and with every passing season, continues to build his case as the greatest ever ahead of Michael Jordan.
Most players and fans still have Michael Jordan as their GOAT though, and there are good reasons for that. The way Jordan dominated in the 90s is something even LeBron James hasn't managed, their Finals record is what sets them apart. James' former teammate on the Heat, Mario Chalmers, has highlighted another difference.
"Nobody fears Bron [James]," Chalmers said. "Nobody's like, 'Damn, I gotta go play against Bron tonight.' Nobody said that. I don't know why? Because I seen people be scared when they actually line up to him. But they're not scared thinking about that matchup. You hear anybody from that era talk about going against Jordan, there's a fear.
"So when you have people that fear a player, then that's telling you something different already. Jordan is just that guy. Everything was, 'I wanna be like Mike.'"
This is a point that has been brought up in the GOAT debate several times, including by prominent media personalities like Stephen A. Smith. He had quite the debate about it with JJ Redick as well, but many people think that the aura around Michael Jordan is something LeBron James was never quite able to replicate.
Whether this is a fair point or not, Mario Chalmers did see players going up against LeBron James regularly for 4 seasons. Chalmers won two championships alongside James too, so most would generally suspect that he would have a bias leaning toward James. He said what he said, although others have disputed it.
---
An NBA Fan Once Debunked The 'LeBron James Isn't Feared' Narrative
LeBron James has been the best player in the game for 2 decades, winning 4 championships, and 4 MVPs, and making the NBA Finals 10 times. It's hard to say teams don't fear him, especially considering what he used to do to the Toronto Raptors. And a fan used Kevin Durant's example to deny the narrative that people aren't afraid of James.
"The Warriors recruited KD because they feared LeBron," the fan wrote in response to Stephen A. Smith pushing the idea.
The Golden State Warriors did build the most stacked team in NBA history just to beat LeBron James consistently. Having said that, Michael Jordan in the 90s felt inevitable in a way no other player ever has. It's an interesting point to debate and will likely be brought up a lot more.
We sincerely appreciate and respect you as a reader of our site. It would help us a lot if you follow us on Google News because of the latest update.
Thanks for following us. We really appreciate your support.