LeBron James was gifted a custom chain by the Lakers and the NBA to commemorate him as the NBA's all-time leading scorer.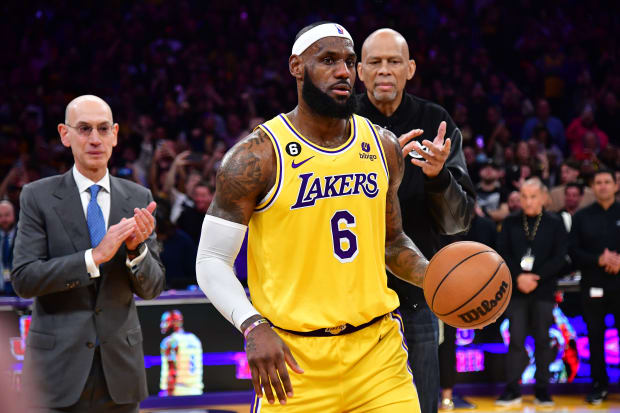 LeBron James finally holds the crown of the all-time leading scorer in NBA history, breaking the record last month against the OKC Thunder.
After honoring him with a mid-game ceremony against the Thunder and at All-Star weekend, the league and the Lakers have gifted Bron a custom chain from Eliantte.
This collaborative gift from the league and the Lakers honors LeBron for his accomplishments in a heartfelt way. The box is engraved with the title 'all-time scoring leader'. Opening the box reveals the chain and James' slogan 'The Kid From Akron.
The chain itself is in the motif of a lion wearing a crown, with LeBron's two jersey numbers in his career (23 and 6) also on display. The back of the chain mentions the 3 teams he has played for while also engraving 'LeBron James Record: 38,388 and counting' into the chain.
This is one hell of a gift and James is likely to appreciate it for life. However, this isn't the jewelry he wants the NBA and his team to give him.
---
The Pursuit Of A 5th Championship
The only jewelry that matters in the NBA is championship rings. LeBron James already has 4 at his home, winning titles with every team that he has played for. However, the man wants to add another title to his collection and further build his status as the greatest of all time. If he can become the oldest Finals MVP in league history, it'll boost his GOAT resume even more.
The Lakers are unlikely to win a title this season, currently sitting with a 31-34 record and looking to sneak into the playoffs. Even though they're a dangerous prospect in the postseason, the team doesn't have enough yet to outlast the West or even beat any of the top three Eastern Conference teams in a 7-game series.
Maybe we see the title dream become reality in the next few seasons. For now, James has already proven everything he needed to in his mostly impeccable career.
We sincerely appreciate and respect you as a reader of our site. It would help us a lot if you follow us on Google News because of the latest update.
Thanks for following us. We really appreciate your support.