LeBron James' one-line reaction to the Lakers' underwhelming record against the Clippers since Tyronn Lue became head coach of the Clippers.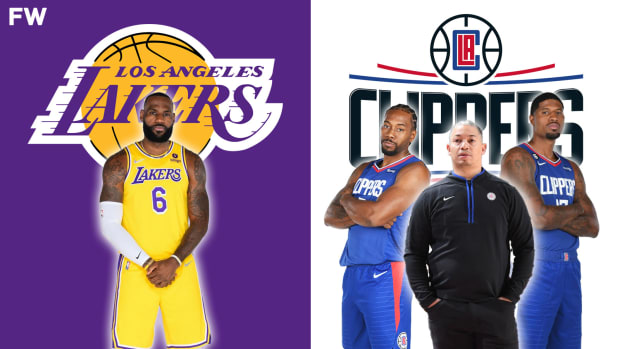 The Los Angeles Lakers are undoubtedly one of the best franchises in the history of the NBA. Throughout their history, the Lakers have managed to win 17 NBA Championships, which is tied for winning the most NBA titles in the history of the league.
Unfortunately, in recent years, the Los Angeles Lakers have failed to live up to their rich history. When it comes to facing off against the Los Angeles Clippers, the Lakers have seemingly faded away from the competition. The two heavyweight teams faced off against each other in their most recent matchup.
The Clippers registered an easy victory over the Lakers, and this made the record between the two teams is now in favor of the Clippers with 10-0 since Tyronn Lue has become the head coach of the team.
---
LeBron James' Reaction To Having A 0-10 Record Against The Clippers Since Tyronn Lue Became Head Coach Of The Team
LeBron James was one of the only bright things about the Lakers against the Clippers. James recorded 46 points against the Lakers' rivals but still ended up on the losing side. Evidently, James was disappointed and frustrated after seeing the Lakers' performance against the Clippers.
During the postgame conference, James was asked about the Lakers' 0-10 record against the Clippers under Tyronn Lue.
(Starts at 1:04)
"I don't know. They have been better than us."
James was obviously uninterested in answering the question by the reporter. He simply admitted the Clippers have been better than the Lakers over the time period mentioned by the reporter.
Anyway, speaking of the Lakers this season, they have now fallen to a 22-26 record and are currently in the 13th spot in the Western Conference. To be honest, the Lakers only need to string together a 5 or 10 game winning streak, and they can make a comeback in this season. Moreover, with Anthony Davis returning to the roster soon, this is not a pipedream for the Purple and Gold.
We sincerely appreciate and respect you as a reader of our site. It would help us a lot if you follow us on Google News because of the latest update.

Thanks for following us. We really appreciate your support.