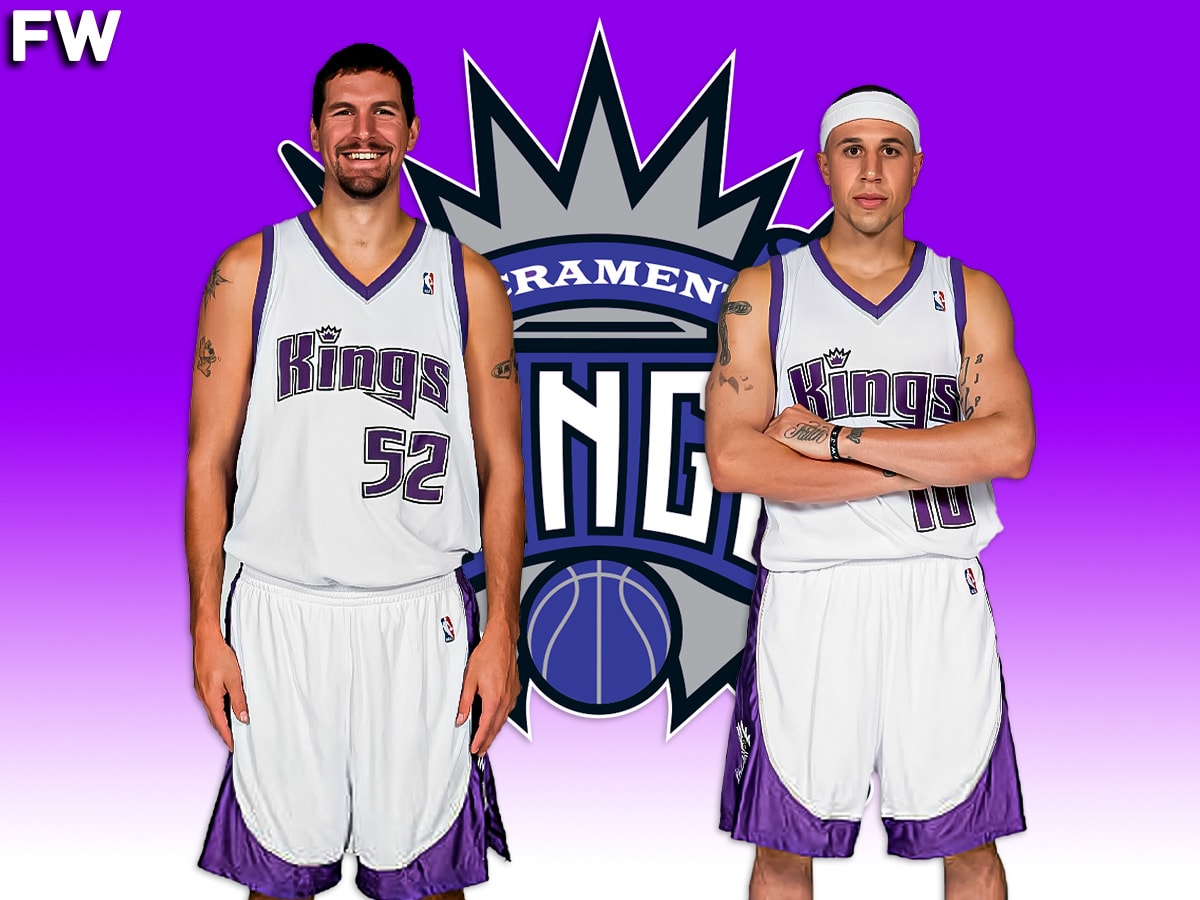 Metta Sandiford-Artest, Mike Bibby, and Brad Miller were teammates on the Kings
Artest recalled Miller pranking Bibby with animal carcasses
Miller was an animal hunter
We've heard of plenty of wild pranks committed in NBA locker rooms over the years, but Brad Miller leaving animal carcasses in Mike Bibby's locker might take the cake for the craziest of them all. Metta Sandiford-Artest was recently asked about the funniest story from his playing days, and he recounted Miller's pranks.
"He's (Miller) a hunter," Artest said on The Hoop Chat with Emily Austin. "Hunting animals, Brad's a hippie… He would bring in things he hunted and just leave it on Mike Bibby's locker. He would mask it with towels or a jersey and Mike would be coming to practice, there'd be a dead turkey."
When asked what was the craziest carcass Miller put in there, Artest said, "Deer head, I think turkey, maybe a couple of other things."
Artest mentioned how it must have been awkward for Bibby to have a dead animal in his locker when trying to get amped up for practice.
"It was just shocking," Artest continued. "You don't want a turkey in your locker, not when you're focused, like, 'I'mma have a good practice. I'm gonna bust somebody's butt in practice. I'mma work hard.' Now you got a dead turkey… It was funny, yeah."
Artest would have seen some truly bizarre things during his career, and for him to mention this as the funniest he'd ever seen speaks to just how crazy it was. Some people would have been quite offended by this, but it doesn't seem as if Bibby was too upset over it.
---
Miller, Bibby, And Artest Led The Kings To Their Last Playoff Appearance Prior To 2022-23
Before the Sacramento Kings made the playoffs this past season, their last postseason appearance came back in 2006, with Miller, Bibby, and Artest leading the charge. The 2005-06 season got off to a rough start, and the Kings were 17-24 when they gambled by trading for Artest.
They immediately took off after acquiring him and would go on to finish with a 44-38 record. Artest averaged 16.9 points, 5.2 rebounds, 4.2 assists, 2.0 steals, and 0.8 blocks per game in his 40 outings
Bibby, meanwhile, averaged a team-leading 21.1 points per game, while Miller led them with 7.8 rebounds per game. The trio helped give the top-seeded San Antonio Spurs a bit of a scare in the playoffs, but ultimately lost in six games.
---
The Kings Are Aiming To Win Their Playoff Series Since The Miller-Bibby Era
The last time the Kings won a playoff series was back in 2003-04. Miller was an All-Star that season, while Bibby was arguably their best performer in the postseason. The Kings dispatched Dirk Nowitzki and the Dallas Mavericks in five games in the first round, and then narrowly lost in seven games to the Minnesota Timberwolves in the Conference Semifinals.
No one could have predicted that the series victory against Dallas would be Sacramento's last for almost 20 years at this point. It seemed like they might just get it done this past season, only to lose in seven games to the Golden State Warriors in the first round, despite De'Aaron Fox's best efforts.
They'll go again next season, but it's going to be a lot tougher. The Kings caught many by surprise in 2022-23 with just how good they were, but that element is gone now. The West is going to be tougher than it was last season as well, and it'll also be interesting to see how this team copes with high expectations being placed on them.
We sincerely appreciate and respect you as a reader of our site. It would help us a lot if you follow us on Google News because of the latest update.
Thanks for following us. We really appreciate your support.