NBA fans had some ideas on who the most feared player in the NBA today is.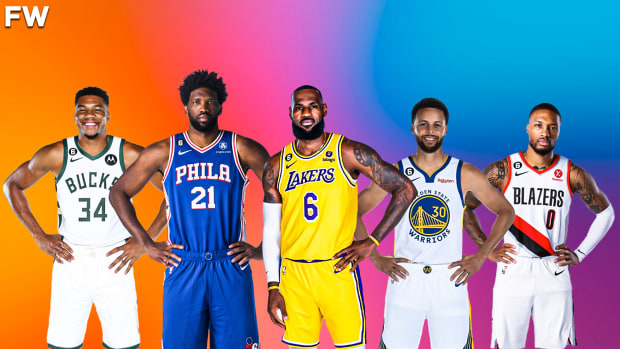 The NBA has more depth of talent at the moment than ever. There are superstars and stars aplenty, distributed surprisingly evenly across the league.
This parity has made the NBA fun to watch, but it has also led fans to ask if any player today is truly feared. Michael Jordan, Shaquille O'Neal, and Kobe Bryant are some examples of players who struck fear into their opponents' hearts. And fans recently discussed which player holds that mantle today.
The man in the picture on the tweet has a lot of fans picking him, LeBron James has tormented many teams in the past. Giannis Antetokounmpo, Joel Embiid, Stephen Curry, and Damian Lillard also got some shoutouts.
"I still have trouble betting against LeBron in any playoff series man," said one fan, who could likely be a supporter of the Toronto Raptors.
"From an offensive standpoint, I'd say Curry/Giannis, defensively it's a toss-up between several players," said another, which is a fair point considering the unique skillsets that Curry and Giannis have.
Stephen Curry and Damian Lillard have unlimited range when they cross halfcourt, and as such, this fan thinks they both have a shout: "I feel like it's between Dame and Steph, just because of the amount of pressure they put on yo defense 1 step over half court."
Kevin Durant can score over just about anyone, and he deservedly got a mention in the discussion as well: "Steph Curry and Giannis. Durant on Suns would be nasty, let me wait for playoffs."
Joel Embiid has become the MVP frontrunner, and he finally got a mention as well, with a fan writing, "Probably Giannis. You could argue Embiid and Curry or even KD but you could gameplan against those guys whereas with Giannis there's really no gameplan. Even though a wall might work you would need the right team to even do that."
---
Is There A Most Feared Player In The NBA Today?
A lot of players have different reasons to be feared, but true fear requires consistent dominance. Since Kevin Durant left the Golden State Warriors, there has been no team to win two years in a row. As such, it's hard to say that there is one true dominant player that has other people worried.
Mario Chalmers recently said LeBron James doesn't have it as Michael Jordan did, but that's a harsh take. And Patrick Beverley once said facing Stephen Curry makes him lose sleep the night before. Those two would probably be at the top objectively considering the last decade or so.
We sincerely appreciate and respect you as a reader of our site. It would help us a lot if you follow us on Google News because of the latest update.
Thanks for following us. We really appreciate your support.