Anthony Davis led the Lakers to another strong win with a dominant performance, with fans praising the big man for his effort.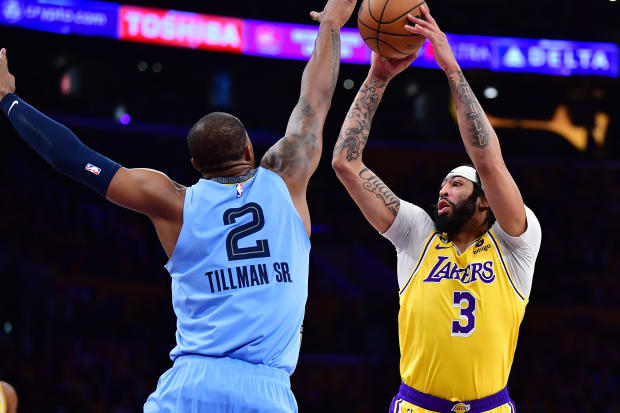 Anthony Davis imposed himself on the short-handed Memphis Grizzlies to lead the Lakers to a 103-112 win to earn the 9th seed in the West.
Davis had 30 points and 22 rebounds in a game where he was forced to check out to treat a bloody nose. He returned and dominated, continuing an incredible streak of games since LeBron James got hurt.
Fans are extremely impressed with what Davis is achieving and shared their thoughts on Twitter.
LeBron James was quick to praise Davis, "YESSIR!!!!! #LakeShow @AntDavis23, you're an ANIMAL!!!"
One fan wished AD stayed healthy, "IF THIS MF JUST STAYS HEALTHY!!!!!"
One fan joked about people that said Davis had fallen off.
Davis made it look easy and he was clearly looking forward to the matchup, "AD tonight."
Another fan compared AD to Wilt, "AD tonight."
A Lakers fan mocked Memphis, "Grizzlies tonight."
An Alex Caruso fan even said AD was better than some MVP frontrunners, "CLEARS JOKIC, EMBIID, AND GIANNIS"
Another fan hailed the return of Davis's 2020 version, "2020 AD is officially back. BANG!"
The Lakers are now 32-34, managing to keep their playoff pace alive even after James went down with an injury. Hopefully, this load doesn't affect Davis as the Lakers head into the final stretch of the season with the hopes of also playing in the playoffs.
---
Are The Lakers Going To Reach The 6th Seed?
The Los Angeles Lakers sit just 2 games behind the Golden State Warriors and the Dallas Mavericks, who are tied for the fifth and sixth seed with records of 34-32. If the Lakers can make up the gap to them, they can feasibly bypass the play-in tournament, something that was their intention from the second they made the Russell Westbrook trade.
LeBron James returning to the squad closer to the playoffs will mean trouble for the rest of the league. Even D'Angelo Russell returning sometime this week is going to be a massive boost to the Lakers, who are looking to solidify their position in the postseason.
We sincerely appreciate and respect you as a reader of our site. It would help us a lot if you follow us on Google News because of the latest update.
Thanks for following us. We really appreciate your support.