Marc Stein suggested that Ja Morant would get a 5-game suspension if found guilty of carrying his gun on the team plane, but the NBA insider has since cleared up that he was wrong.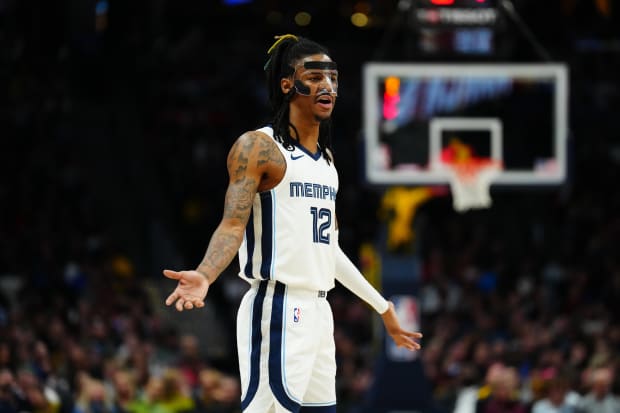 The Ja Morant story has gone from being explosive and controversial to a bit concerning and said in the last few days.
After Ja Morant was seen showing off a gun on Instagram live, the backlash was immediate and the Memphis Grizzlies said he would take time away from the team. Things seemed to be getting worse when Marc Stein reported that he might be in line for a 50-game suspension, but he has since retracted that statement.
"I stated something incorrectly on today's podcast," Stein wrote in his tweet. "A firearm on team premises is indeed a violation of NBA rules and subjects the player to discipline… But there is NO specific suspension length in league bylaws. Suspension length is imposed at the commissioner's discretion."
The 50-game number comes from what Gilbert Arenas received for bringing firearms to the arena during his time with the Washington Wizards. However, that was according to the discretion of then-commissioner David Stern, who was making an example out of Arenas.
The hope is that this will mean that Ja Morant will be able to return to the court sooner. He is repentant of his actions and trying to get help, and hasn't done anything egregious enough to receive too big a punishment either. However, if Adam Silver tries to make an example out of Morant, it could still be a long time before this blows over for Ja.
---
Ja Morant Could Also Face Legal Consequences Thanks To His Latest Gun Scandal
Ja Morant will be disciplined by the NBA in some way, but the ramifications of his actions could be much greater than that as well. He flashed the gun on Instagram Live when he was in Denver, a different state from which he lives and owns a gun. This could lead to some unforeseen consequences.
"We will see how the Ja Morant situation develops," wrote Bobby Marks. "There are likely legal consequences because he is an out-of-state resident viewed in possession of a gun."
The police have become involved in the situation, with the cops looking into what happened after the video went viral. Ja Morant is in more trouble than anyone might have expected, but all fans are hoping for is that he comes out of it alright and has learned from his mistakes. Ja Morant is too special to ruin his career, and whatever the setback turns out to be, he has what it takes to bounce back and be great once more.
We sincerely appreciate and respect you as a reader of our site. It would help us a lot if you follow us on Google News because of the latest update.
Thanks for following us. We really appreciate your support.