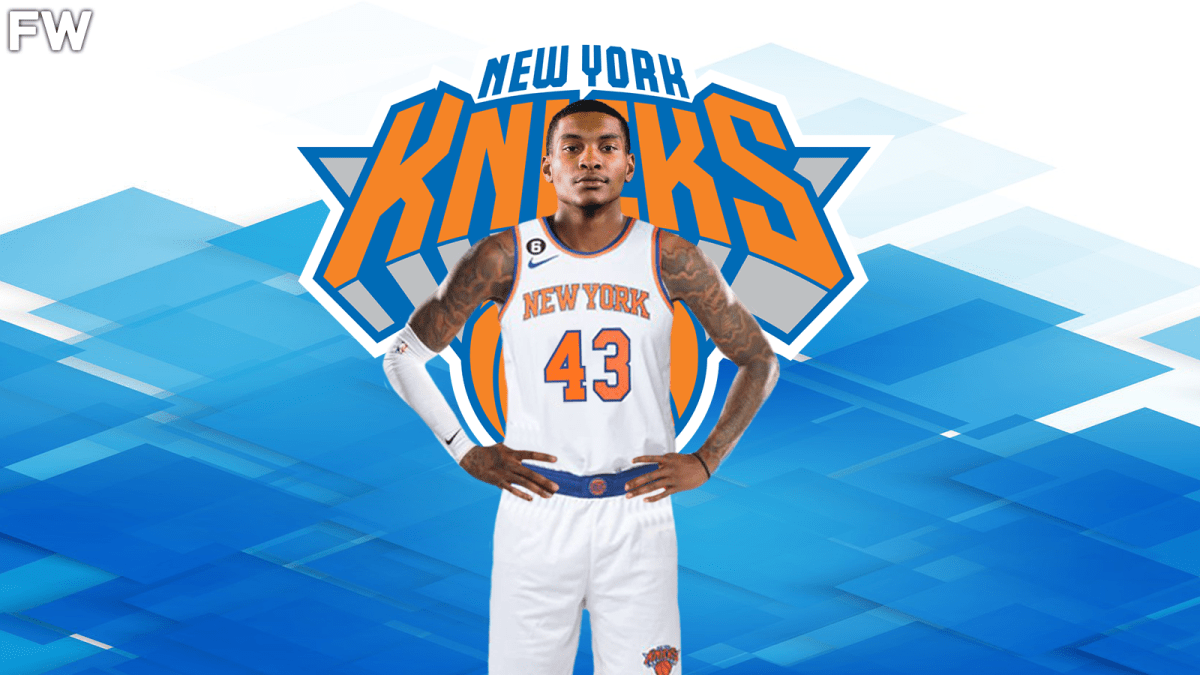 • Kevin Porter Jr. is on the trade block with the Rockets
• The Rockets have to attach future assets to make sure a team would accept him
• The Knicks may be the team that finally accepts KPJ and dumps a contract they don't want
Kevin Porter Jr. spelled the end of his NBA career with egregiously violent acts against his girlfriend, WNBA star Kysre Gondrezick. The Houston Rockets had high hopes for him and took a risk when they extended him despite a history of legal issues and violence. Their risk didn't pay off with his recent actions and now the team is looking to trade him away.
The Rockets have to add future assets to try and offload Porter to any team that will be willing to take him. So which team in the NBA would be willing to take the PR headache of accepting a trade for KPJ? There aren't many candidates but there is a team that is looking primed and ready to make a big trade to solidify their status as contenders in the NBA. That team is the New York Knicks and they have a disgruntled player they could move to make this happen.
Trade Details
Houston Rockets Receive: Evan Fournier
New York Knicks Receive: Kevin Porter Jr., 2024 Nets First Round Pick, 2025 Rockets First Round Pick
The Knicks have no use for Kevin Porter Jr. but they can definitely put those draft picks to good use. With the team linked to almost every superstar that is rumored to be available, adding assets with this move will work well for the Knicks.
---
The Houston Rockets Wash Their Hands Off Kevin Porter Jr.
The Houston Rockets gave Kevin Porter Jr. an honest chance. After his stint with the Cleveland Cavaliers ended in chaos, the Rockets accepted KPJ and gave him a chance to blossom into a valuable NBA player. He averaged 19.2 points, 5.3 rebounds, and 5.7 assists last season and looked to be a part of the Rockets' long-term core, even welcoming new head coach Ime Udoka to the franchise. He also had a very profound relationship with old coach Stephen Silas, which makes the situation that KPJ has created even more heartbreaking.
The Rockets don't have a use for Evan Fournier, but he would be a usable rotational player for them as they look to move on from the last three seasons of tanking. Fournier is a veteran and averaged 14.1 points, 2.6 rebounds, and 2.1 assists in his last full season with the Knicks. He would be a valuable addition to a relatively young locker room and could be a useful shooter the team has on the books for the short term. Whether he gets moved on from Houston or bought out remains to be seen.
Porter Jr.'s development seemed to have plateaued to me, with his ceiling being of a high-level sixth man behind a backcourt of Amen Thompson and Jalen Green. Having him on the Rockets will cost the franchise some valuable future assets, but it may be worth it for a fresh start with a motivated locker room with no distractions.
---
The New York Knicks Are Preparing Offers For The NBA's Biggest Stars
The Knicks have no use for KPJ and would be open to eating his mostly non-guaranteed contract this season. But the cost is pretty immense, as some amount of money will be tied up for the next two seasons, though most of the guaranteed $15 million for Porter is owed to him this season. He may have three more years on his contract, but the Rockets were intelligent enough to give a player with his history a mostly non-guaranteed contract.
The Knicks have been linked to various stars around the NBA in the offseason, with future bids potentially on the table for Joel Embiid and Giannis Antetokounmpo. There will be stiff competition around the league for players of this caliber and the Knicks already have a loaded chest of assets. Adding two picks in the short term that they could either use or quickly move on from to acquire a superstar would be great. It's low-risk for them on the basketball court, but the optics of acquiring KPJ will be tough for the franchise to overcome.
If the Knicks want to have a solid chance at beating other teams with lots of assets like the Oklahoma City Thunder, Brooklyn Nets, Utah Jazz, and others in trade battles for superstars, they need to rely on being more than just a big market team. This trade gives them the assets to blow most offers out of the water. The front office will have to weigh the cost of the negative PR and the basketball side.
---
A Tough Decision For A Brighter Future
The sooner that Porter Jr. is made to feel the consequences of his actions, the better for everyone. While it is unlikely a trade will materialize before the NBA concludes its investigation into the matter, there will be a point where a team has to buy his contract out. No team would want to take the risk of actually keeping him on the roster, so his chance in the NBA is likely over for now.
This is a tough decision for both franchises. The Rockets need to get rid of KPJ but at the cost of future assets that they could use in completing their rebuild. Similarly, it won't be easy for the Knicks to eat the $15 million guaranteed that KPJ is still owed. But the future assets could lead to a brighter future for New York while getting rid of Porter Jr. can begin a new era of maturity in the Rockets locker room. John Wall played on the team and lamented the lack of veteran leadership, so Fournier could provide that.
Wherever Porter Jr. goes, it's fair to assume he won't have a future in the league. It's just a question of which team will be the one to cut his contract while understanding the short-term financial implications it has.
We sincerely appreciate and respect you as a reader of our site. It would help us a lot if you follow us on Google News because of the latest update.

Thanks for following us. We really appreciate your support.