New York police are still looking for a masked gunman accused of shooting and killing a 67-year-old bodega employee on the Upper East Side during a robbery last week.
New York Police Department Crime Stoppers released images of the suspect police believe is connected to three other robberies in the Bronx and Brooklyn. In each instance, the suspect's face was covered, causing city officials to call on customers to remove their masks before entering delis or bodegas. 
"As a sign of a peace offering, a sign of safety to those store workers, when we walk in, we should take down our masks," Jeffrey Maddrey, NYPD Chief of Department, told FOX 5. "We should let them know that they're not in any danger, any harm—that we're customers."
The mask request has mixed reviews from New Yorkers FOX 5 spoke with.
NYPD VIDEO SHOWS WANTED SUSPECTS CAUGHT ON CAMERA DEFACING CHRISTOPHER COLUMBUS STATUE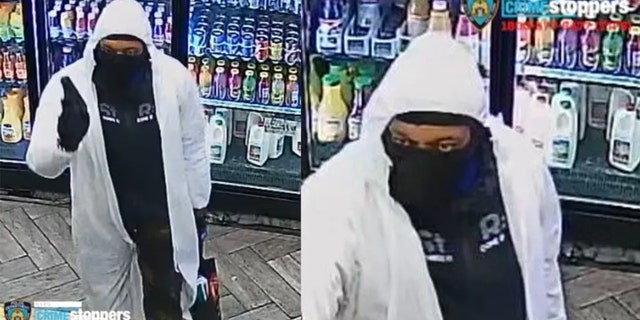 "I mean at the end of the day if you don't have nothing to hide … [It's] just doing what they're asking you to do for the safety of others," Bronx resident Nestor Osiris said.
"I can why they want that, but still for my own security, I still prefer to wear a mask. It's really a hard decision," Bronx resident Sandy Semprit said. 
CLICK HERE TO GET THE FOX NEWS APP
The NYPD is offering a reward of up to $10,000 for information leading to an arrest. Anyone with information is asked to call Crime Stoppers at 1-800-577-TIPS.