The original triple-double king, Oscar Robertson, was much more than a record setter and NBA champion. He also changed the way players could move in free agency while being the best father ever.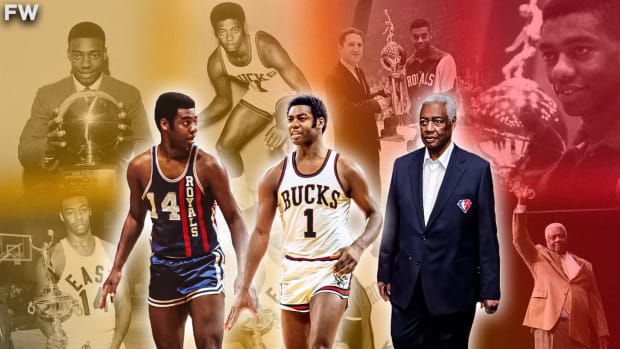 Triple-doubles seemingly happen every night in today's NBA. Russell Westbrook recorded an incredible four seasons, including three in a row, where he averaged a triple-double for the entire season.
Even this season, back-to-back MVP winner, Nikola Jokić, is currently averaging a triple-double after 49 games with 24.9 points, 11.4 rebounds, and 10.1 assists per game. What makes Jokić's numbers even more impressive is the fact that he's a center putting up these ridiculous numbers.
The reason for the increase in triple-doubles is undoubtedly the increased pace the game has seen, with the three-point shooting and, of course, the lack of defense today. Still very impressive when a player records a triple-double.
The first player to record a triple-double for a season, the original triple-double king, was Oscar Robertson, who achieved this feat in the 1961-62 season, his second year in the NBA. Robertson averaged 30.8 points, 12.5 rebounds, and 11.4 assists per game.
Most NBA fans know about Oscar Robertson and his triple-double season. The real question is, how much more do fans know about the NBA legend known as The Big O?
In this article, we'll dive deep into the life and overall career of The Big O, so fans can truly appreciate his greatness. Without further ado, this is the biography of the original triple-double king himself, Oscar Robertson.
---
Oscar Robertson: The Beginning Of A Basketball Icon
The date was November 24, 1938, and in the small town of Charlotte, Tennessee, Oscar Palmer Robertson was born. Robertson was the son of Mazell Bell Robertson and Bailey Robertson, Sr.
The family moved to Indianapolis, Indiana, when Robertson was only 18 months old. Things weren't great for Robertson or his family growing up, as they struggled financially.
The Robertson family lived in a segregated housing project, and to take his mind off of his family's financial problems, a young Oscar Robertson would play basketball. Robertson learned the game of basketball from his brothers Bailey Jr. and Henry, who played at the local YMCA.
Robertson learned a lot from his brothers when it came to basketball, especially Bailey. Not only was Bailey a basketball star at the University of Indianapolis, but he'd also go on to play professionally with the Harlem Globetrotters.
For Oscar, he would quickly become a star player himself. First, at Crispus Attucks High School, where he helped his team win two state championships, including, at one point, a 45-game winning streak.
After high school, Robertson attended the University of Cincinnati, where he'd become the first African American to play on the school's basketball team. Robertson would not play as a freshman because this was customary at the time for every first-year student.
In the three years that Robertson did play, he surely dominated. In his three years, Robertson averaged 35.1, 32.6, and 33.7 points per game, respectively.
Robertson led the NCAA in scoring each of his three seasons while earning three first-team All-American Team nods. In 1959, Robertson was College Player of the Year. He won the award again in 1960 as a senior, and as a senior, he once scored 62 points in a game against North Texas State University.
In his three years, Robertson led the University of Cincinnati to a 79–9 record. This includes reaching two Final Four appearances in 1959 and 1960. Robertson would, unfortunately, never win a collegiate championship, but this didn't stop him from having an incredible college basketball career.
Robertson averaged 33.8 points and 15.2 rebounds per game for his college career. He also set 14 NCAA records, including 19 University of Cincinnati records.
Even though Robertson was a basketball star both in high school and at the University of Cincinnati, he dealt with racism throughout his time at both schools. In college, Robertson often had to stay in college dorms rather than hotels while traveling with his team in the south.
Robertson also couldn't eat in southern restaurants, even though his white teammates could. In high school, where Robertson led Crispus Attucks High School to those two championships, he experienced racism even after winning those titles.
Robertson once explained how the mayor of Indianapolis didn't want the team to celebrate in Indianapolis. Instead, the team had to celebrate outside of the city because "the mayor didn't want crowds of blacks congregating in his city."
Despite this terrible situation, Robertson never gave up and became a high school and college basketball star. Next up, Robertson would take his talents to the NBA, where he'd undoubtedly become a star.
---
Oscar Robertson Becomes An NBA Star
After finishing college, before taking his talents to the NBA, Robertson showed his basketball ability to the entire world when he played for Team USA in the 1960 Summer Olympic Games. Robertson teamed up with a few other future NBA greats, Jerry West and Walt Bellamy.
With this type of firepower, there was no question who'd bring home the gold medal. Team USA would dominate the competition, winning by an average of 42.4 points per game. Robertson averaged 17.0 points per game, which was tied for the most on Team USA with another future NBA great, Jerry Lucas.
In the 1960 NBA Draft, the Cincinnati Royals drafted Robertson first overall as a territorial pick. Robertson would have a stellar debut game in the NBA, giving fans a glimpse of what would come in his legendary career.
The Royals played the Los Angeles Lakers in Robertson's first game, and he recorded a 21-point, 12-rebound, and 10-assist triple-double. Robertson led the Royals to a 140-123 victory.
The Royals started the year 4-0 but ended the season with only a 33-46 record. Despite the team falling off and missing the playoffs, Robertson had an incredible rookie season, averaging a near triple-double for the entire season.
Robertson averaged 30.5 points, 10.1 rebounds, and a league-leading 9.7 assists per game. The Big O was naturally named the Rookie of the Year.
The very next season, Robertson would make history by becoming the first player in NBA history to average a triple-double for an entire season. He averaged 30.8 points, 12.5 rebounds, and a league-leading 11.4 assists per game.
This time, Robertson would lead his Royals to the playoffs after a 43-37 regular season record. The Royals would fall 3-1 to the Detroit Pistons in the Western Division Semifinals, despite Robertson averaging a playoff triple-double of 28.8 points, 11.0 rebounds, and 11.0 assists per game.
You'd think a player averaging the first triple-double in league history would win the season's MVP award, but Robertson shockingly did not win. This could be because of a player by the name of Wilt Chamberlain averaging 50.4 points and 25.7 rebounds per game, to go along with a legendary 100-point game in the regular season, but you'd be wrong to believe this, as well.
The MVP went to Bill Russell, who is an NBA legend, but in the 1961-62 season, Russell only averaged 18.9 points, 23.6 rebounds, and 4.5 assists per game. These are not bad numbers, but nothing compared to Wilt's or Robertson's numbers.
Robertson would win one MVP award in his career, and that would come in the 1963-64 season, where he averaged 31.4 points, 9.9 rebounds, and a league-leading 11.0 assists per game. The Royals would make it to the Eastern Division Finals, where they would lose 4-1 to the eventual champion Boston Celtics.
This is how things went for Robertson while being a member of the Cincinnati Royals. Robertson put up incredible numbers, yet, his team would always fall short in the playoffs.
Robertson would play 10 seasons in Cincinnati before being traded to the Milwaukee Bucks prior to the 1970–71 season. This trade gave Robertson the opportunity to play with an up-and-coming superstar in Lew Alcindor, who would eventually change his name to Kareem Abdul-Jabbar.
In just his first season in Milwaukee, Robertson would achieve something that he couldn't obtain in all 10 years while being in Cincinnati… Robertson and his Bucks won the NBA championship.
In his first season as a member of the Milwaukee Bucks, Robertson averaged 19.4 points, 5.7 rebounds, and 8.2 assists per game. In the NBA Finals, which was against the Baltimore Bullets, Robertson averaged 23.5 points, 5.0 rebounds, and 9.5 assists per game in the series. The Bucks swept the Bullets 4-0 to win the franchise's first title.
Even though Kareem won the Finals MVP, without Robertson, the Bucks would have surely not made the NBA Finals, let alone win the title. Robertson's best game was in the series-clinching Game 4, where he led the game in scoring with 30 points on 11-15 shooting.
Robertson would play three more seasons in the NBA. In his last season, the 1973-74 season, Robertson averaged a career-low 12.7 points, 4.0 rebounds, and 6.4 assists per game.
Despite his decline, Robertson helped the Bucks reach another NBA Finals, where they met the Boston Celtics, who were now led by John Havlicek. The Bucks would lose the series in seven games, with Robertson averaging 12.1 points, 3.7 rebounds, and 8.3 assists per game in the Finals.
Robertson would retire after 14 years in the NBA, and he'd leave the game with career averages of 25.7 points, 7.5 rebounds, and 9.5 assists per game. The Big O finished his career as an MVP winner, 6x assist champion, Rookie of the Year winner, as well as an 11x All-NBA Team member and a 12x All-Star.
In 1980, Robertson was inducted into the Basketball Hall of Fame as a player. Robertson would be inducted into the Hall of Fame again in 2010, this time as a member of the 1960 Team USA Olympic basketball team.
In Robertson's 12 All-Star Game appearances, The Big O took home three All-Star Game MVP awards. Robertson won the 1961 All-Star Game MVP with a 23-point, 9-rebound, and 14-assist performance. He followed that up in the 1964 All-Star Game with a 26-point, 14-rebound, and 8-assist performance to win the MVP.
Robertson's last All-Star Game MVP win came in the 1969 All-Star Game, when he scored 24 points, while adding 6 rebounds and 5 assists.
Oscar Robertson is one of the greatest NBA players the league has ever seen. As the original Mr. Triple Double, fans should respect what he was able to accomplish on the court.
The thing about Robertson is that he was more than just brilliant on the court. He has done many great things off the court, as he has done during his playing career and after.
---
Oscar Robertson's Off-Court Achievements And Retirement
Oscar Robertson may have ruled the basketball court as he put up plenty of triple-doubles, but that wasn't all he was up to. Robertson also served as the President of the National Basketball Players Association from 1965 until he retired in 1974.
Robertson was the first African American president of any national sports or entertainment labor union. He was also the longest-serving President of the National Basketball Players Association.
Robertson also fought for the players' rights during free agency, being drafted, and other restrictions on player movements. In 1970, Robertson filed a class action antitrust lawsuit known as Robertson v. National Basketball Association.
This lawsuit by Robertson prevented the NBA/ABA merger at the time, as Robertson looked to help give players more freedom in their choices. Robertson and the NBA would settle the lawsuit in 1976, which then led to the NBA/ABA merger.
More importantly, players were granted the freedoms they still have today in free agency, and it led to players eventually receiving higher salaries for their services. So, you can see how important Oscar Robertson is to the players today, with how they can control their own futures.
Robertson was also one of five founders of the National Basketball Retired Players Association. This group has worked to improve players' pension benefits and medical care for retired NBA players.
Robertson was the National Basketball Retired Players Association's first president, serving from 1992 to 1998. These accomplishments are great, but his biggest accomplishments would involve him and his daughter.
Robertson married Yvonne Crittenden in 1960; they have three daughters together. Shana, Tia, and Mari. In 1997, Robertson gave the gift of life to his daughter Tia when he donated his kidney to her.
Tia suffers from Lupus, which is an inflammatory disease caused when the immune system attacks its own tissues. In this case, Tia suffered from Lupus nephritis, where the disease attacked her kidneys.
Oscar Robertson may have led the NBA in assists six times throughout his legendary playing career, but his assist to his daughter is the biggest and most important assist he's ever made. For this and for everything else Oscar Robertson has done on and off the court, we, as fans of the game, have to show him the type of respect he truly deserves.
We sincerely appreciate and respect you as a reader of our site. It would help us a lot if you follow us on Google News because of the latest update.
Thanks for following us. We really appreciate your support.
Next