Pau Gasol was very emotional while talking about Kobe Bryant during his jersey retirement speech.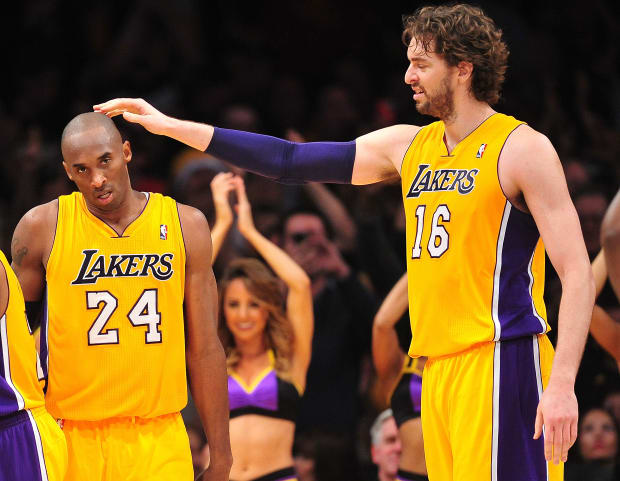 Pau Gasol finally saw his No. 16 jersey go up into the rafters of the Crypto.com arena during the halftime of the Lakers game against the Memphis Grizzlies.
Gasol's story as a Laker cannot be told without Kobe Bryant given the 2 championships they won together. Gasol got emotional while talking about the Bryant family and Kobe during his speech,
"I can't go long without talking about the person and the face I don't see. The brother that elevated me, inspired me and challenged me to be a better player and to be a better man overall. I miss him. I miss him so much like many of us do, I love him. I wish he was here with Gigi, I really do. But I think he'd be proud and he was looking forward to this moment. I love you, brother."
Gasol's No. 16 will forever lie next to Kobe's 24, fitting given the success the pair enjoyed together. Kobe had discussed their numbers being retired next to each other years ago and it's great to see that vision become a reality.
---
Pau Gasol And Kobe Bryant
Pau Gasol and Kobe Bryant were teammates for 357 games across their careers and won 2 championships together. They are indelibly linked, as Bryant wouldn't have been able to secure his GOAT-level status without winning the 2 titles he did alongside Gasol. Those titles were not only imperative in establishing Kobe's legacy as a Laker but also to establish Gasol as an all-time great.
With Kobe gone, Gasol is very close to the Bryant family. He spends time with the daughters that Kobe has left behind and will keep Kobe's memories alive for the family for as long as he can.
We sincerely appreciate and respect you as a reader of our site. It would help us a lot if you follow us on Google News because of the latest update.
Thanks for following us. We really appreciate your support.