Pau Gasol gets real on the criticism he received after the 2008 Finals.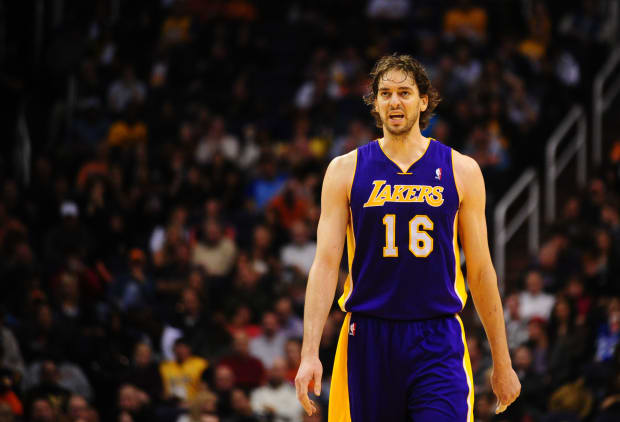 In the modern basketball era, we have seen a lot of European players enter the league and become franchise players. Nikola Jokic, Luka Doncic, and Giannis Antetokounmpo are the faces of their teams, and all three have achieved a fair amount of individual success in the league.
Though the dominance of European players is a lot more common nowadays, there was once a narrative that they were "soft". In fact, Pau Gasol recently recounted how he was subjected to that sort of criticism after the Los Angeles Lakers lost to the Boston Celtics in the 2008 Finals.
"Obviously I won't say it was pleasant, I remember that was kind of the narrative European players had at the time. Great, skilled players, fundamentally sound, great IQ and stuff but just not physical enough and soft," Gasol stated. "It was discussed a lot more when we got beat by the Celtics in 08. They were a more physical team than we were and I got highlighted on that loss. But at the same it's like okay I'm going to use this as motivation. I'm going to take this as a personal challenge and I'm going to make sure that I'm ready because I knew that I got physically outmatched that series."
It is clear that Pau Gasol used that criticism as motivation, and the Los Angeles Lakers ultimately won titles in 2008 and 2010. Pau Gasol was a crucial part of both titles, and there's a reason that his jersey will hang in the rafters at Crypto.com Arena.
Ultimately, European players have proven that they can win titles in the NBA. Dirk Nowitzki and Giannis Antetokounmpo have both been leading superstars on title teams. We have also seen many European players such as Pau Gasol and Marc Gasol contribute as complementary pieces around superstars on title teams. Hopefully, we see more European players continue to win in the future.
---
European Players Get More Respect In The Modern Era
As the times have changed, so have people's attitudes toward European players. In fact, Luka Doncic previously revealed that European players get more respect in the NBA nowadays, noting that it matters less today where one is from.
Giannis Antetokounmpo had similar sentiments as well about international players, noting that it is also up to the current international players to continue to pave the way for future generations.
Hopefully, we see the game continue to grow on an international level. That will ensure that the league keeps adding more talented players and ends up becoming more competitive.
We sincerely appreciate and respect you as a reader of our site. It would help us a lot if you follow us on Google News because of the latest update.
Thanks for following us. We really appreciate your support.