Sixers reportedly want to play Celtics in NBA playoffs.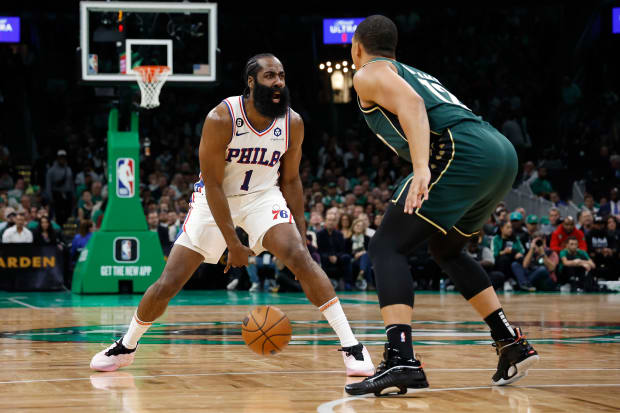 The NBA Eastern Conference has been a three-horse race for most of the season. Now, just like it was back in November, the Bucks, Celtics, and 76ers are the teams to beat in the East.
But between those three, which can we expect to be the last one standing? While the Celtics and Bucks are no doubt the favorites, the 76ers have pushed themselves into that conversation with a dominant stretch of play.
In fact, the team is apparently hoping to match up against the Cs in this year's playoffs and they believe that they have what it takes to take Boston down.
"Multiple people in the Sixers organization are desperately hoping to face Boston in the playoffs," said Bill Simmons. "They firmly believe they are capable of winning that series."
It should be noted that the 76ers do not have a particularly great history against the Celtics. Joel Embidi himself once admitted that they "always kick our a**."
So, if history is anything to go by, maybe the Sixers shouldn't be wanting to face Boston. But this year's Philly team is just built differently than the ones in years past.
---
Can The 76ers Make A Deep Playoff Run?
After some growing pains to start the year, and injuries to various key players, the Sixers looked to be heading down the path of another disappointing season.
But since the New Year, Philadelphia has been playing some of the best basketball in the league on the backs of Embiid, James Harden, and Tyrese Maxey.
"They started the season off 12-12 and they had injuries to Tyrese Maxey and James Harden," said Brian Windhorst. "Since that 12-12 start, they are 26-7. But when you watch this team play at full power, they are as good as anybody. If you look at the dynamics of the East over the last decade, a team of this magnitude would probably be the overwhelming favorite to win the East."
Only time will tell if this is the year that the Sixers finally break through, but they will need everything to work in their favor in order to pull it off.
While they may feel good about their chances against the Celtics, they will have to get through the Bucks if they want to make any kind of noise this year.
We sincerely appreciate and respect you as a reader of our site. It would help us a lot if you follow us on Google News because of the latest update.

Thanks for following us. We really appreciate your support.