For the first time in NBA history, we could have positionless All-NBA Teams where Nikola Jokic and Joel Embiid could finally be on the same team.}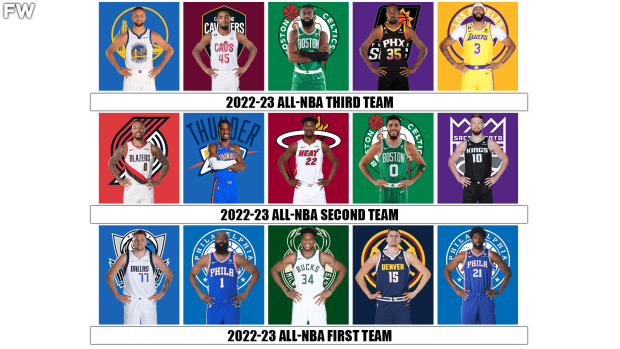 Making an All-NBA Team is one of the most impressive achievements a player can have during an NBA season. Only 15 players per season have a chance at making All-NBA Teams, and only five players have a chance at making the All-NBA First Team. Certainly, a Second or even Third Team selection proves that a player is at the top of his game, but making the First Team has to be the goal for any individual because it acknowledges individual performances, winning, and dominance on the court on a consistent basis. This season, we might see the first positionless NBA All-Teams according to commissioner Adam Silver.
That means each All-NBA Team will either follow a G, G, F, F, F format where two backcourt and three frontcourt players start, or a G, G, G, F, F format where there are three guards and two bigs. Depending on which players deserve to make it, the format can be fluid. While a player's team record could come into play, individual brilliance and statistics are often the major driving factor for being selected to an All-NBA Team. We have seen some legendary All-NBA Teams throughout history, but this season could be very interesting because there are a ton of players competing well on the basketball court. Assuming that star point guard Ja Morant won't make the All-NBA Team because of his scandals, here are the frontrunner for each All-NBA Team this year on a positionless basis.
---
2022-23 All-NBA Third Team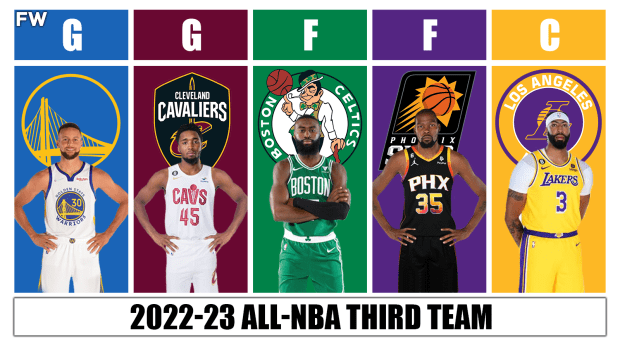 ---
Stephen Curry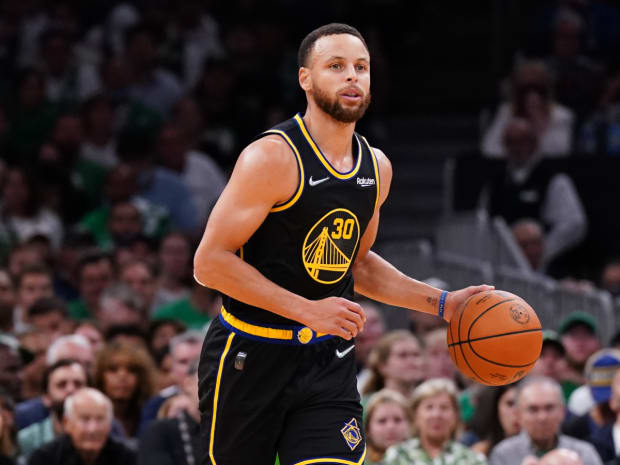 Stats: 29.4 PPG, 6.2 RPG, 6.4 APG, 1.0 SPG, 0.4 BPG
Stephen Curry has been injured for most of the season and has only appeared in 39 games so far. That won't be enough to catapult the point guard into the All-NBA First Team, even if he is still the best point guard in the NBA when healthy. When available, Curry has been killing it on the floor and that is why he will still make his 9th All-NBA Team selection at the end of the year.
Averaging 29.4 PPG on 49.3% from the field, 42.6% from three, and 92.5% from the free-throw line are exceptional numbers. Curry is close to having another 50-40-90 season but even if he does not hit that statistical mark, he will be one of the top-15 players in the world by the end of the year.
---
Donovan Mitchell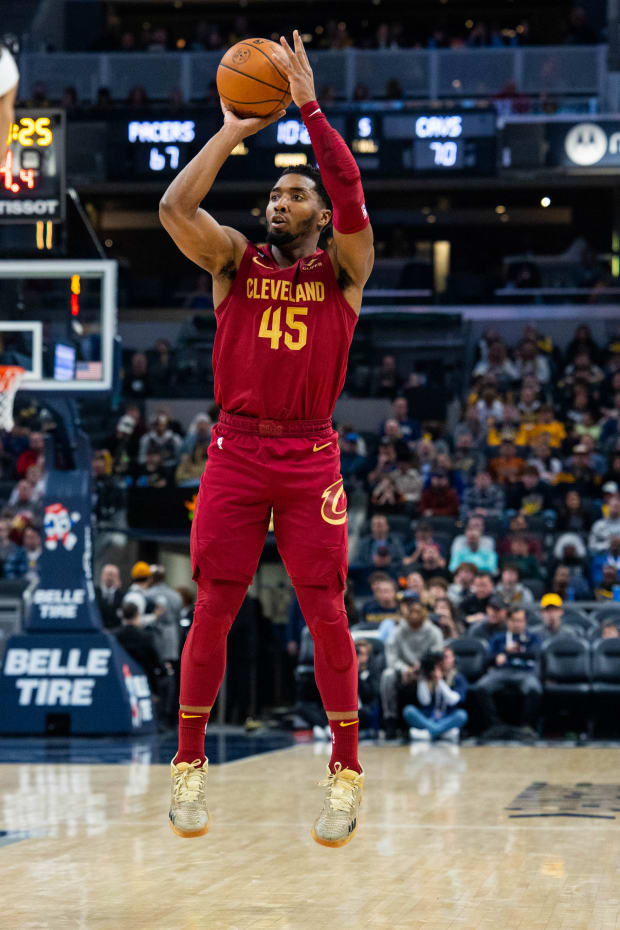 Stats: 27.6 PPG, 4.1 RPG, 4.8 APG, 1.5 SPG, 0.4 BPG
Donovan Mitchell has been one of the best offseason pickups to date because his scoring and leadership have taken the Cleveland Cavaliers to one of the top-4 seeds in the Eastern Conference, quite surprisingly. Alongside a talented core featuring Darius Garland, Evan Mobley, and Jarrett Allen, Mitchell is in a great situation to form a winner someday in Cleveland.
We know how great Mitchell has been over the past few years as an All-Star stalwart for the Utah Jazz. As great as he has been, Mitchell is having the best season of his career because he seems happy where he is and that is why he dropped 71 points in an NBA game this season and is posting a career-high 27.6 PPG.
---
Jaylen Brown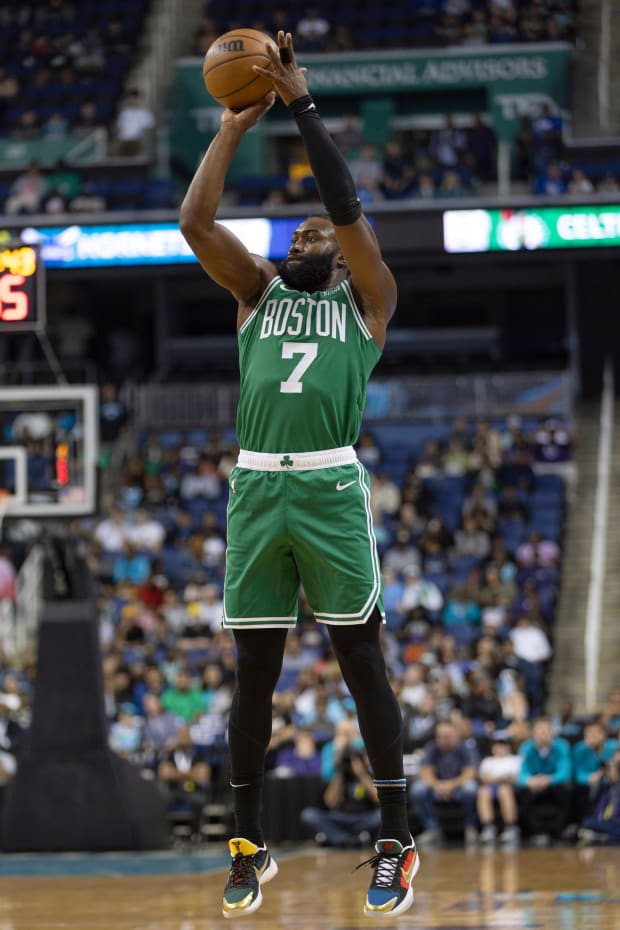 Stats: 26.6 PPG, 7.0 RPG, 3.3 APG, 1.2 SPG, 0.5 BPG
Jaylen Brown has formed one of the best duos in the NBA alongside Jayson Tatum, and the Boston Celtics keep winning games as a result (despite their 5-5 record over the last ten games). As the sidekick to Tatum and second-best player on the team, Brown is posting 26.7 PPG and is also showcasing his improvements when it comes to crunch time as well.
Brown is an interesting figure because even if Tatum is the best player on the team, Brown is normally the player who has proven to be the most clutch when it matters. On both ends of the court, Jaylen has been one of the most consistent players in the NBA despite being a second offensive option, so he deserves his first All-NBA selection.
---
Kevin Durant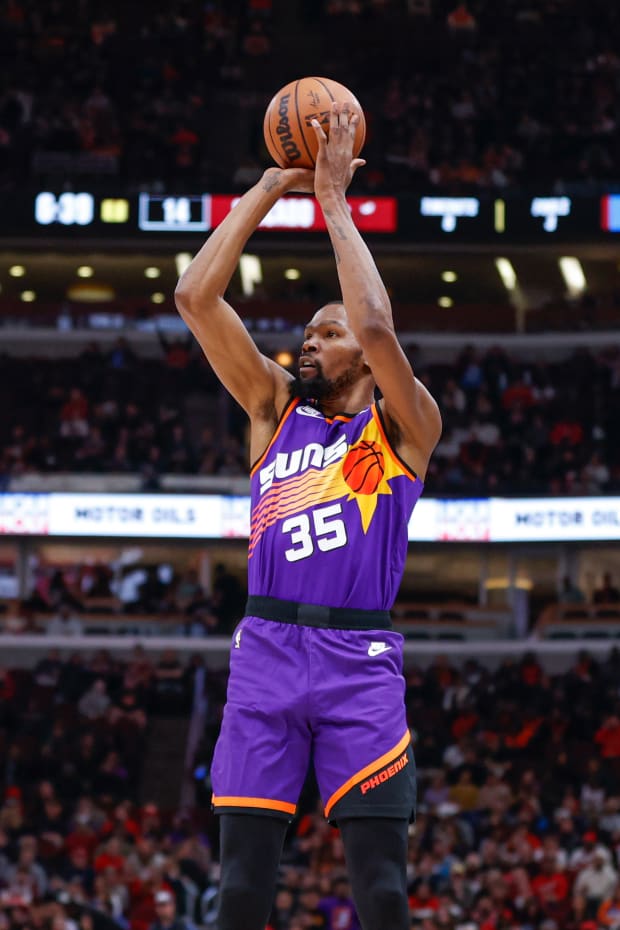 Stats: 29.5 PPG, 6.8 RPG, 5.2 APG, 0.8 SPG, 1.5 BPG
Kevin Durant is still one of the two best players in the world alongside Giannis Antetokounmpo and he finds himself on another superteam in Phoenix. Durant's haters will continue to come out of the woodwork, but Durant is once again posting superstar offensive numbers and proving to be the most feared scorer in the NBA.
The superstar forward is averaging 29.5 PPG on 56.6% from the field, 38.6% from three, and 93.1% from the free-throw line. If Durant gets his three-point shooting to 40%, he could get close to making the 50-40-90 club although that hardly takes away from the player's insane scoring efficiency. Durant has a legitimate chance to win a title with the Suns this year, and the fact that he has only appeared in 42 games so far is the reason he does not make the First Team.
---
Anthony Davis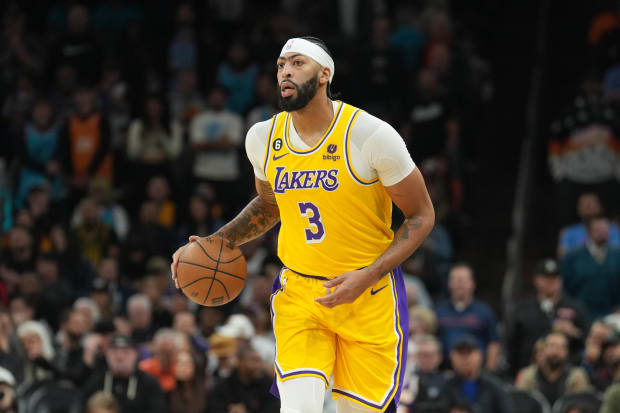 Stats: 26.4 PPG, 12.3 RPG, 2.5 APG, 1.1 SPG, 2.1 BPG
Watch out NBA, Anthony Davis is finally playing like a top-3 big man in the world. The 8-time All-Star is scoring at a high level at high efficiency (56.0% FG) and is also doing his thing on the boards and on the defensive end. Remember, the only thing stopping Davis from being a top-5 player in the world is Anthony Davis.
As LeBron James sits to nurse his injury, Davis has been leading the charge for Los Angeles again and showcased his talents against the Memphis Grizzlies on Tuesday night (30 points, 22 rebounds). Davis has done enough to place himself on the All-NBA ballots when looking at his two-way impact even if he was an All-Star snub. Without Davis playing at a high level again, the Los Angeles Lakers would have a far worse record than 31-34.
---
2022-23 All-NBA Second Team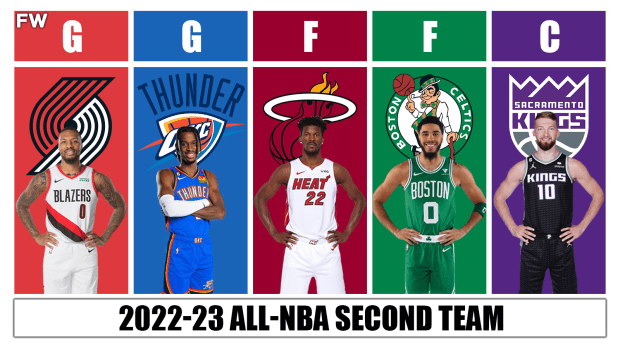 ---
Damian Lillard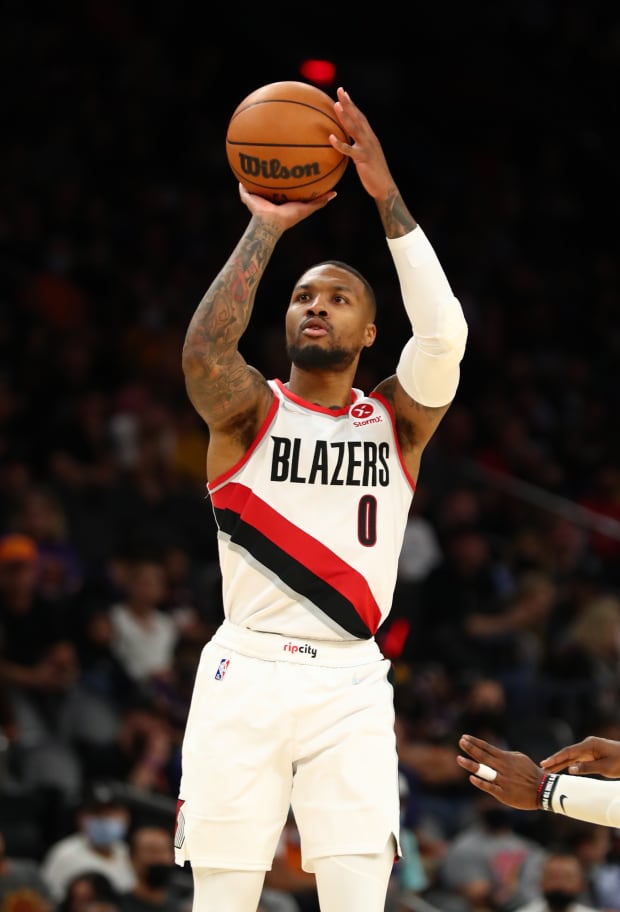 Stats: 32.4 PPG, 4.6 RPG, 7.2 APG, 0.9 SPG, 0.3 BPG
Damian Lillard loves being the big fish in a small pond in Portland because he will keep making All-Star Teams and All-NBA Teams while posting solid offensive numbers. As great as the point guard is, he won't win a championship which doesn't seem to bother Dame too much. Luckily for him, the All-NBA Team is about purely individual impact as a star.
Lillard is posting a ridiculous 32.4 PPG on 46.8% FG, 37.7% 3-PT FG, and 91.6% FT. The point guard is still a phenomenal athlete in terms of exploding to the rim and creating his own shot, and he might look back on the 2023 season as one of success considering he also won the 3-Point Contest for the first time in his career.
---
Shai Gilgeous-Alexander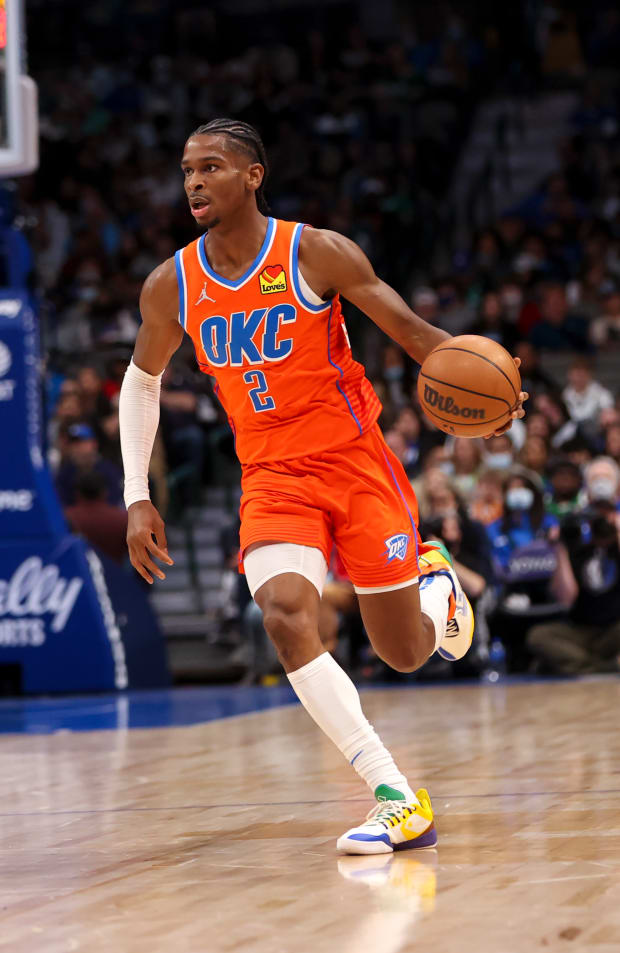 Stats: 31.1 PPG, 4.8 RPG, 5.7 APG, 1.7 SPG, 1.1 BPG
I bet Los Angeles Clippers fans are wondering how their team would be if Shai Gilgeous-Alexander was Kawhi Leonard's sidekick right now instead of Paul George. Gilgeous-Alexander is one of the candidates for Most Improved Player, putting up monster statistics across the board. The young man has arrived as a dominant All-Star in the NBA after a few years of finding himself.
The Oklahoma City Thunder has a 31-34 record in the Western Conference, meaning they won't be quite ready to make a deep playoff run although they aren't necessarily pushovers. That is thanks to their star player who deserves to be a first-time All-NBA member after making the All-Star Team because he has kept a tanking team quite competitive.
---
Jimmy Butler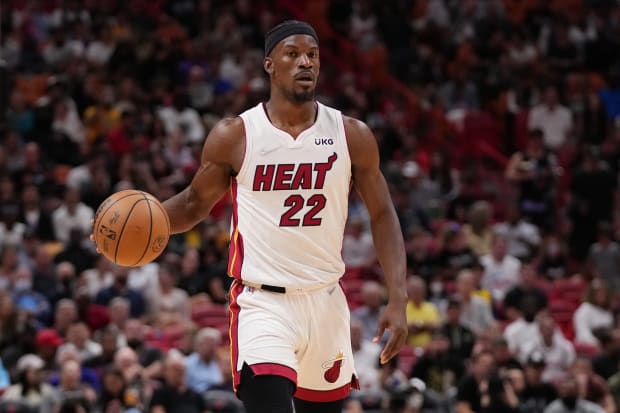 Stats: 21.9 PPG, 6.1 RPG, 5.2 APG, 1.9 SPG, 0.3 BPG
Jimmy Butler is not only a talented player on the defensive end but a unique star who reached another level when the playoff come. As some of you might have noticed, the Miami Heat are rolling and starting to climb the Eastern Conference standings. Thanks to Butler's leadership and two-way play, Miami has a 35-31 record after hovering below .500 for many weeks this year.
Butler is still one of the best lockdown defenders in the NBA and his hard-working attitude has elevated the play of his teammates. Jimmy did not make his 7th All-Star Team this year, quite surprisingly, but Bam Adebayo did and that bodes well for Heat culture. Butler could care less what happens in the regular season because he becomes a true superstar in the postseason and we can't wait for that.
---
Jayson Tatum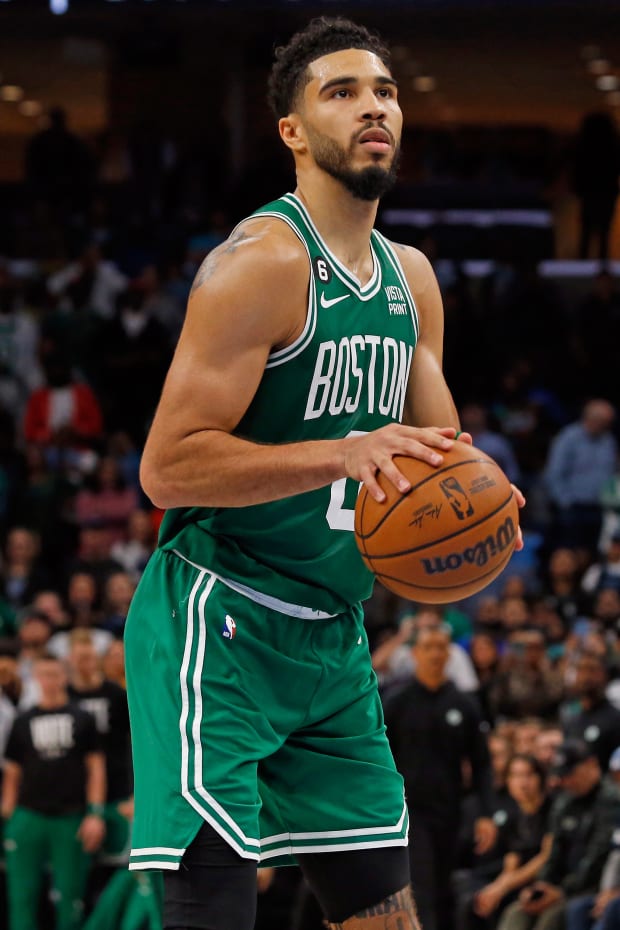 Stats: 30.3 PPG, 8.9 RPG, 4.8 APG, 1.0 SPG, 0.8 BPG
Jayson Tatum is one of the leading candidates for the MVP award and is having a career year on the offensive end. Following last year's disastrous Finals exit that showed complete immaturity from the Celtics team, Tatum has returned better than ever. The star has become a more complete all-around player as a passer, rebounder, and defensive player. We always knew he was one of the top-five scoring talents in the world.
Tatum is posting 30.3 PPG, 8.9 RPG, and 4.8 APG on 46.0% from the field, 35.0% from three, and 86.2% from the free-throw line. The superstar forward is having his way with defenses right now and has been the best-performing player all year long for the Boston Celtics. Hopefully, Tatum can continue his play because the Celtics have lost the first seed to the Milwaukee Bucks.
---
Domantas Sabonis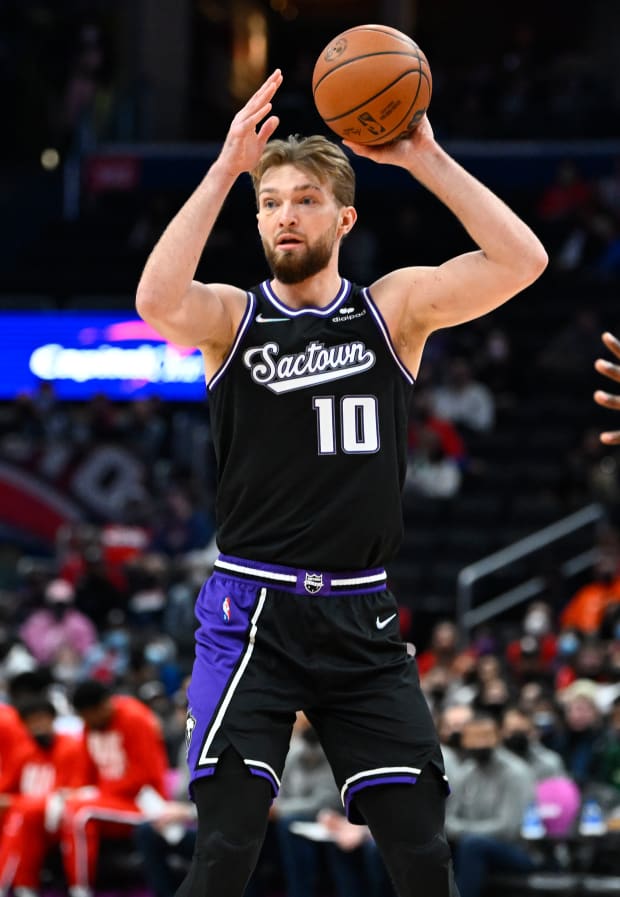 Stats: 18.9 PPG, 12.3 RPG, 7.0 APG, 0.8 SPG, 0.5 BPG
Domantas Sabonis is not the old-fashion type of center that blocks shots and dominates through size, but he is a modern big who can rebound, pass, and push the floor. At a slender 6'11" and 240 lbs, Sabonis looks like a forward that can do it all on the floor. No doubt, the son of legend Arvydas Sabonis is the best player on a Sacramento Kings team that is 38-26 in the Western Conference.
Sabonis will make his first All-NBA Team because he will be the player to lead the Kings into the playoffs for the first time since the 2006 season. The big man made his third All-Star Team selection and has proved to be a solid pickup by Sacramento even if the franchise gave up first-time All-Star Tyrese Haliburton to get him.
---
2022-23 All-NBA First Team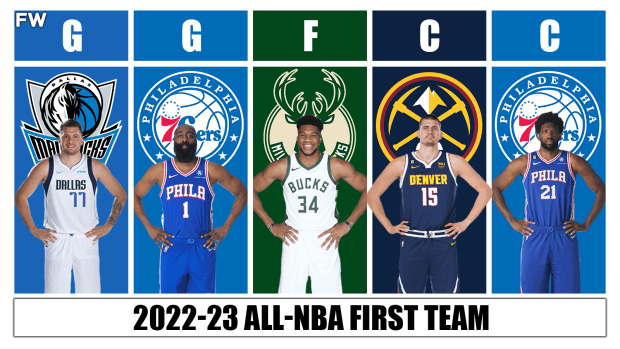 ---
Luka Doncic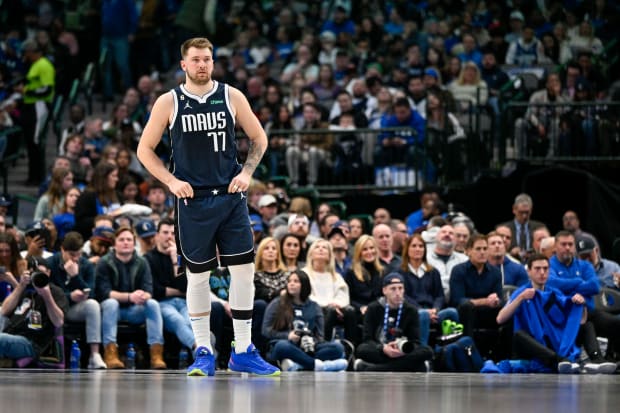 Stats: 33.4 PPG, 8.7 RPG, 8.1 APG, 1.5 SPG, 0.5 BPG
The Slovenian superstar is posting video game numbers for a Dallas Mavericks side that currently stands at 34-32. That is not a bad record considering the number of tough teams the Mavericks have played so far, and Luka is the main reason why the team will be making the playoffs once again.
Doncic's numbers are indicative of an MVP candidate, but the superstar player has been turning it down a little bit since Kyrie Irving arrived in town. The duo of Doncic and Irving has not quite worked out because Dallas has not risen in the rankings since the acquisition but regardless, Luka Doncic will be making his 4th All-NBA Team selection with an interesting summer coming ahead.
---
James Harden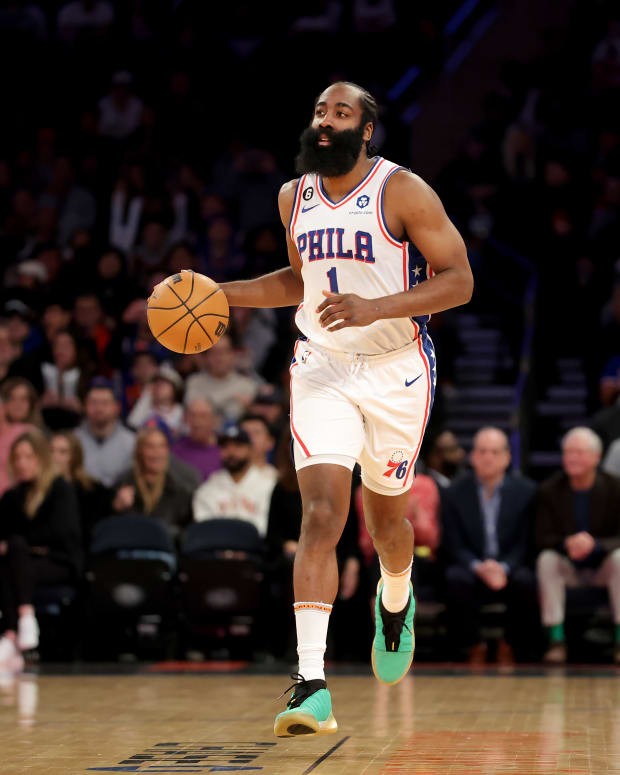 Stats: 21.9 PPG, 6.3 RPG, 10.8 APG, 1.2 SPG, 0.6 BPG
James Harden started out a little bit slow but is looking back at his best as he currently leads the NBA in APG. The shooting guard turned full-time point guard is one of the best floor generals in the league and is always a threat to attack the basket to draw a foul or step back for three-pointers. The days of posting 30 PPG at least is over, as he has become a modern-day John Stockton to Joel Embiid's Karl Malone.
Harden and Embiid are having a great season together, as the 76ers sit 3rd in the Eastern Conference at 43-22. The team is clearly one of the top-3 in the conference, so they should be a threat to make the NBA Finals come playoff time. Harden is currently the best guard in the league alongside Luka Doncic, meaning he will be on the All-NBA First Team.
---
Giannis Antetokounmpo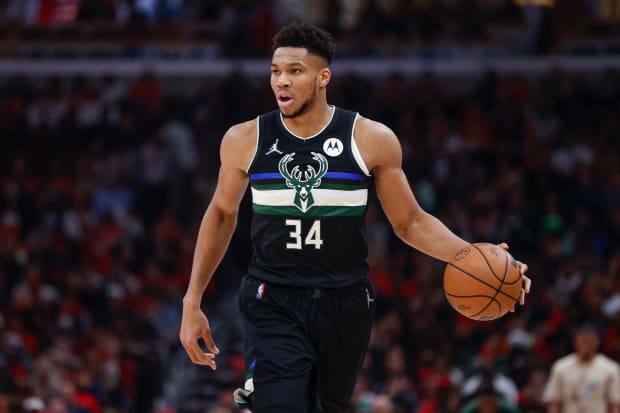 Stats: 31.9 PPG, 11.3 RPG, 5.5 APG, 0.8 SPG, 1.1 BPG
Everyone always argues about the best player in the world but there is only one man. Giannis Antetokounmpo, The Greek Freak, is the best two-way player in the world and the most impactful figure. The superstar forward has the Milwaukee Bucks in contention for a title as the first seed in the East, and as long as Khris Middleton is healthy, the team has a strong chance to win it all.
Behind Nikola Jokic and Joel Embiid, Giannis has the best chance to win the MVP award as the best player in the world. His size, dominance, and skillset transcend the power forward position because he can get from one end of the court to another in a few dribbles. The All-NBA Teams this year will be completely positionless, but Giannis will make the All-NBA First Team regardless of who wants to occupy the frontcourt spots.
---
Nikola Jokic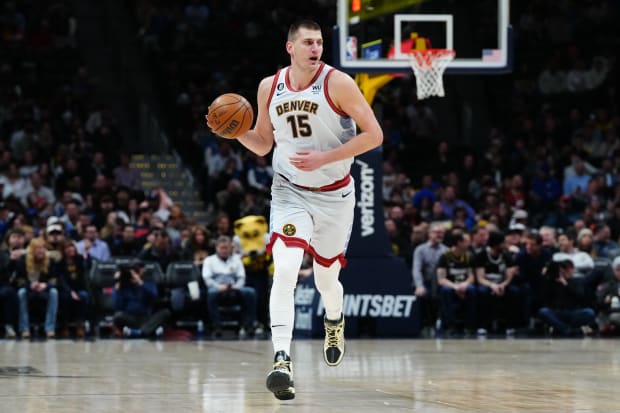 Stats: 24.4 PPG, 11.8 RPG, 10.0 APG, 1.2 SPG, 0.7 BPG
Thanks to Russell Westbrook, Nikola Jokic's triple-double average is passing us by as if it is normal. It absolutely is not, because a center is not supposed to be the point guard for a franchise. Jokic is one of the best passers in the NBA yet can also score the ball through skill and size and do his job on the boards. Despite not being a dominant defender, Jokic is a bonafide MVP candidate every year.
Jokic is the favorite to win his third straight MVP award because of his numbers and the fact that he is the best player on a Denver Nuggets team that sits first in the West at 46-19. No team has been more consistent in the West than the Nuggets, and Jokic deserved the MVP because of that. Perhaps last year the center did not deserve it over Joel Embiid, but he absolutely does this year.
---
Joel Embiid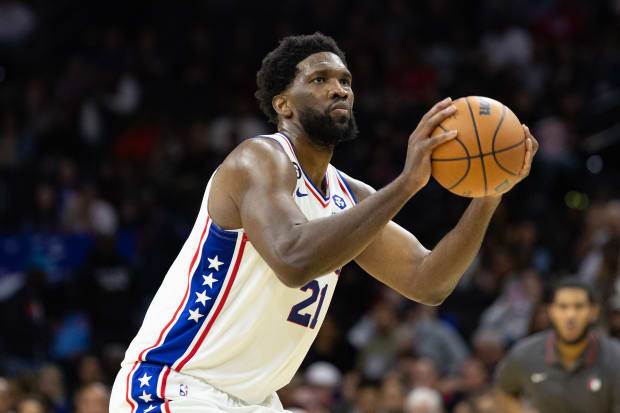 Stats: 33.2 PPG, 10.2 RPG, 4.1 APG, 1.1 SPG, 1.5 BPG
Have we seen a center like Joel Embiid before? He is a tremendous shooter, as he is posting 34.6% from three and 85.6% from the free-throw line. The superstar center can create his own looks down low and from the perimeter and is usually automatic when he needs to make foul shots. As the best player on the Philadelphia 76ers, Embiid will almost certainly make the All-NBA First Team as the second center alongside Nikola Jokic.
Perhaps the positionless All-NBA Team works best because it allows Embiid, one of the top-five players in the world, to make the First Team alongside Jokic. Joel is a better scorer and defender than Jokic, while the Serbian is a more talented passer and rebounder. The competition between the two centers has been fun to follow, and they are actually the top-two candidates for the MVP award.
We sincerely appreciate and respect you as a reader of our site. It would help us a lot if you follow us on Google News because of the latest update.

Thanks for following us. We really appreciate your support.
Trending Now