Shaquille O'Neal has claimed that only three players in his NBA career have been able to dunk over him.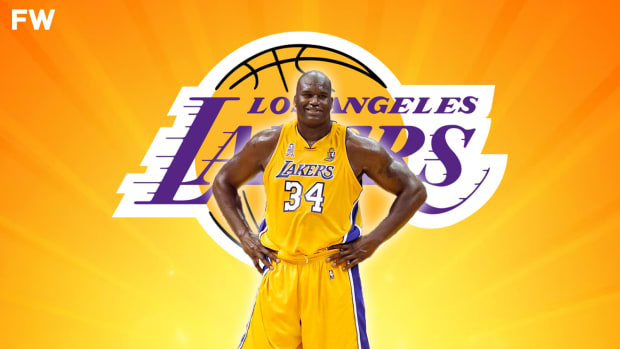 Shaquille O'Neal is one of the most imposing men to ever step onto a basketball court. During his career, Shaq dominated the league and is now remembered as one of the greatest centers of all time.
In his career, O'Neal only got dunked on by three players. He revealed those names in an interview recently, featuring Michael Jordan.
"In 20 years, I only got dunked on three times. Derrick Coleman, Michael Jordan, and Tim Perry. A baseline dunk, I went up lazily and he threw it down on me. I always wanted to take pride in not getting dunked on."
View the original article to see embedded media.
Coleman was the no. 1 overall pick in the 1990 NBA Draft and went to the New Jersey Nets. He definitely had the physical tools that would enable him to dunk over O'Neal.
Tim Perry was an NBA journeyman that spent 8 years in the league on teams like the Phoenix Suns, Philadelphia 76ers, and New Jersey Nets. Shaq explained how the 6'9 forward got the drop on him in the quote.
Everybody knows Michael Jordan and what he can do on the court. At this point, is there any center that MJ played against that he didn't dunk on? It'll be hard to find this person, as he'll be one of the rarest players of the '80s and '90s.
---
Shaquille O'Neal Was Unstoppable
Shaq was never known as a defensive specialist. While he did use his size and agility to become an elite rim protector, he couldn't guard anything out in space. Similarly, nobody could guard him when he was on the inside. He also possessed enough ball-handling ability to bring the ball up the court and throw it down at the rim if needed.
O'Neal pioneered an entire action known as 'Hack-A-Shaq', which saw teams try to limit Shaq by fouling him and making him go to the free-throw line. O'Neal was a career 52.7% free-throw shooter, so this strategy could work sometimes. Most times, it didn't end up making a major difference as O'Neal won 4 titles in his career, 3 with the Lakers and 1 with the heat.
We haven't seen a player like Shaq since and we might never see one again. O'Neal calls Giannis Antetokounmpo the modern-day Superman, but we haven't seen pure physical dominance from Giannis at the level of Shaq. No player comes close yet, so let's see the kind of players that come into the league over the next generation.
We sincerely appreciate and respect you as a reader of our site. It would help us a lot if you follow us on Google News because of the latest update.
Thanks for following us. We really appreciate your support.