St Kilda coach Ross Lyon has addressed players after an unedited audio file from St Kilda's coach's box during last Friday's practice match against Essendon was inadvertently downloaded to a league-wide database.
The file sat in the shared folder on Saturday morning for several hours before the error was realised, and the club immediately replaced the file with a muted version of the vision.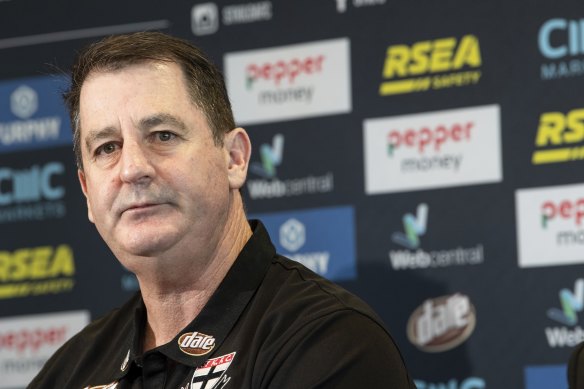 It is unclear whether the audio had been accessed or downloaded by any of the clubs with access to it.
Saints football manager David Misson said the mistake was rectified as soon as the club became aware the audio was available on a central database.
Loading
"There is no certainty that this file has been accessed and downloaded by anybody, however, regardless of the low risk, we wanted to be on the front foot and proactive in our response," Misson said.
"Our focus is on creating a program with high integrity, open communication and care for our people.
"As a matter of course, we addressed this issue directly with our playing group.
"As part of our response, we also alerted the AFL and relevant key stakeholders."