Steve Ballmer went viral after a video of him getting exicted about the toilets at the Clippers' new arena went viral.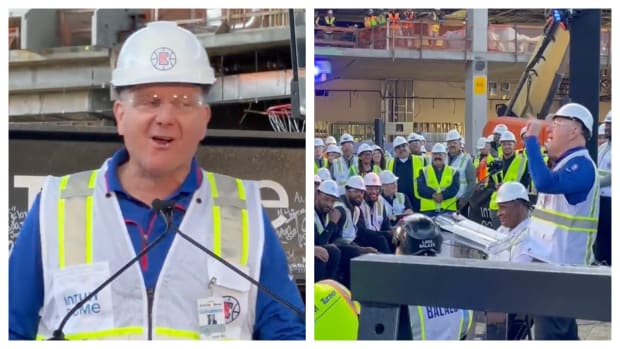 The Los Angeles Clippers are about to finally get their arena with owner Steve Ballmer overseeing the building of the Intuit Dome.
A construction milestone ceremony took place on Tuesday with the entire Los Angeles Clippers' roster including stars like Kawhi Leonard and Russell Westbrook in attendance. It ended with a passionate speech from Steve Ballmer, who got excited about an unexpected aspect of the new arena, the toilets.
"Toilets!" Ballmer exclaimed. "1160 toilets and urinals, three times the NBA average! We do not want people waiting in line, we want them to get back to their damn seats at the end of the half, before the game!"
Steve Ballmer is arguably the most passionate owner in the game, he has gone viral for his amazing courtside reactions before. And this is another example of how deeply he cares about his team, getting so excited about such a mundane aspect of any arena.
The facilities as the upcoming Intuit Dome promise to be pretty great for fans in attendance, and maybe it will allow the Clippers to collect some serious fans of their own. Sharing an arena with the Lakers has kept them in the shadow of their neighbors for many years now, and this will be a good step for the Clippers to move into a new era.
---
Kawhi Leonard And Russell Westbrook Laugh While Steve Ballmer Talks About The Clippers' New Toilets
The stars of the Los Angeles Clippers have not been having a good time recently, they are far from living their best lives. The team has been struggling since Russell Westbrook was acquired, and Kawhi Leonard has also been catching heat in the media. But during Ballmer's brilliant speech, they could all be seen enjoying the infectious enthusiasm of their team's owner.
Steve Ballmer has put in a lot of effort to ensure that his team has the best of the best, on the court and off of it. Yet the Clippers find themselves in the 8th seed in the Western Conference, with a 3-7 record in their last 10 games. The team will need to end the season strong to secure an automatic playoff berth in a tight West. Winning is the only yardstick for success, and no number of incredible toilets will pull fans to the new arena if the team cannot start winning consistently.
We sincerely appreciate and respect you as a reader of our site. It would help us a lot if you follow us on Google News because of the latest update.
Thanks for following us. We really appreciate your support.