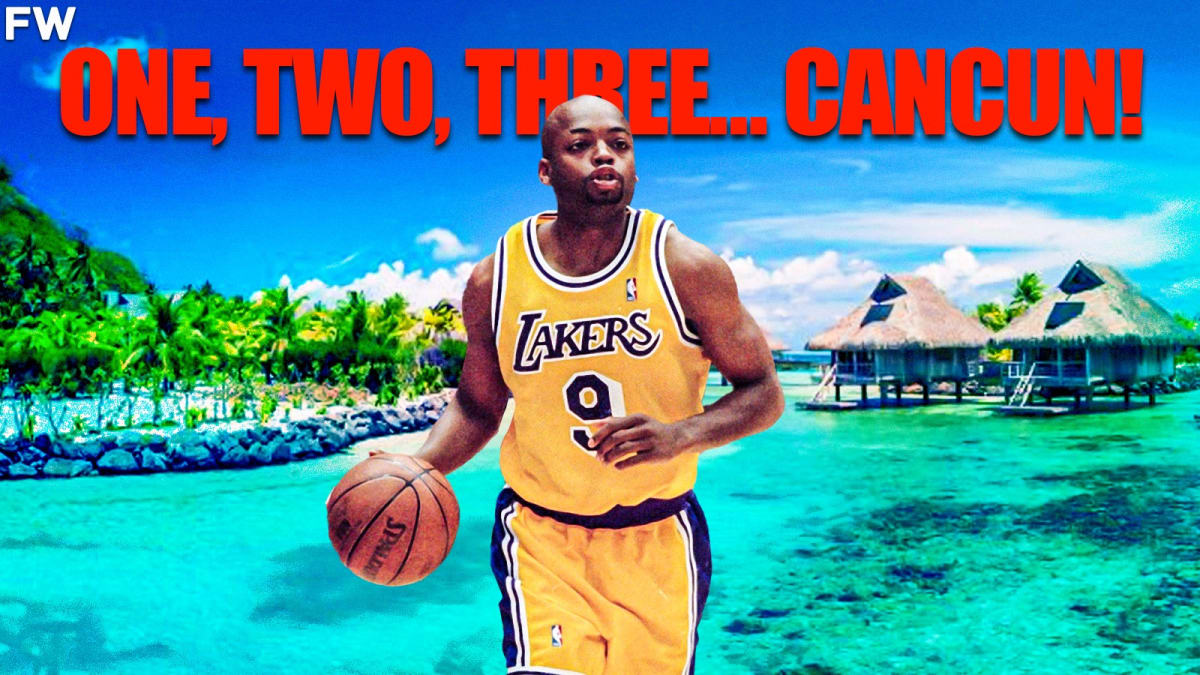 The NBA playoffs are here, and many teams have been beaten and sent home. If you're a fan of the game, you've probably heard about players heading to Cancun after their teams have been sent packing or even the quote, "One, two, three… Cancun!"
The thing is, most fans do not know the origin of this quote or why it's common to have players connected to the Mexican city after their season has ended. In this article, we'll explore the history of NBA players and Cancun and exactly where the famous quote got its start.
---
"One, Two, Three… Cancun!"
The date was May 24, 1998, and the Los Angeles Lakers, who were led by Shaquille O'Neal, a young Kobe Bryant, and 1998 All-Star guard Nick Van Exel, were playing the defending Western Conference champion Utah Jazz.
The series was the Western Conference Finals and the unthinkable was about to happen to the Lakers, who boasted four All-Star players that season… They were going to be swept out of the playoffs.
After falling into a 0-3 series hole, a deficit that no NBA team has ever overcome, the Lakers' confidence was clearly shattered, especially Nick Van Exel's. Before the Lakers ran out of the hallway and onto the court for Game 4, the team huddled up, as they've done many times, and they cheered, as they've done before every previous game, "One, two, three… Lakers!"
Well, all of the players except one made this cheer. Van Exel put a unique spin on this cheer as he quietly said, "One, two, three… Cancun!"
"But I didn't say it loud so that everybody could hear it," Van Exel said. "I think it was only a few people that heard it. And they started laughing a little bit. And that was my point, was to loosen the bunch up… I'm a jokester. I like to have fun, keep everybody loose."
The Lakers went on to lose the game 96-92 and the series 0-4. This funny quote from Van Exel might have rubbed some in the Lakers front office the wrong way, as he was traded a month later to the Denver Nuggets.
Today the phrase "One, Two, Three… Cancun!" has become a meme and is often referenced on TNT's Inside the NBA whenever a team gets sent home from the playoffs.
Of course, the crew at Inside the NBA began using this phrase in 2015 when host and teammate of Van Exel at the time he used the phrase, Shaquille O'Neal, brought it up.
It's now been 25 years since Nick Van Exel famously uttered Cancun in his team's huddle, and despite its meaning of getting knocked out of the playoffs, it's evolved into a beautiful meme that fans and former players seem to enjoy. Plus, Cancun is such a beautiful place to travel.
Who wouldn't want to head to Cancun, especially after a rough playoff loss?
We sincerely appreciate and respect you as a reader of our site. It would help us a lot if you follow us on Google News because of the latest update.
Thanks for following us. We really appreciate your support.