Vernon Maxwell revealed details of the time he wanted to stab Hakeem Olajuwon during a game.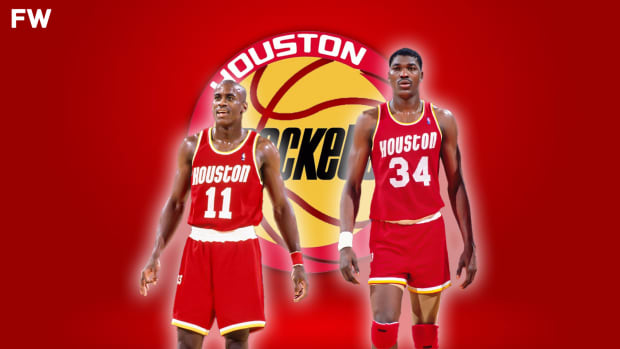 The Houston Rockets in the 1990s were one of the best teams in the NBA consistently, even winning 2 championships when Michael Jordan retired from the sport to play baseball.
The familiar Rockets' core is iconic but it all could've gone very bad. A fight between Vernon Maxwell and Hakeem Olajuwon got so bad that police had to intervene in the locker room after a game against the Seattle SuperSonics.
Vernon Maxwell: "We're playing Seattle and in the first half, I had a confrontation with somebody on the Seattle team. It broke up but I was so upset. When I got mad, and I don't know why I do this, I just go to spitting on the floor."
Kenny Smith: "Hakeem said, 'have some class, don't spit on the floor.' Vernon is like, 'who's this guy telling me I should have class? He's not running my life.' So, Vernon spits again."
Hakeem Olajuwon: "Maxwell pushed me to the point, let's fight."
Vernon Maxwell: "He walked up to me and stood over me. 'What did you say?' POW. I said 'godd*mn, this motherf***er slapped the sh*t out of me.' He hit me so hard and knocked me back in my chair. I got up threw it at the motherf***er and busted the glass everywhere. Everybody ran out, and police came in with their guns drawn. I picked up a big piece of glass and I was gonna chase Dream and stab the sh*t out of him. "
View the original article to see embedded media.
Maxwell should be a little more careful disrespecting someone as traditional as Hakeem was, especially at that time. He was playing through fasting and acting like the most dominant player in the league effortlessly. Maxwell was great but he was no Hakeem, and he eventually learned his role.
---
Hakeem Olajuwon Was Iconic
Hakeem Olajuwon is the only player that could be drafted ahead of Michael Jordan and still have people say 'that pick made sense'. Olajuwon set the blueprint for modern post-moves and center play, using his skill to dominate the paint instead of raw talent or athleticism. Shaquille O'Neal knows the challenges that facing Hakeem brings, and no amount of superhuman strength can get past that.
Olajuwon averaged 22.5 points, 11.4 rebounds, and 3.2 blocks in 1,177 games over his career with the Rockets, winning the 1994 MVP and 2 championships. He is regarded by some as the greatest big man of all time, given the impact his style of play has had on the modern era, a very rare achievement for an old-school center.
We sincerely appreciate and respect you as a reader of our site. It would help us a lot if you follow us on Google News because of the latest update.
Thanks for following us. We really appreciate your support.