"What you're implying is that the white voters that vote on NBA are racist, that they favor white people," Redick slammed Perkins.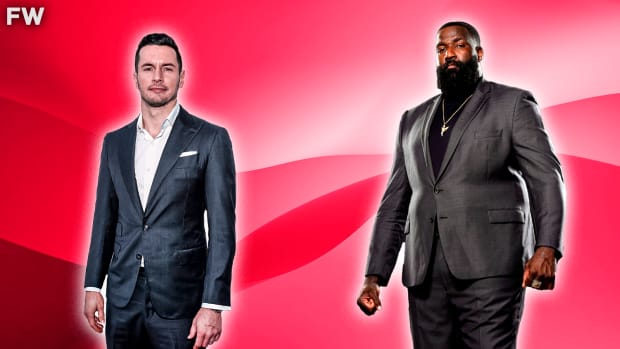 JJ Redick tore into Kendrick Perkins when the discussion between the two and Stephen A. Smith revolved around the NBA MVP award on 'First Take'.
Perkins said it would be Nikola Jokic because he was favored by the voters and this upset Redick who said, "Stephen A. [Smith], I mean no offense to you. I mean no offense to 'First Take'. Because I think this show is extremely valuable. It is an honor to be at this desk every day."
He further added: "What we just witnessed is the problem with this show," Redick said. "We create narratives that do not exist in reality. What you're implying is that the white voters that vote on NBA are racist, that they favor white people. You just said that. It's exactly what you implied."
Perkins immediately proceeded to respond saying he stated the facts before Smith tried to intervene. This isn't the first time the two have had exchanges, and by the looks of it, it certainly might be some time before they call a truce.
---
JJ Redick Took A Shot At Kendrick Perkins On Twitter Over The Nikola Jokic MVP Debate
Not the one to let things slide, Redick took a not-so-subtle shot at Perkins earlier after Jokic propped up a triple-double against the Memphis Grizzlies.
Taking to Twitter, the former Philadelphia 76ers star wrote: "I want to make a snarky comment about Jokic's triple-double and Nuggets win tonight but I'm not gonna do it. I am exhausted by the bullshit. Just enjoy greatness (whether that's Jokic, Giannis, Dame etc). I am just gonna enjoy being a fan of basketball."
Jokic has been one of the names doing the rounds for MVP this season. The Serbian has led the Denver Nuggets from the front averaging 24.5 points, 11.8 rebounds, and 10.0 assists this season.
Redick has been vocal in support of the center. While it's unclear if Jokic is paying attention to the debate on the side, he does have a solid supporter on Redick.
We sincerely appreciate and respect you as a reader of our site. It would help us a lot if you follow us on Google News because of the latest update.

Thanks for following us. We really appreciate your support.