We must be straight about this debate. If you consider the question of the appropriateness of sports advocacy from a Venn diagram perspective, it's remarkably probable that no line of demarcation could ever be identified, to distinguish those who oppose constitutional reform from those who oppose sports governing bodies adopting any position that's announced publicly.
No advocate for the "Yes" campaign is nonetheless likely to also contend that the NRL, or Netball Australia or the Australian Toe-Wrestling Association should remain entirely shtum on the issue. Or to put it more bluntly: they're the SAME PEOPLE!!!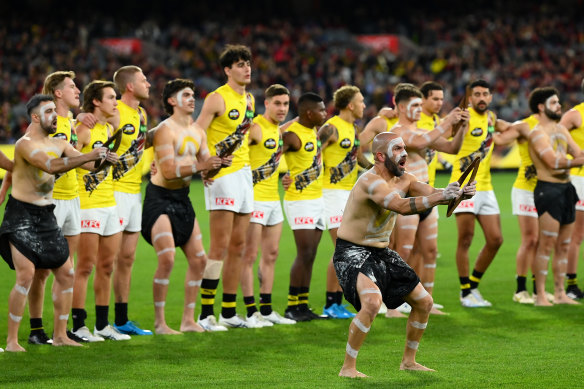 Which isn't to say there's an easy path forward here for sports governing bodies adopting a position on a matter which presently is more likely to divide Australia's society than unite it. If you believe in the statistical accuracy of public polls, Rugby Australia as an example might only serve to alienate a high minority of the people associated with the sport as a consequence of taking a public stand on this issue.
As a lawyer who's practised for over two decades, I only think that I sort of might have formed a position in my own mind on whether constitutional change in the form of the establishment of the Voice (specifically, the model presently promulgated by the government) would be a positive step for Indigenous People and Australia as a country.
I'm not certain if my own reasoning is legally sound and rational or not. On such matters and in those circumstances, it would be entirely unproductive to share my own views. So in that same context, is it actually the domain of Australia's sports organisations to promote their own, incredibly more forthright positions? Is that a necessary component of their actual function?
And even if it is within scope for these governing bodies to take what effectively is "a stance", isn't it mildly facile for them to consider that their declared positions are likely to make an actual difference?
These are complex questions, but the first observation to make is simple. This issue of sports governing bodies and the promotion of proposed constitutional reform to recognise Indigenous people formally and irrevocably within Australia's fundamental governing document mustn't be conflated with the notion of interweaving of sport and politics.
For this isn't at all akin to the Olympic Games becoming a battleground for ideological Cold War conflicts and tit-for-tat boycotts. That's the Sport v Politics writ large; the weaponizing of sport. Nor should these matters be considered in the same context as Malcolm Fraser's government dogged petitioning of the AOC to refrain from sending athletes to the 1980 Moscow Games and forever ruin the Olympic dreams of scores of Australian athletes in the process.
And this isn't either the 1970s rugby and cricket sporting boycotts of South Africa and its representative teams, or the consequent "rebel" tours which travelled to those shores in defiance only to be branded "traitors" by the likes of then-prime minister Bob Hawke.
No, Cricket Australia et al advocating in favour of Australian constitutional amendment isn't another example of how sport and politics can't mix. Because the debate isn't about politics at all, as distinct from being about human rights and the rectifying of the situations of long-marginalised peoples, who also are an intrinsic part of the very same sports that we are talking about. Further, and once you do away with the suggestion that this is about politics, this issue of sports governing bodies advocating on matters not strictly related to what happens inside the boundary of the touchline must be examined through a different prism that considers precisely why these organisations exist.
Loading
As an example, consider the constitution of the Australian Rugby League Commission. Among the expected terms which state that the objectives of the organisation include being the controlling body and administrator of the sport in Australia are two further stated principles. First, the ARLC constitution records that the organisation exists to promote and encourage the cultural welfare of young people in the community, and in particular the rugby league community. Second, the ARLC states in its own governing document that it exists for the purpose of promoting and encouraging the social welfare of young people through sport.
It's entirely consistent with these objectives for which the ARLC exists, for the ARLC to state its position on a matter of significant cultural and social importance.
But even if no such objectives are expressed – the constitutions of the AFL and Rugby Australia, for example, are not drafted in the same way – it's nonetheless right to question the scope of the role of a national sports organisation in practice.
Rightly or otherwise, Australia's national sports organisations enjoy positions of significant influence on society, to the point that the various governing bodies, both singularly and collectively, command a platform of influence that governments actually do not. Governments do genuinely appalling jobs of clearly and succinctly articulating on just about anything; as opposed to producing garbled, weak nonsense.
That power that sport has mustn't be ignored, nor can it be allowed to be improperly taken advantage of. Sports organisations possess an unparalleled reach to disseminate information and generate meaningful conversations, yet they mustn't function to instruct or lean on people on how to think.
However, it's arch-simplicity to peddle the line that sport should operate as a safe harbour of respite, isolated from the myriad other polarising political and cultural divisions within society. Sport just doesn't exist in some hermetically-sealed bubble world. Instead, the reality in 2023 is that Indigenous footballers are probable targets for putrid abuse, lest they dare to stick their head above the parapet about anything.
You do get the distinct impression that the next period is going to be a bitter, divisive time in Australia.
People bullshit all the time about how "sport unites". Most of that sort of stuff is complete crap. And yet sport does have a devilishly important role in this debate. It's ridiculous* to say sports should ignore that responsibility, and just shut up.
*And for the record, it would be equally absurd to contend that a sports governing body should be restrained, from stating a position that opposes the government's proposal for constitutional change.
Stream the NRL Premiership 2023 live and free on 9Now.
Sports news, results and expert commentary. Sign up for our Sport newsletter.