The reasoning behind counting a failed HIA as a replacement was the fear a player with an injury unrelated to the head – such as a twisted ankle – could declare he had a head injury and win a free replacement for his team.
Prior to the introduction of the stand-down policy, he was free to play next week. Now, however, any player nominating a head injury must face a HIA and risk an 11-day stand-down.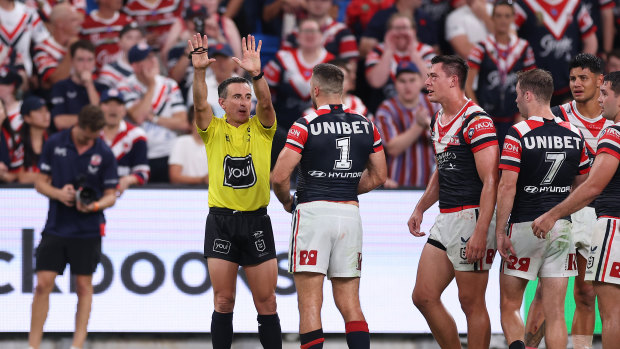 Maybe NRL players are not the slow learners Shakespeare implied in King Lear when he wrote of a "base football player". Only two players were sin-binned in Friday's Roosters-Rabbitohs match, and not until the 77th minute.
Contrast that to last year's semi-final between the same teams, when there were a record seven sin-binnings and five HIAs.
In today's climate, with the threat of impending class actions against the ARLC over concussion, the NRL may move to have all HIAs treated as a free interchange. However, any change to this rule would not occur until the 2024 season.
The NRL has already demonstrated its duty of care to players by amending the replacement rule with the 18th man.
Previously, an 18th man could only be activated if a team suffered three HIAs in a match. This has been reduced to two HIAs.
Another consequence of the stand-down rule is the pressure on NRL clubs to monitor symptoms of concussion promptly and report them early.
Given the 11-day stand down is designed for the majority of players to miss only one match, a player reporting symptoms on, say, a Tuesday would miss two matches.
Loading
The possibility of a player missing the grand final because of a stand down has raised the prospect of a two-week break between the preliminary final and the season decider.
While the NRL has ruled it out this year, pressure will grow in future years, especially if the grand final is auctioned off to bidding cities.
NSW Labor leader Chris Minns told the Herald in the lead-up to Saturday's state election, "We want to keep the NRL grand final in Sydney, it's a huge part of the NSW sporting calendar".
The successful city will lobby for a two-week, Super Bowl-like build-up to capitalise on visitors, with possibly the All Stars match played in the intervening weekend.
However, suppose the fortnight of hype was ruined by the grand final itself, with a player sent off as a result of an opponent faking a head injury after an accidental high shot. The HIA player spends his mandatory 11-day stand down on the syrup with his grand final-winning teammates!
Stream the NRL Premiership 2023 live and free on 9Now.