Anthony Davis has played like a legitimate MVP candidate in LeBron James' absence this season.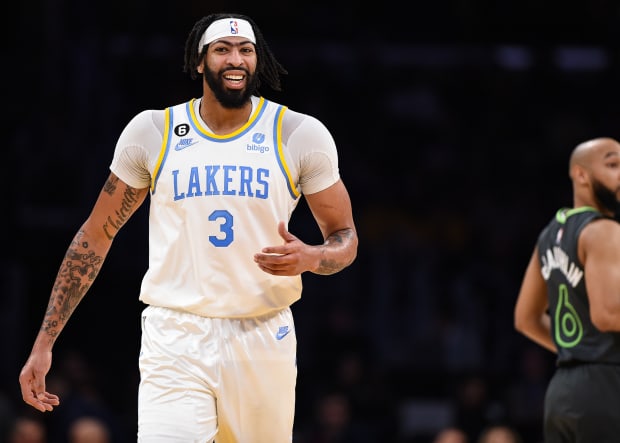 With LeBron James on the sidelines with his foot injury, it was time for Anthony Davis to step up and he's done just that.
Davis was excellent once again on Tuesday night against the Memphis Grizzlies, as he finished with 30 points, 22 rebounds, and 2 blocks to lead the Los Angeles Lakers to a 112-103 win.
In his last five games, AD is now averaging 33.0 PPG, 13.8 RPG, 3.0 APG, and 2.8 BPG while shooting 56.3% from the field, which is simply outstanding. LeBron hasn't been there for four of those games and despite that leading to the defense focusing in on AD, it hasn't stopped him from dominating.
Davis has been criticized often in the past for not being able to elevate his game to another level when LeBron isn't playing, but he has been putting on a show in his co-star's absence this season. In the 13 games AD has played without LeBron in this 2022-23 campaign, he has averaged 29.6 PPG, 15.2 RPG, 2.2 APG, 1.0 SPG, and 2.4 BPG as per StatMuse. Those are MVP numbers right there and Davis would probably run away with the award if he averaged that for an entire season.
The Lakers will need him to keep up this level of play for a while at least, as they are expecting LeBron to miss more than three weeks. Fortunately for the team, to go with AD's excellent play, their role players are contributing well too. The Lakers have had at least five players score in double-digits in their last two games and if that can be the case for most of the games from here on out, then they will stay afloat in LeBron's absence.
This latest win meant the Lakers improved to 32-34 and are now the 9th seed in the Western Conference. They aren't far off from the 6th spot either and if the team can actually string together some more good performances, they could find themselves with a great chance at securing an automatic playoff berth.
---
Darvin Ham Has A New Nickname For Anthony Davis
Following Davis' performance against the Grizzlies, head coach Darvin Ham revealed that he has a new nickname for his star big man. Ham says he calls him "Wilt Davis", referring of course to another great Laker big, the legendary Wilt Chamberlain. Davis isn't quite putting up Chamberlain's numbers, but he is playing in the kind of dominant fashion that Wilt used to.
He might need to put up Wilt Chamberlain numbers if they are to make it three wins in a row though, as the Lakers are taking on the New York Knicks next. The Knicks had won nine games in a row before suffering a shock defeat to the Charlotte Hornets last time out. They'll be keen to make a statement against the Lakers and get back to winning ways.
We sincerely appreciate and respect you as a reader of our site. It would help us a lot if you follow us on Google News because of the latest update.
Thanks for following us. We really appreciate your support.