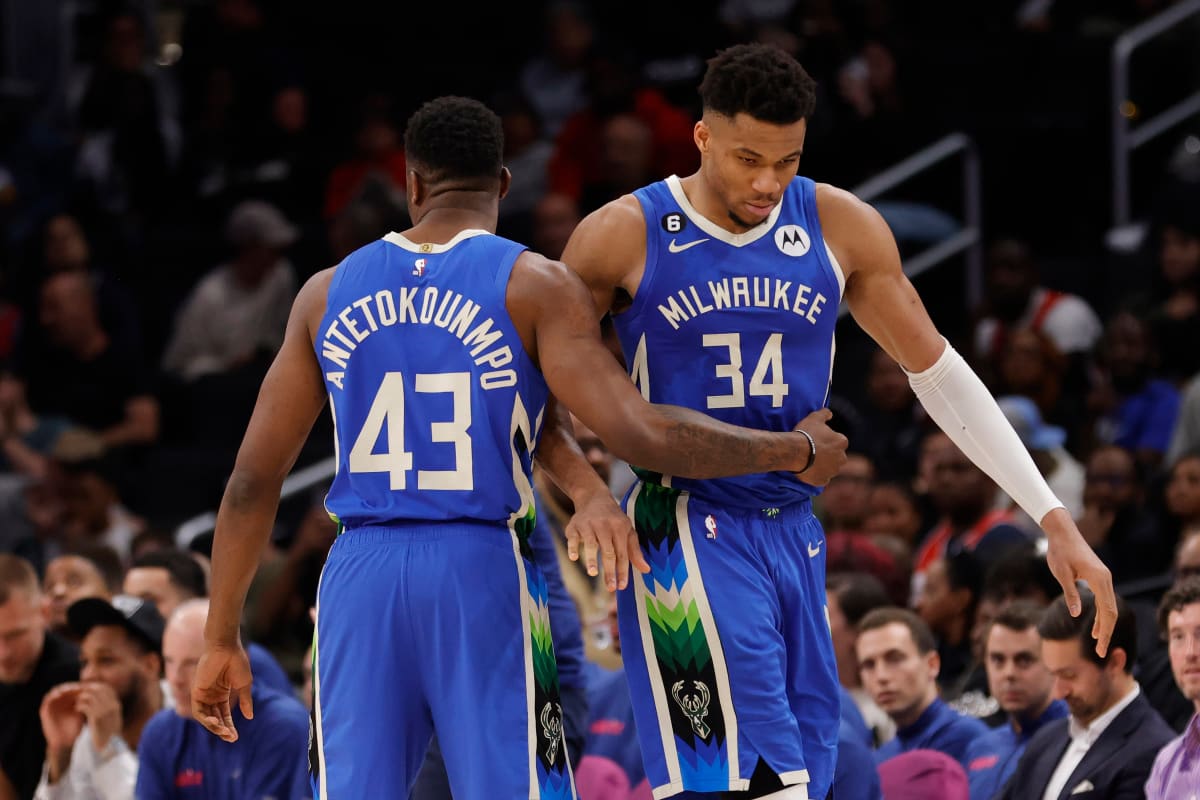 Perkins suggests Thanasis is on the Bucks' roster to please brother Giannis
Giannis' future with the Bucks uncertain after last season's playoff exit
Bucks begin redemptive season against Philadelphia 76ers on October 26
In a recent segment on ESPN's "NBA Today", former NBA player and now analyst Kendrick Perkins shared a controversial take regarding Thanasis Antetokounmpo's presence on the Milwaukee Bucks' roster, linking it solely to the Bucks' efforts to appease his superstar brother, Giannis Antetokounmpo.
The statement comes amid existing concerns surrounding Giannis' future with the franchise, especially after the disappointing first-round exit from the playoffs last season. The Bucks have reportedly been on a mission to ensure Giannis stays with them, a journey that saw them signing and later waiving his other brother, Alex Antetokounmpo, earlier this offseason.
"When we talk about giving Giannis everything and more, that is everything and more because to be honest with you… if Giannis wasn't on the Bucks… I don't believe that his brother would actually be on an NBA roster," Perkins commented during the broadcast.
Thanasis Antetokounmpo's role in the team has indeed been limited; despite being part of the championship team in 2021, his contributions have been relatively modest. This naturally leads to questions surrounding his position in the team and whether it hinges significantly on his last name and familial ties to Giannis, who is a key player for the Bucks.
The reigning MVP, Giannis, is looking forward to guiding the Bucks back to their winning ways, hoping to erase the bitter memories of the previous season's playoff downfall where they lost 4-1 to the Miami Heat in the initial round. A series marred by an injury that saw Giannis missing substantial parts of it.
Giannis, renowned globally as the 'Greek Freak', is indeed an integral part of the Bucks and a figure whose sentiments carry weight in the franchise's decisions. Therefore, Perkins' comments, while contentious, shed light on the intricate dynamics at play in team formations and the efforts franchises sometimes undertake to retain their star players.
As Bucks fans are holding onto hopes of witnessing a strong comeback and another championship pursuit in the 2023-24 season, the spotlight remains firmly on Giannis and the choices he will make regarding his career's trajectory.
---
Evan Turner Blasts Giannis Antetokounmpo And His Brother
In a recent incendiary interaction on social media, Evan Turner, the former No. 2 NBA draft pick, has seemingly called out the Milwaukee Bucks powerhouse, Giannis Antetokounmpo, and his brother Thanasis.
This firestorm was triggered by Giannis' remarks on refraining from working out with active NBA players, a stance rooted in maintaining his competitive edge. It seems Turner took this personally, leading him to lash out and question the appeal of heading to Milwaukee to train with the Antetokounmpo siblings.
The blatant disregard and perceived disrespect echoed in Turner's words, "Ain't nobody coming to Milwaukee to work outwit you and your brother," as he took to social media to vent his irritation. The not-so-subtle dig was met with immediate backlash, compelling Turner to engage in a frantic bout of damage control. Yet, his follow-up claim distancing himself from referring to Giannis fell on skeptical ears, with many discerning the obvious target of his jibe.
Evan Turner and Giannis' history is peppered with similar instances of thinly veiled criticism, including a 2022 episode where Turner disbelieved Giannis' expressed desire to maintain a low profile post-retirement, accusing the Bucks' star of harboring a penchant for attention.
---
Giannis Antetokounmpo May Leave The Bucks
Recent statements by Milwaukee Bucks superstar Giannis Antetokounmpo during a 48 Minutes podcast with Ross Geiger have sent ripples of apprehension through the Bucks' fan base, hinting at a possible departure from the team in pursuit of more championship victories.
Although the Bucks clinched the much-coveted Larry O'Brien trophy in 2021, Giannis expressed an unquenched thirst for "new memories" and triumphs, placing winning above comfort and familiarity. His revelation shows a dedicated athlete with an unwavering focus on success, prepared to transcend past loyalties to embrace opportunities that foster a winner's trajectory.
A towering figure in the NBA, boasting impressive stats with an average of 22.6 points, 9.6 rebounds, and 4.7 assists per game over a stellar decade-long career with the Bucks, Giannis has garnered accolades including two MVP titles, a championship, and seven appearances each in the All-Star and All-NBA rosters. His credentials are unassailable, establishing him as a player with nothing left to prove.
However, the tumultuous end to the Bucks' journey in the 2023 postseason, where they succumbed to the Miami Heat in the first round, has thrown his future with the team into jeopardy. The frustration from the unexpected early exit paired with an inherent desire to win could be steering Giannis to contemplate avenues where championship victories are more assured.
While his commitment to being "a winner" above all underscores a formidable competitive spirit, it leaves the Bucks with the ominous task of shaping a squad that not only retains their star player but is fortified to vie for the highest honors in the seasons to come. The road ahead seems uncertain, with Giannis's priorities clearly leaning towards personal and team evolution over nostalgic allegiance to the Milwaukee Bucks.
We sincerely appreciate and respect you as a reader of our site. It would help us a lot if you follow us on Google News because of the latest update.
Thanks for following us. We really appreciate your support.