Kobe Bryant used to think that he and Pau Gasol were an underrated duo in the eyes of the Laker fans who didn't appreciate their pairing.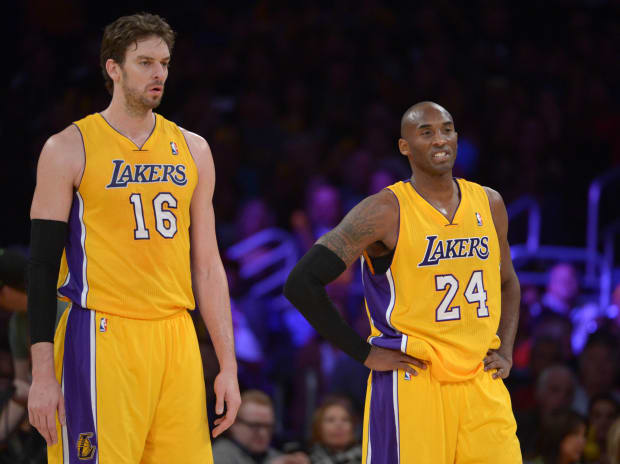 Kobe Bryant and Pau Gasol are one of the most iconic duos in Lakers' history, but Gasol's contributions to the titles of 2009 and 2010 are often underrated.
In 2016, prior to a game against Gasol's Bulls, Kobe commented on the constant trade rumors that the media would put Pau in. Bryant believed that showed how LA fans didn't appreciate their partnership.
"I thought that it was really silly and I felt bad for him going through all that stuff. That's why I defended him so much… I think the city of L.A. didn't really appreciate what he did and what we had, and so as a consequence, everybody kind of fell in line with the [former Lakers coach] Mike D'Antoni rhetoric of small ball and all these other bulls***. For a guy that has two championships to be treated that way, you don't do that, man." (h/t ESPN)
Gasol averaged 17.7 points and 9.9 rebounds across a 7-season tenure with the Lakers that saw him become a 2-time champion. The Lakers may have never wanted him to be a long-term option as Kobe's co-star, but he earned that role and excelled in it more than the team could appreciate.
---
Pau Gasol Finally Getting His Lakers Jersey Retired
At the halftime of the Lakers game tonight against the Memphis Grizzlies, Pau Gasol will finally see his jersey go up into the rafters of the Crypto.com Arena. His jersey will be next to Kobe's, immortalizing their partnership in the history of the franchise.
Gasol and Bryant had a very strong relationship even after their time as teammates came to pass. Pau is now in regular touch with Vanessa Bryant and serves as an uncle to all of Kobe's children, helping Vanessa raise the 3 daughters that Kobe left behind. Pau is a gem of a person and truly deserves to have his jersey retired next to Kobe's.
We sincerely appreciate and respect you as a reader of our site. It would help us a lot if you follow us on Google News because of the latest update.
Thanks for following us. We really appreciate your support.