LeBron James becoming a Dallas Maverick to play alongside Luka Doncic cannot be ruled out according to Brian Windhorst.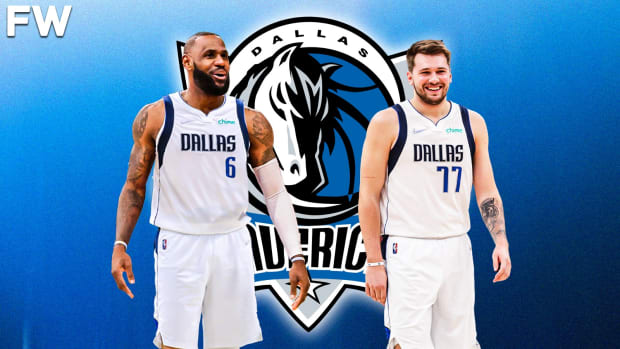 LeBron James may have gotten a new lease on life with the Lakers after they traded Russell Westbrook to put a young core around him. However, a departure is still possible.
Brian Windhorst commented on the likelihood of LeBron leaving the Lakers, with the Dallas Mavericks being a possible destination.
"I don't think he wants to leave L.A., I think that's pretty clear. I do think he has great respect for Luka and he has appreciated him for a long time, not that that's surprising. So I would not rule anything out. But, LeBron has not shown a lot of interest in leaving L.A. and Luka is obviously committed here for a long time."
James to the Mavs seems unlikely, with even Windy not being certain that it would be a possibility. If LeBron wants to leave the Lakers for any team, Dallas may be atop the list, given the skill-set Luka Doncic has and the mutual admiration between the pair. LeBron has previously called Luka his favorite player in the NBA, while Doncic idolized LeBron growing up.
---
Could A LeBron-Luka Duo Be Possible?
LeBron James and Luka Doncic could be a league-breaking duo, though there will be adjustment issues. James will have to be the second-best player, given Luka's helio-centric style and age. LeBron has tried to reduce his ball-handling responsibilities over the last few years, but the Lakers keep having to rely on him for playmaking. With the Mavs and alongside Doncic, that would not be a problem.
The feasibility of this happening is low. James has 2 more years on his contract from next season with a team option at the end of next season. Doncic is under contract till 2026, so the Mavericks could genuinely make a push to get him. If the Mavericks retain Kyrie Irving in the summer, joining the team may be even more enticing for LeBron if he does decide to leave the Lakers.
We sincerely appreciate and respect you as a reader of our site. It would help us a lot if you follow us on Google News because of the latest update.
Thanks for following us. We really appreciate your support.