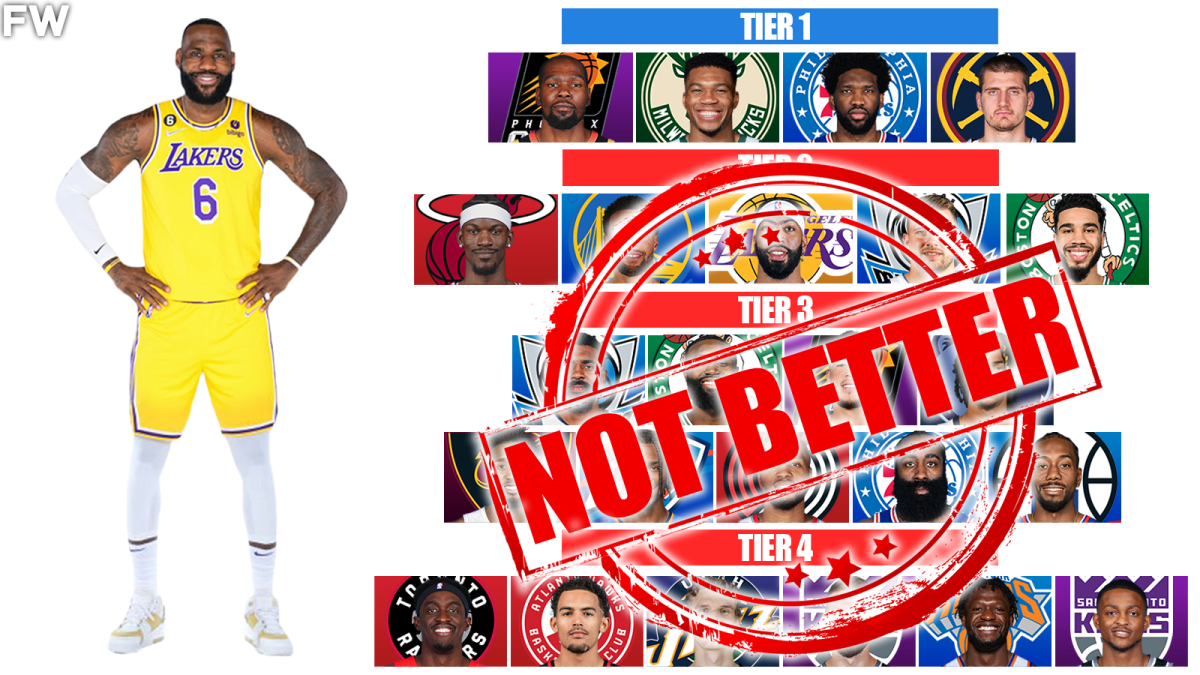 Even though Nikola Jokic and Jamal Murray led the Denver Nuggets to their first NBA Finals appearance in team history on Monday Night, LeBron James and the Los Angeles Lakers have been the center of attention. It was LeBron's "I got a lot to think about" response in regard to his future that got fans and media members all worked up and suggesting The King was headed toward retirement. However, it was another quote that drew our interest, and that was when James claimed that he was ''still better than 90-95% of the NBA''. Fans scoffed and debated whether he was right or not.
According to what James said, this would mean that there are currently 23 players in the NBA who are better than him, and that's if we use the 95% James referred to. Well, back in April, we counted down our top 25 players for the 2022-23 season. Using this list, we will break down where LeBron James stands in the NBA at this current moment. We will determine whether James was off in the sense that he was being too generous toward himself or in the more likely scenario that he was being far too modest. Going tier by tier, we will move James' ranking based on the players we can say he is still better than until we get to a point where we are satisfied saying that we can put certain players definitively ahead of him.
It is time to determine whether LeBron James is better than 95% of the NBA.
---
Tier 4 – Pascal Siakam, Trae Young, Lauri Markkanen, Domantas Sabonis, Julius Randle, De'Aaron Fox
With all due respect to the young stars and the trajectory their careers are on in this tier, this isn't close. LeBron James has a significant standing over each of these players, and we will explain why. Pascal Siakam is a terrific young talent and has been for a few seasons now. Siakam is known for his all-around game as a big man, including his playmaking, scoring, and rebounding. He averaged 24.2 PPG, 7.9 RPG, and 5.9 APG this season which is fantastic but pales in comparison to James' 28.9 PPG, 8.4 RPG, and 6.8 APG.
Trae Young has let it be known that he is not just a point guard with handles who can shoot. Over the last two seasons, he led the NBA in total assists, with 737 in 2022 and 741 in 2023. He has also led the NBA in turnovers with over 300 each season. Where Young falls way short of James is on the defensive side of the ball. Young is pretty much a turnstile for opponents. As a scorer, defender, rebounder, and even a playmaker, I would still take LeBron comfortably over Young.
Nobody can take anything away from what Lauri Markkanen accomplished during the 2022-23 season. After an impressive outing at EuroBasket this past summer, Markkanen's play carried over into the NBA season, where he averaged 25.6 PPG and 8.6 RPG on 49.9% shooting overall and 39.1% from three. He was named the NBA's Most Improved Player and earned his first All-Star selection as well. That being said, it is still going to take more consistency and more than just efficiency from beyond the arc for anyone to put Markkanen ahead of James at this point in time.
Domantas Sabonis is coming off arguably the best season of his young career, leading the NBA in rebounding and the Kings to their first playoff berth in 17 years. We can give the advantage to Sabonis in rebounding, and he would still be lightyears away from being ahead of James as an all-around player. We watched as Sabonis struggled to create his own shot during the 2023 playoffs and got frustrated easily as his team withered away in the first round. As a playmaker, overall scorer, and defender, James is still the far superior player, even at 38 years old.
Julius Randle had the second All-Star selection of his career in 2022-23 and something should be said about what he meant to an overachieving Knicks season that saw them advance to the Conference Semifinals. He averaged 25.1 PPG, 10.0 RPG, and 4.1 APG in 77 games for the Knicks but dropped significantly in the playoffs. In 10 playoff games, he averaged just 16.6 PPG and 8.3 RPG on 37.4% shooting overall. That alone takes him out of any conversation to be had when it comes to who is better between him and LeBron James.
The final member of Tier 4 was perhaps the most exciting player to watch this season and this postseason out of the whole group. De'Aaron Fox was another young star guard that made his first All-Star appearance in 2022-23, averaging 25.0 PPG, 6.1 APG, and 1.1 SPG. He helped lead the Kings to their first playoff appearance in 17 years but, again, wasn't able to get past the Warriors in the first round as they fell in seven games. LeBron helped lead his team past the Warriors the following round averaging 24.7 PPG, 8.8 RPG, and 5.5 APG. As great as Fox's potential is, to put him past LeBron at this point would be a disservice to the rest of his career.
Conclusion – Players from Tier 4 are not better than LeBron James.
---
Tier 3 – Kyrie Irving, Jaylen Brown, Devin Booker, Ja Morant, Donovan Mitchell, Shai Gilgeous-Alexander, Damian Lillard, James Harden, Kawhi Leonard
The next tier of superstars in our top 25 is certainly worthy of a conversation between them and LeBron James, but they still fall short. Kyrie Irving is reportedly someone that James has on his radar for next season to join him in Los Angeles. That being said, Kyrie joined a Mavericks team that was fourth in the West at the trade deadline last season. By the end of it, Dallas was out of the playoffs completely. This is a situation where a hypothetical theory comes into play. Do you honestly think Dallas would miss the playoffs if it was LeBron James they traded for instead?
Jaylen Brown has not gotten the respect he deserves over the last few seasons with the Celtics. Teammate Jayson Tatum seems to get all the praise, while Brown flies under the radar. Brown was once again incredible for Boston in 2022-23, helping them earn the second-best record in the East, averaging 26.6 PPG and 6.9 RPG. Once again, to see him do it without another 30.0 PPG scorer beside him would be an opportunity to put him ahead of James, but he simply hasn't done enough to be considered above one of the greatest to ever play the game.
Devin Booker is another star that is trending in the right direction but still has a lot of work to do. For the second season in a row, Devin Booker had a tremendous postseason run for the Phoenix Suns in their quest to get back to the NBA Finals. For the second consecutive season, however, Booker and the Suns found themselves facing elimination at home and for the second consecutive season, Booker and the Suns were eliminated at home in blowout fashion. Booker had a great playoff run averaging 33.7 PPG on 58.5% shooting, but to compare him to LeBron after consecutive meltdowns in elimination playoff games would be an injustice.
The tumultuous story of Ja Morant continues as the NBA playoffs push on to the NBA Finals. Amid all of the off-the-court drama surrounding Ja Morant, he is a superstar in the making when he is on the court. Morant has proven he can lead the Memphis Grizzlies to great heights during the regular season but it has yet to translate into playoff success with an elimination at the hands of James' Lakers in this year's Western Conference first round. When you combine that with the uncertainty of Morant's future, it has to be LeBron by a wide margin at this point.
Donovan Mitchell had a historic season in his first year with the Cleveland Cavaliers in 2022-23. Mitchell recorded a magnificent season-high 71-point game this past season and led the Cavaliers to a 51-31 record on the year. Unfortunately, history repeated itself just as it did for Mitchell in Utah as he and the Cavaliers fell short in the first round of the playoffs to the New York Knicks. Mitchell performed admirably with 23.2 PPG on 43.3% shooting, but it was not enough to get past the Knicks. James had a much better playoff run on both an individual and team level.
Shai Gilgeous-Alexander had an incredible season in 2022-23. He earned All-NBA First Team honors and his first All-Star selection by averaging 31.4 PPG, 5.5 APG, and 1.6 SPG. By simply numbers, it would be foolish to not consider taking Shai in a debate between him and LeBron James. What separates James from Gilgeous-Alexander is the way he was able to elevate his team in the NBA playoffs. This doesn't fall on Shai, he is young, and Oklahoma City is still building. To put someone over LeBron James, we would have to see more success come playoff time.
Damian Lillard was one of the most exciting players in the NBA this season, which is nothing new to the sharpshooting point guard with the Portland Trail Blazers. Lillard averaged 32.2 PPG this season while shooting a career-high 11.3 three-pointers per game with Portland while also adding 7.3 APG. He was All-NBA Third Team just as James was but with one major difference. Lillard's team was sitting at home while James was leading the Lakers to the Western Conference Finals. Granted, the Lakers around James were considerably better than Portland was around Lillard. Without any true postseason success under his belt, Lillard still doesn't hold a candle to James and what he accomplished.
Although James Harden and the Philadelphia 76ers made some noise early in the NBA playoffs, seeing the reason we aren't taking him over LeBron James shouldn't be too difficult. Harden led the NBA in assists in 2022-23 with 10.7 APG. It was clear to see that he wasn't the same player as a scorer anymore, but all was well with Philadelphia as long as the MVP was by his side. I cannot point to one time in LeBron's career when he melted down as Harden did against the Celtics in this year's playoffs. With a chance to put the series away in Games 6 and 7, Harden averaged 11.0 PPG across the two contests and got sent packing.
As much as I would love to put Kawhi Leonard over LeBron James, I would also love to see him stay on the court healthy. Kawhi Leonard is one of the best two-way players in the game when healthy, as the two-time Finals MVP has made clear in the past. The problem is Leonard hasn't played more than 60 games since 2019 and hasn't been healthy for an entire playoff run, either. Once again, in 2023, Leonard's health betrayed him as he suffered another knee injury that cut a promising playoff run short. Availability matters and I would much rather have an exhausted James in the playoffs than an absent Kawhi.
Conclusion – Players from Tier 3 are not better than LeBron James.
---
Tier 2 – Stephen Curry, Anthony Davis, Luka Doncic, Jayson Tatum, Jimmy Butler
For the players who sit in Tier 2, the decision between choosing them or LeBron James is almost as close as it gets. These four players are All-NBA players and the best players at their position in the game. Stephen Curry and LeBron James are forever linked due to their battles in the 2010s in four consecutive NBA Finals from 2015 thru 2018. In 2023, they would meet for the first time as Western Conference foes, with James and his Lakers emerging victorious in six games. For now, James holds slim bragging rights over Curry, and I would take him if I were building a roster.
James' teammate Anthony Davis had an incredible turnaround after it looked like his 2023 was heading for disaster. In the NBA playoffs, Davis was arguably the Lakers' best player, but only on some nights. It seemed that every other game, Davis shrunk in the moment and struggled to shoot or got into foul trouble. His disappearing act cost the Lakers some pivotal matchups, including against the Nuggets in the Western Conference Finals. Despite his two-way impact, James is still a more viable option for winning basketball than Davis.
There is no denying the incredible individual talent that Luka Doncic has become over the last five years. He is a consistent MVP threat and an elite offensive player in every aspect of the game. However, there are several reasons why James still ranks above him. First, Doncic's maturity has been a detriment to Dallas, with Luka consistently receiving technical fouls and complaining on every possession. Another would be his impact on winning basketball. Other than the 2022 trip to the Western Conference Finals, Doncic has not been past the first round and missed the playoffs completely in 2023.
The next player to sit on Tier 2 is the Boston Celtics star forward Jayson Tatum. While Tatum has been on a spectacular trend over the past four seasons with the Celtics, it cannot be denied that some of his shortcomings have cost his team big games. In the 2022 NBA Finals, his turnovers and poor shot selection were detrimental to Boston's championship hopes. In 2023, his timidness in the Eastern Conference Finals against Miami has Boston trying to climb out of a 3-2 hole. Until he gets over the championship hump that eludes him, he has to remain below LeBron at this time.
The one player on Tier 2 that could be considered on the same level as LeBron James right now is Jimmy Butler. Jimmy Butler has been one of the most incredible playoff performers of the last five seasons. In 2020, Butler led a surprising Heat team to the NBA Finals against James and the Lakers. In 2022, he had the Heat within one win of the Finals but fell to the Celtics in Game 7. Now, in 2023, Butler has the Heat back within one win of the NBA Finals and with a 3-2 lead on Boston. He has averaged 29.9 PPG, 6.9 RPG, 5.6 APG, and 2.1 SPG to help get them there, which included a masterful 56-point game to take down the one-seeded Milwaukee Bucks in the first round. With a chance to lead the first eight-seed to an NBA championship, Butler has to be considered either just below or on the same level as James.
Conclusion – Very close. Slight edge in favor of LeBron James.
---
Only Four NBA Players Are Currently Better Than LeBron James
---
Tier 1 – Kevin Durant, Giannis Antetokounmpo, Joel Embiid, Nikola Jokic
The final four players here are the only ones we can say that are definitively better than LeBron James right now. There may be some pushback with the inclusion of Kevin Durant on this list, but let's take a look at the facts. This past season, Durant became the first player in NBA history to finish the year with 55/40/90 shooting splits while averaging 29.1 PPG. Durant and the Suns were also able to at least win two games against the Denver Nuggets as opposed to falling in a four-game sweep with a much worse supporting cast. Right now, I would take Durant in a close decision over James.
Giannis Antetokounmpo is a lock for being considered better than James at this point in time. Without an injury to Giannis in the first round of the 2023 playoffs, the Milwaukee Bucks are most likely still playing basketball. Giannis was an MVP finalist and one of the best two-way players in the game. I would also consider Giannis to be one of the few players in the NBA right now that could replace LeBron if he retired, and the Lakers would be better.
Joel Embiid and the Philadelphia 76ers had a season that once again fell short of expectations. However, for the second straight season, Joel Embiid captured the NBA scoring title and became the MVP for the first time. As an interior defender, Embiid was among the best in basketball and was a nearly unstoppable three-level threat as a scorer. For what he brings to the table as the complete package, I would have to take Joel Embiid slightly over LeBron.
The final member of Tier 1 and the player I would definitely take over LeBron James, is the Western Conference Finals MVP and the man who just led a sweep against James, Nikola Jokic. As a completely uncontainable offensive threat, Jokic picked apart the Lakers to the tune of 27.8 PPG, 14.5 RPG, and 11.8 APG. Any player who leads a beatdown of an opponent they are being compared to at that moment has to have a clear advantage in the debate.
Conclusion – Better than LeBron James
---
The Humble King
When James said that he was still better than 90-95% of the NBA, obviously he was trying to make a point rather than being 100% factually accurate. If James had been trying to be correct, he would have said that he is still better than 99.9% of the NBA, which means only 0.01% of NBA players are better than LeBron James right now. After this breakdown, we can conclude
After our full breakdown, it seems only four players are actually better than LeBron James. Even if there is a disagreement about players such as Stephen Curry, Jayson Tatum, Jimmy Butler, and Luka Doncic, that would still only mean that 2% of NBA players are better than him right now.
Over the last few weeks of the season, James was playing with a torn tendon in his foot, likely an injury he shouldn't have been playing with and that will require offseason surgery. He was still able to help his team reach the Western Conference Finals by averaging 24.5 PPG, 9.9 RPG, 6.5 APG, 1.1 SPG, and 1.1 BPG. What we saw this past season from him is something we will never see again from a 38-year-old in his 20th season of NBA service. Even if he decides to walk away from the game this summer, we can only conclude that he did so while still being capable of an elite level of play, just as he has been for the last 20 years.
We sincerely appreciate and respect you as a reader of our site. It would help us a lot if you follow us on Google News because of the latest update.
Thanks for following us. We really appreciate your support.
Next