An angry New York man blasted Democratic leaders' response to the growing migrant crisis in the state, saying that New Yorkers can't afford "to pay 3-400,000 people everything for free."
"We can't let them crash the budget. Five percent is already cut. We can't afford to pay three, four hundred thousand people everything for free," he told Fox News reporter Alexis McAdams.
The man was part of a group of protesters who crashed a press conference Democrats held outside the Roosevelt Hotel in Manhattan, which has become a relief center for asylum seekers. Rep. Alexandria Ocasio-Cortez, D-N.Y., was drowned out by New Yorkers chanting, "Send them back" and, "Close the border!"
In an interview with Fox News afterward, the man complained about how New York residents were held to higher standards than illegal immigrants. 
NYC RESIDENTS PROTEST ON STATEN ISLAND AS MIGRANT CRISIS WORSENS, CLAIM THEY ARE 'NOT BEING VETTED': REPORT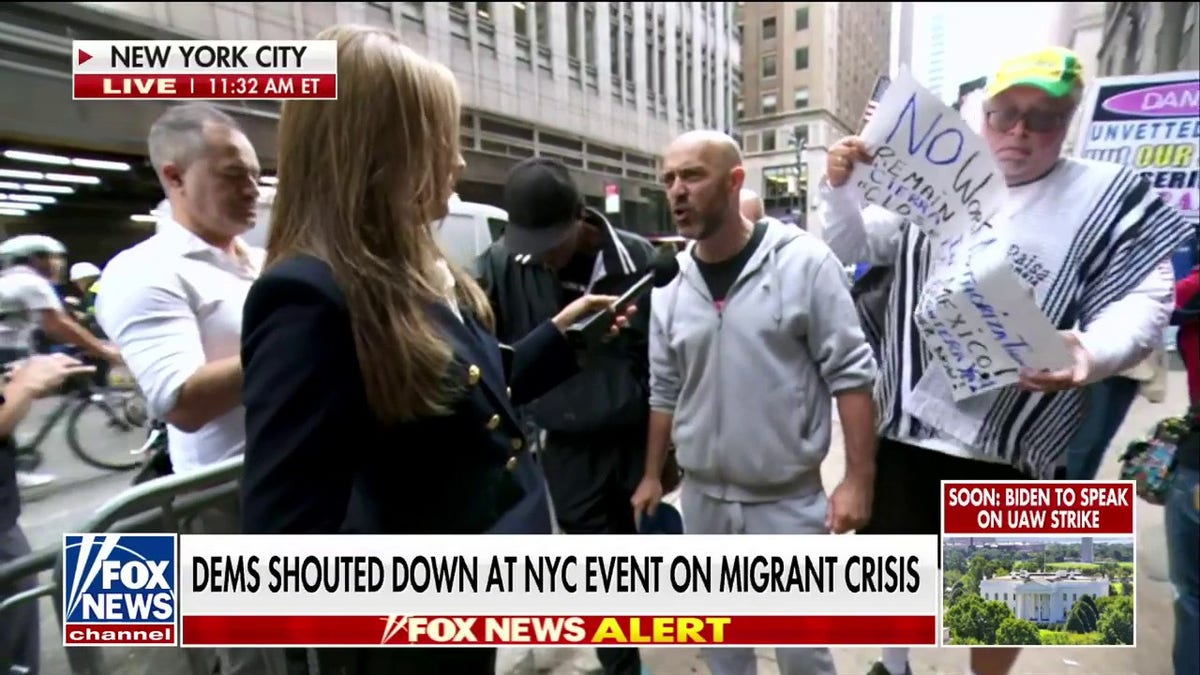 He relayed how parents had to spend hundreds of dollars on school supplies and make sure their kids' vaccinations were up-to-date, while migrant children were being welcomed into public schools without any vaccination records.
"We just had a COVID crisis. They shut our businesses down. They fired teachers, the Fire Department, for not getting vaccinated," the man breathlessly recalled.
"This is up to us," the man said. "Nobody is coming here for us…if we don't get up and fight for our city, nobody's coming for us."
He argued the future of the city is in peril due to its sanctuary city status. The angry protester claimed Democrats like Ocasio-Cortez had "destroyed our city."
"New York, especially Queens, has woken up," the man shouted.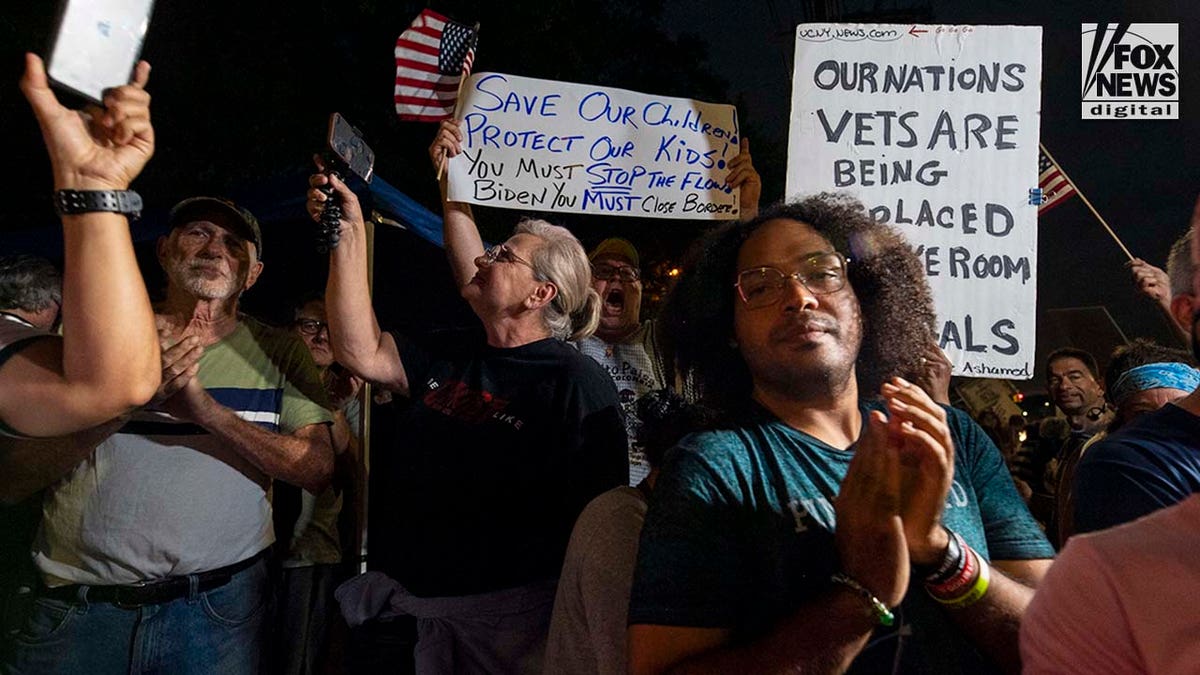 CLICK HERE TO GET THE FOX NEWS APP
The migrant crisis has become much more contentious than Democrats expected in the deep blue city, anchor Harris Faulkner reacted. 
Staten Island residents protested Thursday outside a closed Catholic school the city had converted into a migrant shelter.
One lifelong Staten Island resident, Mike Holder, said his sister was worried because her daughter attends the school directly across the road from the migrant shelter.
"I think people should stand up, get in the streets. I don't think there's enough people here. Maybe it's got to get worse. Maybe it's got to get worse before it gets better," Holder said, according to the New York Times.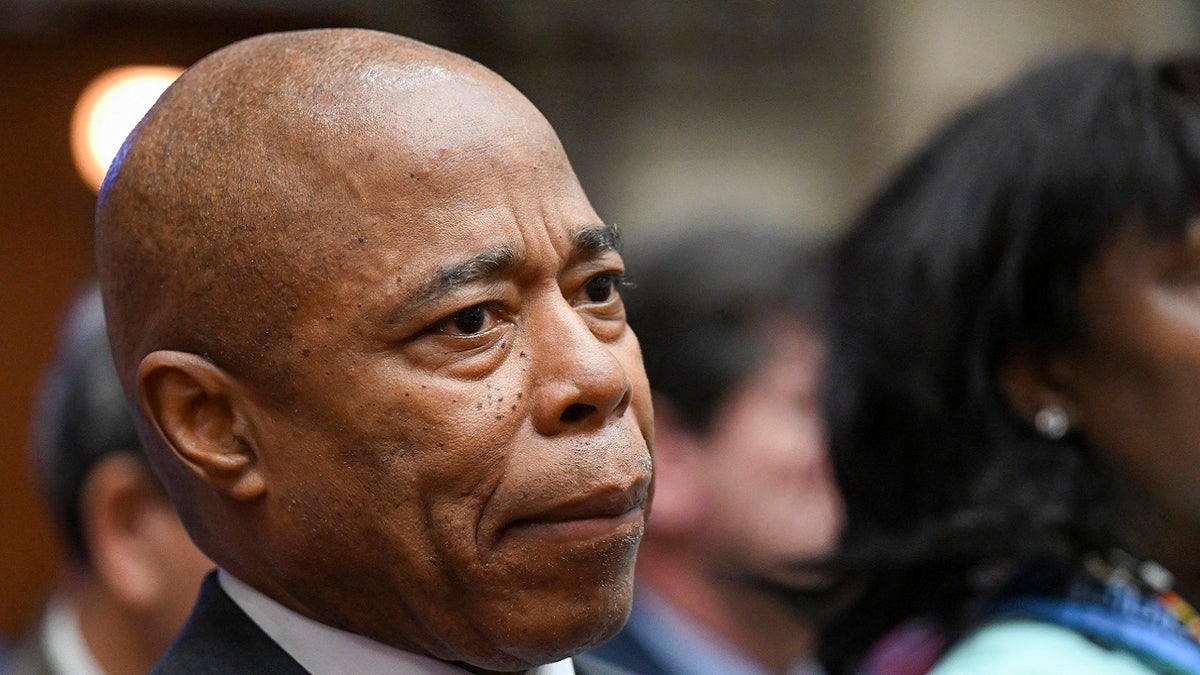 Earlier this month, New York City Mayor Eric Adams gave his most ominous prediction yet for the fate of the Big Apple, which is grappling with the influx of more than 110,000 migrants since last year.
"Let me tell you something, New Yorkers. Never in my life have I had a problem that I did not see an ending to. I don't see an ending to this. I don't see an ending to this. This issue will destroy New York City. Destroy New York City," Adams said during a Town Hall meeting on the Upper West Side. "We're getting 10,000 migrants a month."
For more Culture, Media, Education, Opinion, and channel coverage, visit foxnews.com/media
Fox News' Greg Norman, Danielle Wallace and Nikolas Lanum contributed to this report.